This time I am glad to welcome you to my tournament report from [Pro Tour: Kaladesh in Honolulu].
I was really excited when Pro Tour Hawaii got announed, as I really love it there. I already played 3 PT's there, so I already knew what to expect, and that is just the best. I once again teamed up with EUreka and the first of us arrived 2 weeks before the Pro Tour. We were located on Big Island as it was more affordable and exploring new areas is always a nice thing. I can tell you, we were not dissapointed, as we had a beach within 2 minutes walking and with some efford while swimming you could see dolphins in their real living area. But let's move away from the Hawaiian beauty and switch to our actual testing process.
As always, I played a lot of limited back home while the others already tried out fancy stuff on the Magic Online Beta. From what I have seen the Standard format was pretty powerful and felt a little bit like the Wild Wild West. I'll go out on a limb here and say that it felt like a Modern Pro Tour as you had a choice between 15 different Decks, Combo was back in the format with three different varieties and 《Smuggler's Copter》 was all over the place.
I really liked the Limited format as well. I think it's been one of the most fun formats in quite a while. As the strongest common was a very aggressive card, faster strategies were the strongest in my opinion. Nevertheless drafting control certainly was possible and drafting funny energy-combo-decks worked better than first expected. The colors in the format are about equally strong, so there is no real "best" or "worst" color. Our test results also replicated that: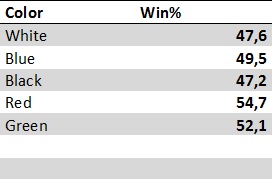 I personally liked black-white fabricate the most and tended to not like blue that much. We explored all the shades of the Kaladesh Format and we were really looking forward to the draft portion this Pro Tour.
For Constructed things were a little different as we were not able to identify a clear best deck. We tried several vehicle decks and even went deep with 《Aetherflux Reservoir》 and all differnet kind of 《Aetherworks Marvel》 and Metallurgic Colossi Decks. Also a lot of time went into Gideon/Avacyn Brews and BG-Delirium, which was my favorite for most of the time. Our Idea was: Gideon/Avacyn beat aggro, Combo beats Gideon/Avacyn, Aggro beats Combo. As the Pro Tour played out we just overlooked the biggest thing of the format: 《Torrential Gearhulk》.
We tried some builds but we just did not get there. When I saw the good performing Decklists of the Pro Tour I was very satisfied, as I am a blue mage in my heart. From how we understood the format, we wanted to be in the Combo or aggro camp and therefore most of our time went into this department. Our Marvel and Colossus builds were not solid enough, so the other decks performed better, but we knew that there is something that we have to figure out. On Tuesday we made an expedition to the active volcano on Big Island and on our way there Michael Majors had the Idea that made our Colossus Deck work: 《Sylvan Scrying》. Scrying fixed all our problems because now we were able to "always" go off with 2 or 3 Colossus on Turn 5. So here is the Decklist I registered at the Pro Tour:

---
So the basic Idea of the deck is to power out one or multiple 《Metalwork Colossus》 on turn 4 or 5. For that to happen you need a lot of non-creature artifacts. As you want to play your artifacts as soon as possible we maximized the amount of Ramp-cards like 《Cultivator's Caravan》 and 《Hedron Archive》. As 2-Drops we had 《Prophetic Prism》(we are 6 color if you look closely), 《Woodweaver's Puzzleknot》, 《Glint-Nest Crane》 and 《Sylvan Scrying》. We expected a lot of aggro, that is why we played the green over the black Puzzleknot, which if we could it's the first thing we would change. The Crane works like a tutor for our Artifacts, as does 《Sylvan Scrying》. Yes, it searches for our Artifacts, our Creatures and of course our lands. 《Inventors' Fair》 off of a Scrying let's you get every artifact you could wish for so you can basically get every card in your Deck.
Our additional 3 Drop was 《Deadlock Trap》 as it can tap down creatures of lock planeswalkers for several turns. It does not look impressive at first sight, but it certainly overperformed for me. We did not run 《Foundry Inspector》 which might look odd. The problem was, that we wanted to force our gameplan as fast as possible and inspector does not really help there and is vulnerable to opposing cheap removal spells. Of course they can crew our vehicles, but we wanted the most explosive deck with the least potential interaction of your opponent.
We also play 《Skysovereign, Consul Flagship》 which also might look crazy as only the Colossus can drive it and it does not really help with our mana. It is a removal spell you can sometimes cast on turn 4 and once its on the battlefield your colossus is almost always free, which can be relevant as you want to sacrifice your small artifacts to buyback the Colossus. Also the turn where you play a Colossus it can be helpful to right away attack with a Skyship, eat a creature and deal 6 damage.
As additional cards we only run 1 《Elder Deep-Fiend》, which you can get via 《Sanctum of Ugin》 and 2 《Select for Inspection》. The Deep-Fiend is sort of a needed evil as it does not really help with your gameplan but can win you games you could not win otherwise. Don't forget that you could also sacrifice activated vehicles to play the Fiend. The main Idea for Inspection was to have something more against aggro decks and problematic cards like 《Declaration in Stone》 or 《Voldaren Pariah》. That might sound weird but you could tap your Colossus in response to a Declaration and bounce it or tap the pariah via 《Deadlock Trap》. Of course that sounds better in theory and never happend and therefore I boarded out the inspection in every single Match and I would advice against playing that card in future tournaments.
The Manabase is pretty solid as your deck mainly needs colorless mana and you have 《Aether Hub》, 《Cultivator's Caravan》 and 《Prophetic Prism》 to fix your mana. For that reason we also played a second 《Inventors' Fair》 and 1 《Hanweir Battlements》, which can lead to some crazy fast Colossi and also helps with the Sideboard 《Thought-Knot Seer》.
Once again I was not able to play a single game with my Deck before the Pro Tour started, but I felt reasonably happy with the decision, but only half of Team EUreka was on the Deck, so it was not fully convincing.
At the Pro Tour I was seated at a relativly easy table, where I only recognized eventual Champion Shota Yasooka and my teammate Thomas Hendriks who was feeding me from the right. I knew about his preferences towards Aggro-Decks and not playing blue, so I ended up in blue. I luckily opened a 《Skysovereign, Consul Flagship》, which we identified as the monster bomb in limited. Besides that the deck could use 1-2 removal and 1-2 heavy hitters but I was not to unhappy about the deck.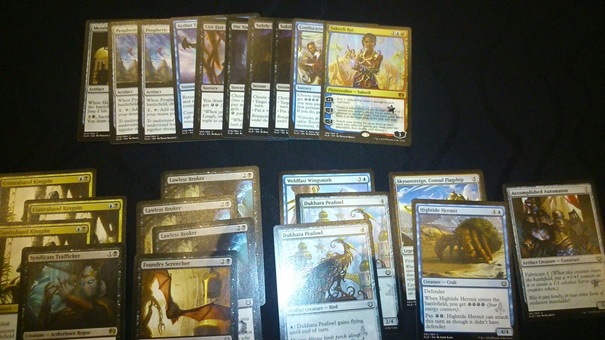 In the first match i got to play a control Mirror and killed him once with 《Skysovereign, Consul Flagship》 and once with his own stolen 《Smuggler's Copter》. My lategame really overperformed here and I was hoping to face more midrange control decks during this draft. Second round I played against my teammate and cast 《Skysovereign, Consul Flagship》 on Turn 5. I lost this game pretty harshly, as he was so aggressive that even killing a creature a turn was not enough, as I drew too many lands. Game 2 went to a boardstall , but once again the flood got to me.
In round 3 sadly a perfect copy of match 2 happened and I found myself at 1-2, with a deck I thought was pretty good, not broken but still very solid.
In the first round of Constructed I faced Hareruyas very own Tomoharu Saito piloting the best deck in the tournament. During our matches I already thought his Deck was very strong and when I saw his decklist I was convinced that they found the perfect colors and mix for Vehicles and aggressive creatures. I escaped with a very close win after a very intense match and both of us did not lose a single match after this round. The rest of the day I only played against stocklists of RB, RB-Zombies, Marvel and UW-Tempo and I was very happy with the deck, even though I had made several small mistakes due to not having played the deck in advance.
Draft 2 I was on a table with Mike Hron and Kentaro Yamamoto and some others I've seen before, and I sat in the middle of the known players. We tried to signal and we all successfully ended up with pretty decent decks compared to the powerlevel of the packs.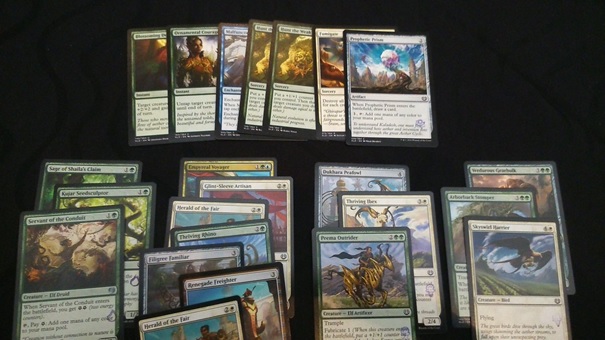 My rares certainly helped me this time as I gearhulked my opponent in Match 1 and Fumigated my opponent in Match 2. In the finals of the Draft I faced Yamamoto with his BR-Aggro and I took a quick lead in game one and thought I was winning, but after not finding a fifth land for 《Fumigate》, Gearhulk and Thragtusk waited in my Hand as I had my opponent on virtually 1 life, but that was 1 too many. After 7 wins in a row picking up a loss was tough but everything was in reach. Sadly my illness, which I got during our stay on Big Island got worse and made it even harder to play. After winning my first Match against RG-Doublestrike I got paired against Hareruya Teammate Pierre Dagen and really threw the Match away after winning Game 1.
I somehow got surprised by his 《Niblis of Frost》 postboard and that led to me boardning out my Skysovereign's while I could have won with having one in the Deck, but that was the least of the mistakes I made during this match, but these are the games where you know you can still improve, even though I can blame some of it on my illness. The next two rounds I tried to build up my confidence back up again, but instead got smashed by two Red-Black Decks after they got perfect draws twice and my own deck fizzling twice.
It was an emotional rollercoaster as I fell from Top8 Contention into the Oblivion of x-6, not even entirely sure if I was playing for money the last round. My final opponent was Sam Pardee with his GBr Delirium build and I finally was able to win a Match and finish in the Top64 and take 6 Pro Points back to Austria.
Here is my new updated list with a quick sideboard guide:

---
As you can see there are not a lot of changes from the initial list, as it performed solidly, I just adopted it for a more control heavy meta.
Sideboarding
---
vs. Jeskai Control and all other counterspell based control Decks:

Out

In
vs. Marvel:

Out

In
vs. 4 Color Vehicle, RB Aggro:

Out

In
vs. UW-Tempo:

Out

In
vs. BG Delirium:

Out

In
Thanks for reading and congratulations to Shota for winning and Pierre on another Pro Tour Top8!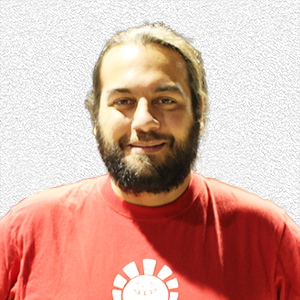 Oliver Polak-Rottmann
A powerhouse player who was the Champion of GP Utrecht 2014 with Mono-Blue Devotion and another 4 GP Top 8's to his name and countless Pro Tour appearances. Always on the forefront of reading the Standard metagame of any given season, he continues to travel and find success at events all over the world.
More by Oliver Polak-Rottmann