Last weekend I was lucky enough to make Top 8 at Grand Prix Barcelona 2018 with Jeskai Control in Modern. That makes it two in a row for me playing my new good friend 《Teferi, Hero of Dominaria》, just like in Copenhagen.
Deck Selection
I think that in "modern" (hah) Magic, deck selection is a critical skill if you want to do well in tournaments. Often, you are forced to choose between playing the deck that is perceived as the best deck or just try to beat it as hard as you can. When I'm on that spot, I used to always choose the best deck, but lately I'm starting to think a little bit different about that.
My testing process for GP Barcelona started on the Monday before the tournament, since I was on a holiday trip with my family the week before. I knew beforehand I would be relatively short on time.
My first big question mark was about the elephant in the room, 《Krark-Clan Ironworks》(KCI). I have a lot of respect for decks like that when it comes down to technical play, since they seem extremely hard to pilot properly. I usually take some time to be decent at playing a deck and this one clearly seemed like more difficult than the other strategies I was considering for the tournament.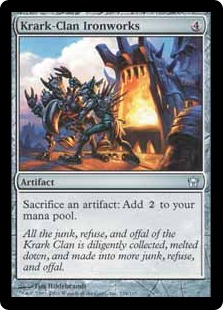 To make that call I relied on Simon Nielsen, who ended telling me that he wasn't feeling comfortable enough with the deck since it was too hard to master for the amount of time we had. Now, difficulty thresholds are different for every player but I've found Simon's one to be similar to mine, so I decided to do as he did and just focus on other decks.
After playing a bunch of leagues with all the decks I perceived as tier 1/1.5, I ended liking Mardu the most, in part because I wanted to be playing a 《Lightning Bolt》 deck. Not only 《Lightning Bolt》 is likely the best thing you can do against Humans, but the card is also inherently good, meaning the worst it can be is a 《Lava Spike》 in matchups where your goal is killing your opponent as fast as possible anyway. 1-2 days before the tournament, though, I ended switching to Jeskai Control. That was a tough call for me, since I've been playing 《Thoughtseize》 decks for a long time and they feel very natural to me.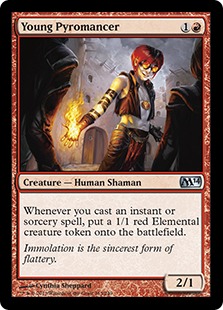 I initially didn't want to play Jeskai because I was not very familiar with the cards it plays like 《Cryptic Command》, but since I already consider Mardu Pyromancer to be a control deck I just changed one 《Lightning Bolt》 control deck for another.
The first reason why I moved to Jeskai was the matchup against Humans. Both decks are supposed to be very good against creatures, but I found Jeskai to be much better at that job. Humans is a great deck and it's very hard to have a big edge against them, but if I can choose between Mardu and Jeskai, I will choose the latter.
The second reason was straight winrate. So, the few leagues I did with Jeskai went exceptionally well, and whenever I would run into UW/Jeskai I would lose a lot of the time. I also felt really bad about my matchup against them with all the decks I played but Tron.
Even with Tron, it didn't exactly feel like a walk in the park, since getting through countermagic is sometimes really tough. I realized that since I was playing what I expected to be the good decks for the tournament, Jeskai would likely have a bunch of good matchups vs. the decks on the higher tables. I just decided to take the matchup gamble, since I prefer to care more about the decks I expect on the higher tables than about the % of the overall metagame. That's why I decided to just skimp on hate against many decks like Bogles or Titanshift, focusing on the decks I expected to be more popular on the top tables.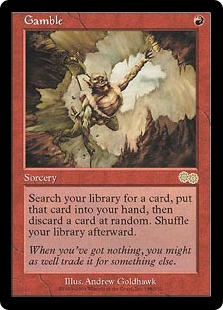 At some point before the tournament my teammates in our group chat asked me what was my plan against Dredge and my answer was simple: concede. Shortly after that Wing Chun Yam named my deck Jeskai Concede. I like that name.
My metagame gamble obviously paid off and I had an undefeated run until the semifinals, where I met Dredge, fulfilling Wing's prophecy. Even though the matchup is really bad, I got lucky enough to steal game 1 and I think I could probably have won game 2 if I had played better. Modern games are sometimes really easy, especially with linear decks, but some other games are so much complex that I find them extremely hard to play well. There's just too much minor stuff like fetching the wrong land or in the wrong turn that can just cost the whole match. Once you throw cards like 《Cryptic Command》 or 《Thoughtseize》 to the mix it becomes even harder to play the whole game well.
I made some mistakes and also made some good plays. That's just how Magic goes. It stings a little to lose games like that because you didn't play well enough, but overall I was quite satisfied with the weekend. I had done it again! Also, it was in my hometown which adds some extra happiness points to the mix.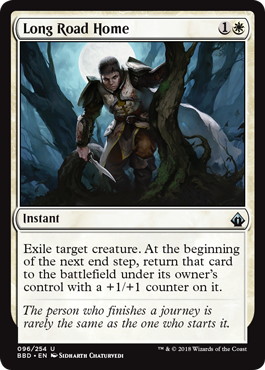 Currently I'm locked at 60 Pro Points for the Season which should be relatively safe for the World Championship cut, but you really never know with those things.
Jeskai Control
My first reference for Jeskai and the deck I playtested more with was Seth Manfield's deck from Grand Prix Toronto 2018, where they made Top 4. Yeah, I copied Genesis again. It worked the last time!
I played the same 75 during all my testing process, and it wasn't after I finished my testing that I decided to tweak the deck a little bit. I knew I wanted to play the same shell, but I didn't really like all the sideboard choices Seth had made for GP Barcelona.
I want to thank Carlos Moral "Danker" who helped me to prepare my final decklist for the GP. He convinced me to introduce some of the changes I made to the deck, and most of them left me very satisfied. Unfortunately for him, he decided to leave the Jeskai ship on the very last second before the tournament.
《Opt》 vs. 《Serum Visions》 is probably the most important change we made to the decklist. Carlos was very convinced about 《Opt》 being better and I just bought all of the reasons.
I think 《Serum Visions》 does a better job at finding certain cards, notably lands on turn 1. However, even in that spot, you often have to make a decision between casting the 《Visions》 or leave mana up for a 《Bolt》. Having to guess if you should play the removal spell or the cantrip is going to put you on awkward spots where mistakes will be made no matter what. The deck also has a fair amount of redundancy so I felt like digging for a specific card wasn't that important compared to the flexibility 《Opt》 brought to the mana curve. 《Serum Visions》' being a little bit clunky also doesn't get better the longer the game goes, especially with 《Snapcaster Mage》. In a deck that often operates at instant speed, being forced to decide before having the full information doesn't seem very good to me. I just prefer to wait until I know what I want to do with my mana.
The other change we made was cutting the 3rd 《Search for Azcanta》.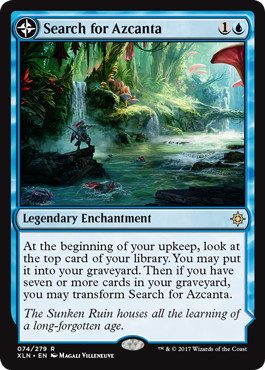 I'm still not convinced this was a good idea, since the card overperformed to me on the GP. Still, three copies felt a little bit too heavy going to the tournament. The problem I had cutting 《Azcanta》 was that since it helps hitting land drops I wanted the replacement to do the same job as well. The easiest replacement then was the 5th cantrip spell. My concern with that was that I would have then too much air for the mirror matches compared to actual cards that mattered. I ended putting a 《Field of Ruin》, since I really didn't mind going up to 25th lands and it would still be a relevant card for the control mirrors dealing with opposing 《Search for Azcanta》.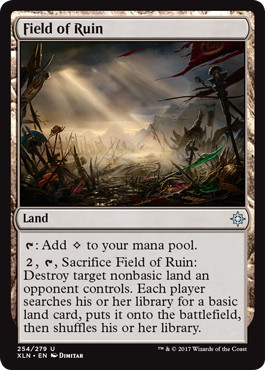 I don't think mana flood is a real problem for this deck, since it has plenty of mana sinks. Even in really late games, with all the 《Snapcaster》 and 《Cryptic Command》, you can find yourself using all your mana all the turns. On the other hand, missing land drops can sometimes be really devastating, so I was happy with the 《Field》. I also liked to improve a little bit the Tron matchup.
The rest of the changes just were an adaptation to 《Field of Ruin》. We cut 《Sacred Foundry》 for 《Mountain》 to have one extra basic, and after that we cut the 3rd 《Lightning Helix》 for the 4th 《Lightning Bolt》 because having the basic 《Mountain》 would make it easier to cast out of 《Field of Ruin》. That one still feels very close to me and it's really hard to evaluate. 《Lightning Bolt》 seems to me like a much better card for the deck since it's very efficient, but when you need a 《Lightning Helix》, you really need a 《Lightning Helix》. I could see this last slot going either way.
I made some small changes to the sideboard, but then again nothing really big. In my very limited experience of control mirrors, it seemed to me that having too many expensive cards like 《Teferi, Hero of Dominaria》 or 《Elspeth, Sun's Champion》 was sometimes a liability.
Sure, they are great if you can cast them and they stay in the game uncontested, but they are not exactly easy to protect against countermagic. So, when Carlos proposed 《Ancestral Vision》 as an anti-control card I was instantly sold on it, since it just works the other way around. If they want to counter it, they have to tap out before your main phase, which can give you a window to drop a 《Teferi, Hero of Dominaria》. In practice, though, 《Ancestral Vision》 was a little bit clunky, but I think it was good enough in so many matchups making it a fine sideboard slot.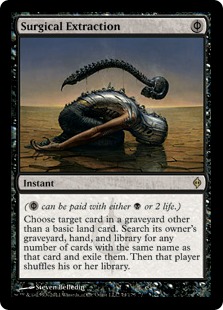 I also decided to put a 《Surgical Extraction》 in the deck. What I wanted here was some additional line of defense against the dreadful KCI deck. Between 《Stony Silence》 and 《Surgical Extraction》 the decision felt close to me, but 《Surgical Extraction》 being able to steal a game against Tron was the tiebreaker.
Sideboarding
The best part of the article! Jeskai is a deck where sideboarding should be relatively easy, since against many decks either the countermagic or the removals will be quite bad. This is how I planned to sideboard for the tournament. As always, keep in mind that sideboarding should be flexible.
Humans
On the play I had two 《Search for Azcanta》, and on the draw I took out one to have the 3rd 《Cryptic Command》 in my deck.

Against "Humans"
Tron

Against "Tron"
Jeskai/UW
I like keeping 《Lightning Bolt》, and I'm not sure if 《Surgical Extraction》 is worth it. I sideboarded it in the GP against UW but then realized it was probably a mistake. I think the last slot really depends on what you see, but 《Path to Exile》 isn't as bad as it looks. For example, for my Top 8 match against Miracles I sideboarded in 《Settle the Wreckage》 to hedge against 《Entreat the Angels》.

Against "Jeskai/UW"
Mardu Pyromancer

Against "Mardu Pyromancer"
Hollow One
I'm not totally sure if my sideboarding is right for this matchup, since many cards feel to have about the same level. I still like to keep a healthy amount of 《Cryptic Command》 since chaining them is something they can't really interact with.

Against "Hollow One"
(On the play)

Against "Hollow One"
(On the draw)
Dredge
Concede.

Against "Dredge"
I'm not sure if sideboarding out 《Bolt》 is a good idea in a matchup that is this bad since they can still pressure their life total.
Burn

Against "Burn"
KCI

Against "KCI"
Affinity

Against "Affinity"
Grixis Death's Shadow

Against "Grixis Death's Shadow"
I really like to keep some amount of burn against 《Death's Shadow》 post sideboard, but if they are very careful about their life total I can see just taking out all the 《Lightning Bolt》.
UR Storm

Against "UR Storm"
Bogles

Against "Bogles"
Jund

Against "Jund"
Conclusion
There are too many decks in Modern to cover every single one, but this should at least give you an overall idea on how I think this deck should sideboard.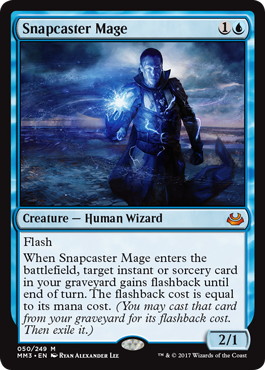 I also learnt this weekend that 《Snapcaster Mage》 is a very fun card to play with.
Thanks for reading!
Javier Dominguez