Introduction
I will start this article looking back to the entire 2017-2018 season and saying: What a season!
From a very poor beginning to top team at the Team Series, a Pro Tour title to Luis Salvatto, two Pro Tour Top 8s for Marcio Carvalho and one for me and Thiago Saporitto, I think we ended the season very well. What do you think?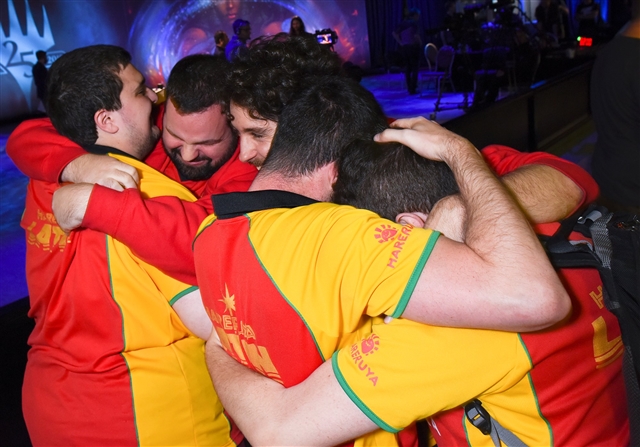 The team did great and, in my humble opinion, I did great too. I got Platinum for the next two cycles (The cycle thing is annoying but I will get used to it) without use all my Grand Prix slots or playing the Worlds. I was very happy too achieve Gold and I could not expect to reach Platinum. It was a totally suprise for me because I needed the Top 4 to make it. I did not get my invite to Worlds but there was no sadness inside my heart.
Pro Tour 25th Anniversary and Minneapolis
Enough of the celebration, let's talk about the Pro Tour 25th Anniversary in Minneapolis, the preparation and everything else that happened in one of my favorite Pro Tour trips in my entire life (I've been to 51 Pro Tours).
Minneapolis is one of the best cities I have been to in USA. The city energy is very good, lots of people walking on the street, tons of place to eat and drink and you don't need a car to move through the city. There are a lot of bike station where you could rent a bike for 2 dollars and return it in another bike station near the location you want to go. The city was flat, no hills and this made it easy to walk too. I confess that I suffered a little bit at the beginning because my body was not used to exercise, but the feeling you get after arriving at the Pro Tour by bike or walk worths it.
Had a great time today playing soccer/football with some of the teams that will play this weekend at #PT25A pic.twitter.com/PdYoFaiUum

— Thiago R. (@Snapcaster) 2018年8月2日
We also played two matches of football (Soccer for our American friends) and it is so funny to find out who is good and who is bad at this game. You look at some Magic players and think about the player football skill and when you actually can see this person at the field, you might get surprised or terrified.
On the preparation side, besides of what you read in Marcio Carvalho's article, I played more than 10 leagues for this Pro Tour. I am not going to lie to you saying that I am the most dedicated player, but for this Pro Tour I wanted to play more then usual because it was a trio tournament and I didn't want to be a burden for my teammates.
I started thinking about playing Legacy but I thought the format would be very complicated for me and catching up the Standard was way easier. Marcio was comfortable playing this format and we switched seats.
I started the preparation playing with Grixis and UW Control. For those who know me, I am a control player. Always seeking to card advantage my oponnent but for these particular Standard I was not feeling good playing with reactive decks. In a scenario where the "aggro" deck could outdraw you with 《Bomat Courier》 and 《Chandra, Torch of Defiance》, I thought it would be easier to join them instead of fighting it.
I needed a good list to start the praticing, so I spoke with Sebastian Pozzo (Red Deck Specialist and last season's Standard Master) and he gave what would be my 75 for the Pro Tour. The list I started testing was the list I submmited.
The best thing about playing a lot of matches was the sideboard part. I didn't need any papers to keep my sideboard plan because I memorizied all of them. Everytime someone pulled out a piece of paper from the deck box or asked for some advices, I just felt like a genius and my thoughts were: "Face my photographic memory!"
You must be thinking (I like figuring out what people are thinkning): "Nice trip, he biked a lot, played football, disliked UW Control, felt like a genius, but can you tell me your deck?"
Master, your wish is my command. Here we go:
Sideboard Guide and Tips
vs. Turbo Fog

Against Turbo Fog
Turbo Fog wasn't a big thing before the Pro Tour. During the week, some people especulate the deck but we never even look any list or talked about it.
The first game is almost impossible to win. You don't interact with his hand and his 《Teferi, Hero of Dominaria》 is well protected by the 《Fog》s.
On the second game, 《Duress》 and 《Doomfall》 are the way to win and if you cannot find by drawing cards, go aggressive on 《Bomat Courier》. Since you probabily will have enough damage to win the game on the table, the cards in your hand doesn't matter anymore unless they are 《Chandra》 or 《Duress》/《Doomfall》. Don't be shy and sacrifice the 《Bomat Courier》.
vs. Mono Green

Against Mono Green
It is time to shine with 《Rekindling Phoenix》 and 《Soul-Scar Mage》.
《Soul-Scar Mage》 and 《Chainwhirler》 is crazy! You have to take as most advantage as you can from this combination.
《Phoenix》 will block everything and attack very well. Your job here is to take out his big power creatures so you can slow down 《Ghalta, Primal Hunger》. You have some removals to deal with it but 《Ghalta》 can be protected with 《Blossoming Defense》. If both players draw average hands, you have the advantage here.
vs. UW and Esper Control

Against UW and Esper Control
Not as dificult as Turbo Fog, but still a pretty tough first game. The game plan here is pressure. If your oponnent has to rush the 《Teferi》, he will be in very bad shape. You have to play around 《Settle the Wreckage》 but sometimes you will have to ingore it. If I understand that my hand is bad and I am already way behind, I will play ignoring the white spell.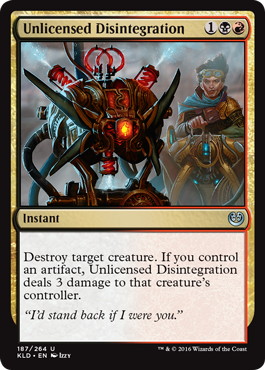 After sideboard, you have to stay with 《Unlicensed Disintegration》 because of 《Lyra Dawnbringer》 and 《Torrential Gearhulk》. 《Abrade》 can deal with 《Gearhulk》 and 《Spyglass》. There is no need to talk about 《Duress》 and 《Doomfall》 and how good they work here.
I think I would protect the 《Bomat》 at any cost and maybe skip the attack on my oponnent second turn so he cannot cast the 《Seal Away》 and slow his game down a little bit.
vs. Red Black Aggro (Mirror Match)

Against Mirror Match
(On the Play)

Against Mirror Match
(On the Draw)
I don't like to have the 《Magma Spray》 on the play. I want to be the agressive player here and I don't want this card on my initial hand when I am attacking. 《Chandra》 is not bad but it is not great on the match up and I don't want to have multiple copies.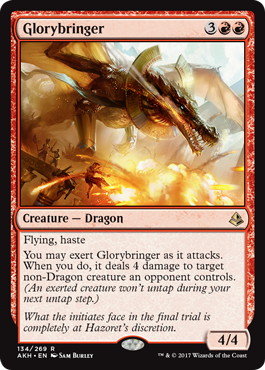 The game plan here is be aggressive when you are on the play and be reactive when you are drawing. Looking for spots where your 《Glorybringer》 can kill something before it get killed is like having ice cream on the park on a sunny day.
vs. Grixis / Grixis Dragon

Against Grixis
One of the best matchups for the deck. They have problems to deal with 《Scrounger》 and your only concern is 《The Scarab God》. His mana base is awful and most of the matches will look like your oponnent has a emblem of 《Thalia, Guardian of Thraben》. All his spells will be one turn later then it should be played.
There is no secret here. Play your creatures, clean the path and celebrate the victory.
Conclusion
I think there are the most relevant decks I played against during the Pro Tour. I didn't follow the Standard format after the Pro Tour so I cannot help on a future version of the Red Black. The deck is quite solid to me and it would be my choice for my Nationals.
If you have any other questions, please DM me at Twitter and I will talk to you.
Talking about the Pro Tour, it was of the most emotional and special tournaments I had in my entire life. During the first round I made a judgment mistake and lost my game. The team lost the match and I was very upset because of it. I didn't want to drag down my whole team and this burden remained with me until we won the last round and got the spot at the Top 4. The relief of seeing that the mistake didn't bring any kind of problems to us put me in a very emotional way.
After celebrating with Marcio and Thiago, I left the tournament site and celebrated alone in the street. My teammates are two of the best players in the world and they didn't deserve to be out of the Top 4 because of my mistakes.
Nuff people say they know they cant believe, Hareruya latin is now at the team series final!#coolrunningsfeeling #feeltherhythm https://t.co/wKvaGewiFG

— Carlos Jaba Romao (@Jabsmtg) 2018年8月24日
Besides the Top 4, we ended up as the top team of the Team Series. This invited us to play the Team Series Finals and it was the payoff of a team full of incredible people.
During the Pro Tour, Brian David-Marshall asked me about the Pro Tour and I told him I would trade a possible Top 4 at the Pro Tour for a Top 2 at the Team Series. I am so glad I didn't have to do this change, but I said that because I really thing we deserved the spot and because I want to see all the six players of Hareruya Latin to be at the top of the professional scene.
Thank you so much for your reading and I hope we can meet each other on another article.
Carlos