Introcudtion
Hi everyone, I am Kelvin Chew, a Platinum Pro from Singapore.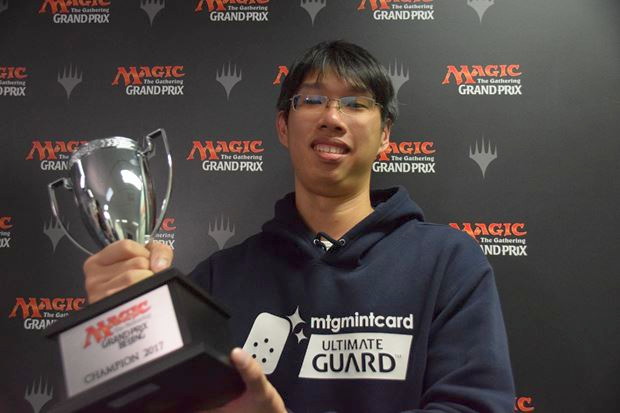 This is my first article for Hareruya and with GP Atlanta 2018 coming up soon, I will be talking about my favorite deck Bant Company which I have been playing ever since the release of 《Retreat to Coralhelm》.
Bant Company is a fair Midrange deck which does best against creatures and control based strategy as it has the ability to stabilize and grinds out the long game. The beauty lies in the sideboard game as you just transform your deck with good sideboard cards to give you the best chance against any deck in Modern.
I recently took it to the 9th place at GP Hong Kong 2018 losing to my worst matchup Boros Burn for my win and in. This is the decklist I registered for the event.
Guilds of Ravnica brought a new addition to the deck which does everything the deck need.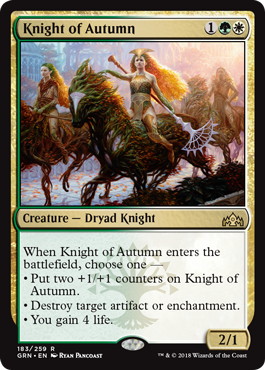 《Knight of Autumn》is not only shown up Burn matchup, it can also destroy annoying artifact and enchantment like 《Hollow One》, 《Ensnaring Bridge》, 《Blood Moon》 and 《Hardened Scales》.
Many people have been asking me what do we remove for 《Knight of Autumn》?
Let's analyze what the top Modern decks are for now. UWx Control, 5C Human, Tron, Burn, Spirit, Hardened Scales, Hollow One and Dredge seem to be the most played deck now.
Against Control
《Knight of Autumn》 acts as a 4/3 beater and occasionally destroy 《Search for Azcanta》 and 《Detention Sphere》.
Against 5C Human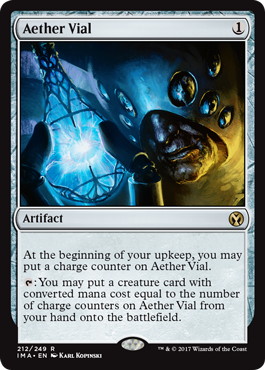 A 4/3 creature is decent enough to trade with most of the Human creatures. It has the ability to destroy 《AEther Vial》 which is pretty relevant as Human sometimes keep a land light hand with 《AEther Vial》 and by destroying, it set them a few turns back and let you gain the tempo you need to win the game. Gaining 4 life is also relevant if you are racing against them.
Against Tron
It provides you a decent clock against them and has the ability to destroy 《Oblivion Stone》 and 《Expedition Map》 if needed.
Against Hardened Scales Affinity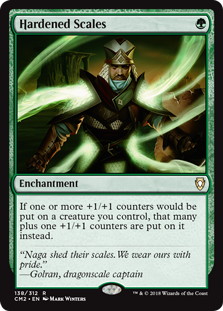 《Knight of Autumn》 does it best against 《Hardened Scales》 Affinity which you can destroy most of their stuff while also leaving behind a 2/1 body.
Against RB Hollow One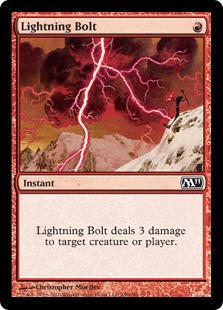 It can destroy the namesake card and gaining life is important if you are within 《Lightning Bolt》 range.
Against Burn
It gains you 4 life which is what you need against them. It can also destroy 《Eidolon of the Great Revel》 and 《Ensnaring Bridge》 after sideboard which they usually board it in to catch most people of guard.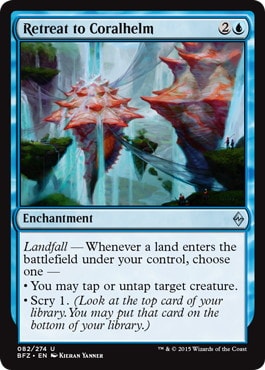 As I have mentioned the top deck in Modern and I believe that we do not need a combo piece as there seem to be more creatures based deck and control and we are good at grinding those game out and drawing 《Retreat to Coralhelm》 early is pretty bad against those strategy.
As I will be attending GP Atlanta 2018, this is the decklist I will likely be registering. I replace 《Reflector Mage》 for 《Knight of Autumn》 as there seems to be less creature's Combo deck like 《Devoted Druid》 Combo and also replacing 《Meddling Mage》 with 《Remorseful Cleric》 as graveyard based strategy seem to be on the rise.
Sideboard Guide
I will walk you through the sideboard guide and tips on the matchup.
UWx Control
The matchup for game 1 is harder as we have mana dork that is vulnerable to 《Wrath of God》 effects like 《Terminus》 and 《Supreme Verdict》 and also having a dead card like 《Path to Exile》. Remember for game 1, if you are able to 《Spell Queller》 their wrath effect, you can play 《Path to Exile》 to your own 《Spell Queller》 while the ability is on the stack to permanently exile the spell.
After sideboard, the matchup becomes heavily favor as we have counterspell and one of the best Planeswalker against them: 《Jace, the Mind Sculptor》. If they happen to "Miracle" 《Terminus》 and you have 《Vendilion Clique》 in hand, you can cast it while the "Miracle" ability is on the stack to stop them from casting the 《Terminus》. Always prioritize resolving 《Jace, the Mind Sculptor》 even if it means casting 《Collected Company》 into their 《Cryptic Command》 at end of opponent turn.

vs. UWx Control
BGx Midrange
BGx Midrange has started to get popular due to the printing of 《Assassin's Trophy》 which was a good thing for us as we are usually favored against Midrange strategy thanks to 《Collected Company》 and our value creatures like 《Voice of Resurgence》 and 《Eternal Witness》.
Always try to get value from 《Tireless Tracker》 as this matchup is all about getting card advantage.

vs. BGx Midrange
RB Hollow One
One of the best matchup for Bant Company unless they have multiple 《Hollow One》 on turn 1. 《Knight of the Reliquary》 usually get bigger than their creatures and 《Spell Queller》 block 《Flamewake Phoenix》.
Remember not to cast your 《Knight of the Reliquary》 within 《Lightning Bolt》 range unless you are forced to do as an active 《Knight of the Reliquary》 usually win the game. 《Scavenging Ooze》 and 《Remorseful Cleric》 does a good job at keeping their graveyard down.

vs. RB Hollow One
Tron
The matchup for Tron is not favored game 1 unless you can get a turn 2 《Knight of the Reliquary》 and start tutoring 《Ghost Quarter》 and 《Field of Ruin》 to slow their plan down. 《Eternal Witness》 allows us to 《Regrowth》 our lands to continue stopping them from assembling Tron.
After Sideboard, the matchup gets way favour with 《Stony Silence》 which usually win the game if they don't have natural Tron. We also have counterspell to stop their threat from resolving. 《Knight of Autumn》 also does a good job destroying early 《Expedition Map》 and 《Oblivion Stone》.

vs. Tron
Bant Spirit
The matchup is pretty even and usually about racing. Saving your 《Path to Exile》 for their lord creature and try not to get tempo out by their 《Spell Queller》.
After sideboard, we have more removal to slow them down and try to outrace them before they are able to assemble their army of lords as our creatures are usually individual bigger than theirs. I would normally try to trade away their creatures as their creatures work better with lord's effect.

vs. Bant Spirit
5C Human
I test this matchup a lot before PT 25th anniversary and I found that for game 1, the person who gets to play first usually win if both sides does not stumble. The version with 《Militia Bugler》 is harder to play against as they can usually chain multiple copies with 《Phantasmal Image》 and combining it with 《Thalia's Lieutenant》 to break board stall.
After sideboard, we have 《Engineered Explosives》 which are excellent against them and also 《Reflector Mage》 to break the 《Meddling Mage》 lock on our removal spell. I board out 2 《Spell Queller》 as it is bad against 《Reflector Mage》 and can't block 《Mantis Rider》 well. Keeping 2 is fine as it can ambush 《Kitesail Freebooter》 and work well with 《Gavony Township》 late game to block 《Mantis Rider》.