Introduction
Hello everyone! Modern RPTQ are around the corner and I'm here to share my thoughts about the deck of the moment, Bant Spirits. This little but powerful creatures had taken down GP Stockholm 2018 in hands of Ondrej Strasky and GP Atlanta 2018 piloted by Peiyuan Zheng very recently despite the Dredge menace.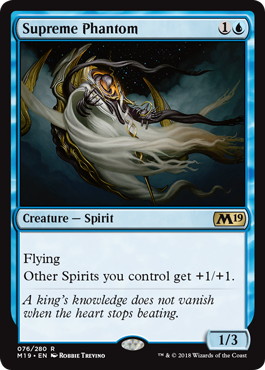 It was also the choice of Jeremy Dezani and PV (Paulo Vitor Damo da Rosa) as soon as Magic 2019 released 《Supreme Phantom》. As for myself I had the chance of playing with them for a 12-3 record in GP Atlanta and really enjoyed every match.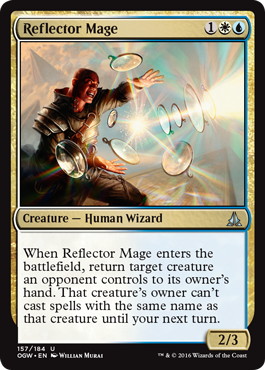 Since I didn't have much time to practice Modern the week before Pro Tour Guilds of Ravnica I didn't make many changes to Strasky's winning list, but I really liked how Peiyuan increased the power of 《Collected Company》, 《AEther Vial》 and 《Phantasmal Image》 by adding 3 《Reflector Mage》 to the mix. Just as 《Noble Hierarch》 they are very good creatures that shouldn't be overlooked for not being part of the tribe.
For the analysis I will take his decklist as a reference with one small change. I really like to have access to 3 《Stony Silence》 in the sideboard, the card is just too powerful against many decks in the format, with Tron, 《Krark-Clan Ironworks》 (KCI) and 《Hardened Scales》 on top of the list.
So I will suggest adding one instead of 《Dromoka's Command》, which I believe it's not necessary having already the 2 《Knight of Autumn》 as Enchantment disruption. In Modern I really like having access to high impact cards in the sideboard and that's one of the biggest strengths of Bant Spirits.
So this would be the list I would submit in an upcoming event:
The deck is really challenging for both the pilot and the opposition. Racing math can be quite complex since you sometimes have to consider not only possible topdecks, but 《Collected Company》 hits, a Lord dying to removal, having Spirits to trigger 《Mausoleum Wanderer》, etc. That makes practicing with the deck definitely rewarding, especially if playing with cards and not online, where hiding information is also important.
Tips and Tricks
Before going into each matchup of this vast format let's point out a few things that might not be very easy to see at first glance and some non-intuitive interactions:
When you hit 《Phantasmal Image》 with a 《Collected Company》 you can't copy the another creature that you are bringing in. It has to be a creature that was already in play.
《Phantasmal Image》 can be very good to copy creatures from your opponent, 《Reflector Mage》 versus 5C Humans, 《Wurmcoil Engine》 versus Tron and 《Bedlam Reveler》 versus Mardu are some of the sweetest.
With 《Phantasmal Image》 you can copy an Angel Token which is made by 《Geist of Saint Traft》 (with a 《AEther Vial》, since it only lives in combat) and you won't have to sacrifice the 《Phantasmal Image》 at the end of combat.
If you open with 《AEther Vial》 and you have 3 other 1-mana creatures and a 3-mana creature but no 2-drop, on turn 3 you can trigger 《AEther Vial》, activate it to deploy a 1-drop, and charge your 《AEther Vial》 so it has 3 counters on turn 4.
Keeping 《AEther Vial》 with 2 Charge Counters in the Long Game
In the late game it's usually better to leave the 《AEther Vial》 with 2 counters, this is mostly to copy 《Spell Queller》 with 《Phantasmal Image》.
Trying to Assemble Double 《Drogskol Captain》 Combo Carefully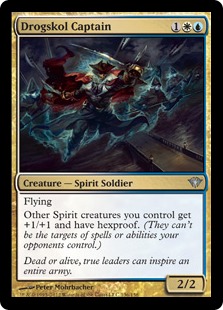 Against decks with a lot of removal like Jund or Mardu, having 2 《Drogskol Captain》 in the battlefield it's usually Game Over, however, playing the first and having him dead to a 《Lightning Bolt》 is a very bad tempo exchange. Try to find the right timing with the help of 《Mausoleum Wanderer》, 《Selfless Spirit》, 《Rattlechains》 and 《AEther Vial》ed 《Phantasmal Image》 to assemble the double 《Drogskol Captain》 "combo".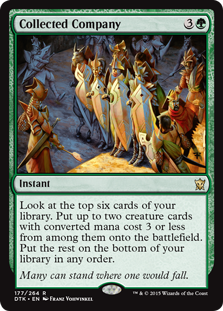 《Collected Company》 is an amazing card in the deck, however, I need to say something sad. It can whiff. Obviousness being said, if the game it's even or not in our favor, I will tend to use the 《Collected Company》 to net an advantage. On the other hand, if we are already in a good position in the game and we have the choice of using or not the 《Collected Company》, there might be spots where you just play one of your Spirits to keep your advantage rather than risking to whiff and give you opponent the chance of recovering due your misstep.
It's also very important to consider all the possible outcomes of a 《Collected Company》 (《Spell Queller》 mostly), but don't be afraid to main-phase slam 《Collected Company》 in search of Lord creatures to attack for more damages in some matchups like 5C Humans where racing is crucial, especially if you have some 《Mausoleum Wanderer》 on offense and you can turn a 3-turn clock into a 2-turn clock.
How to Use Fetchlands?
The manabase is quite good but it can be a bit painful. In the dark try to fetch for a basic on turn 1, but against decks with 《Path to Exile》, 《Field of Ruin》 or 《Assassin's Trophy》 avoid fetching basics.
Matchup Guides
So let's jump into matchups and sideboarding.
Dredge:
Game one it's going to be very though. Unless they stumble a lot in the first turns (which happens more to Dredge than other decks to be fair) we are going to have a hard time racing the 《Creeping Chill》.
《Mausoleum Wanderer》 is a key to prevent a super fast Dredging of 《Cathartic Reunion》 and an instant-speed 《Drogskol Captain》 (or two of them at sorcery-speed) can be game against 《Conflagrate》 as well as 《Selfless Spirit》. If you expect a lot of Dredge deck you can change the maindeck and take out the 《Rattlechains》 and maybe a 《Selfless Spirit》 for a 《Remorseful Cleric》 or two.

Against Dredge
Post-board things really change and drawing one of our hate cards can result in the game. However, they will bring ways to interact for the hate so you really can't mulligan to the hate. On the other hand, adding interactions for our hate card will dilute their deck a little bit so some good Spirit draws might get them despite of not having a hate piece.
5C Humans:
This matchup it's all about racing so the die roll is big game. 《AEther Vial》 are very important for both players, as they almost duplicate the potential speed of a hand and also provide the ability for them to elude 《Spell Queller》 and for us 《Meddling Mage》.
Overall I think Spirits are favored because they fly and very often they don't have many good attacks and you can recruit a bunch of Lords and kill them safely in one or two attacks, maybe chump blocking 《Champion of the Parish》 with 《Noble Hierarch》 on the way. Their best cards are 《Champion of the Parish》 and also 《Thalia's Lieutenant》 (and 《Phantasmal Image》 if they have 《Thalia's Lieutenant》). Without that they just can't attack us very well.

Against 5C Humans
Post-board they are going to improve more than us with 《Izzet Staticaster》 and maybe 《Dismember》 or 《Gut Shot》 too but not a lot.
Tron:
This is another bad matchup pre-board that gets a lot better, but not enough to make it an overall good matchup. A lot of the time you won't be able to play around 《Oblivion Stone》 or 《Ugin, the Spirit Dragon》 and just take the risk jamming all of your Spirits to at least win against the rest of the deck. However, 《Spell Queller》 and 《Selfless Spirit》 will close the deal quite often.

Against Tron
Post-board on the play, you can be a bit aggressive with mulligans since turn-2 《Stony Silence》 or 《Thalia, Guardian of Thraben》 is a lot better than when you are on the draw.
Bant Spirits:
In the mirror, boards usually get stalled because nobody wants to lose their Lords. The games usually get decided for a player having 2 more Lords than his opponent or also for one being able to attack with a Spirit buffed by 《Noble Hierarch》 or if it's 《Mausoleum Wanderer》 also by ETB triggers resulting in a lot of damage or bad exchanges.
《Collected Company》 is a very good card in the matchup, however, it's very hard to resolve it (through opposite 《Spell Queller》, 《Mausoleum Wanderer》), so don't overestimate it. Having 《Reflector Mage》 over some 《Path to Exile》 is quite bad here, since killing 《Drogskol Captain》 at instant-speed is super important. Try to use the 《Reflector Mage》 to deal with 《Phantasmal Image》 if possible (not possible if they already have a 《Drogskol Captain》).

Against Bant Spirits
If you are 100% sure they don't have 《Worship》, play 2 《Geist of Saint Traft》 instead of 《Knight of Autumn》. Otherwise I think you have to respect 《Worship》, but I wouldn't side 《Knight of Autumn》 in just for the 《AEther Vial》.
UW and Jeskai Control:
I think both matchups are good but not by a lot. Jeskai has better removal but UW can "Miracle" a 《Terminus》 out of nowhere and terminate you. UW is probably the most skill intensive matchup for the deck, since it's very important to commit the right number of creatures to a potential sweeper. You don't want the game to go very long, and also don't want to lose to a 《Terminus》, but sometimes you just have to give them the window to win with a 《Terminus》 to close if they fail.

Against UW/Jeskai Control
A nice interaction that won't come up very often but it's good to be aware of if the situation occurs is the following: if you cast 《Collected Company》 and they attempt to counter it (let's say with 《Cryptic Command》) and you have a 《AEther Vial》 on 3 and a 《Spell Queller》, it's probably going to be better to counter your own 《Collected Company》 with 《Spell Queller》 and then let the 《Cryptic Command》 with no targets. Then you will have a fresh 《Collected Company》 for their sweepers. I think it's the only scenario where you might want to target a spell of your own with 《Spell Queller》.
The first game it's hard to win without 《Spell Queller》 and hard to lose with it. Post-board it's hard to lose, period.

Against KCI
I keep 2 《Path to Exile》 since they might bring 《Sai, Master Thopterist》 (which is good but doesn't win the game by it's own) and also in some spots is good enough to stop the combo forcing the 《Scrap Trawler》 to get sacrificed before they can return too much stuff with it. Fire it as soon as you have priority with 《Scrap Trawler》 in play!
Burn:
This matchup felt slightly unfavored while playing. However, I ended up winning a lot of games I thought I would lose. The dice roll is crucial and having painless mana is game changing. A line that I found out to be very good is to copy an 《Eidolon of the Great Revel》 with 《Phantasmal Image》. If you have a 《AEther Vial》 or 《Collected Company》 this put them in a very though spot since all of their spells will hurt more to them than to you, and you can use 《AEther Vial》 or cast 《Collected Company》 to win.

Against Burn
RB Hollow One:

Against RB Hollow One
Note: On the Play you should bring 2 《Thalia, Guardian of Thraben》 instead of 2 《Knight of Autumn》 to be the aggressor.
RB Hollow One has a lot of variance, so if you take a small sample you might think it's very easy to beat or quite impossible. I think it's close, we are more consistent and can sometimes answer their good draws but sometimes we will get crushed. This is the matchup where I am less confident on what to take out.
《Phantasmal Image》 is good to copy their turn 1 or 2 《Hollow One》 and 《Gurmag Angler》. Cutting 《Drogskol Captain》 also feels bad but getting him 《Lightning Bolt》ed is very sad and if we are taking out 《Phantasmal Image》, they become worse. It might be just better to not bring 《Knight of Autumn》 at all. Also cutting some 《Spell Queller》 (they probably trim on 《Bloodghast》 and 《Flamewake Phoenix》) or 《AEther Vial》 (they might be too slow for the matchup) could be fine. I'm not super experienced here, sorry.
Jund:

Against Jund
This matchup is a bit tough since they have disruption but also put a lot of pressure with 《Tarmogoyf》 and 《Bloodbraid Elf》. 《Collected Company》 is our best card here because it can't be discarded by 《Inquisition of Kozilek》 and might give us that card advantage and tempo that we need to be ahead. As I mentioned before, if you can set up a double 《Drogskol Captain》 it's going to be very hard for them to win.
Mardu Pyromancer:

Against Mardu Pyromancer
I think we are slightly favored in the matchup. Their creatures don't put much pressure and 《Lingering Souls》 can only chump block so they need to drown you in card advantage through 《Bedlam Reveler》 while dealing with almost all of your threats.
This matchup is hard but gets a lot better with the sideboard. I don't think "Modular" is enough to bring in a 《Rest in Peace》, and there's not much I really want to take out. 《Phantasmal Image》 might be bad in the face of a 《Walking Ballista》 but if they have an active big one we are losing anyway, and 《Phantasmal Image》 might be the way to double 《Drogskol Captain》 before they have 《Walking Ballista》.
I like to keep 2 《Path to Exile》 and a 《Reflector Mage》 here since sometimes they have a hand without a "Hexproof" creature and they have to go all in 《Kor Spiritdancer》 or 《Dryad Arbor》. If they have the silly draw, we are losing anyways so I like to keep some removal to punish them for not having a 《Slippery Bogle》.
Conclusion
This list should cover a big portion of the endless Modern format. The fact that the sideboard is full of hate it's not very difficult to know what to bring in. To know what to take out can be hard sometimes, there are some easy cuts in some matchups but when I don't know what to cut, I end up cutting one of each of the candidates. As long as they don't have increasing returns (better in numbers) it can't be very wrong.
I hope you found this guide useful and good luck to everyone playing the upcoming RPTQs!