The New Era
Hello Hareruya lovers!!!
It is been a long time since my last article. Since then I signed to be one of the 32 players that will be on the Magic Pro League (MPL).
This was a huge step for me as a professional player and an even more huge step for the game. I am pretty sure Magic Arena will bring this game to a level nobody ever dreamed about. If you follow esports channels, I am pretty sure you already saw them talking about Arena and the amount of prize Money Wizards of the Coast will pay next year. This king of exposure will bring a lot of benefits to the game and to the players.
The hype over Arena is absurd and if you are not playing Arena yet, you should rethink your Magic life. Having an account with high ranking is so important as having cards to play the physical game.
Looking Back 2018 World Magic Cup
I know I am really excited about the 2019 year but first I have to talk about 2018 and how my World Magic Cup went. I got the invitation because I manage to be the Brazilian player with the most pro points at the end of the season. This is a huge accomplishment because I am at the same country as Thiago Saporito, Lucas Esper Berthoud and Paulo Vitor Damo da Rosa. Brazil is a powerhouse of Magic in my opinion. We have 3 players on the Magic Pro League and I am pretty sure only USA and Japan has more players.
Back to the World Magic Cup, I didn't have too much time and focus to test for this tournament. If you guys don't know, I am also a store owner and the end of the year season was crazy. Also, the MPL News wouldn't let me think in anything else. I know this attitude is not the best to take during a tournament this big but I don't want to lie and say I have all figured out.
My Teammates and Our Deck Choices
My luck was that both my teammates were beasts when the subject was practice and I really trusted them during the whole process. Lucas Caparroz and Fabricio Rodriguez tested and talked like crazy and I could pick some of their ideas. In my opinion Lucas Caparroz is the new rising star of the Brazilian magic. He is qualified for Mythic Championship Cleveland 2019 and played the last 2 Pro Tours. I am pretty sure you will hear about him very soon. Fabricio is a former professional esports player and is devoting all his time to become a MTG Arena player. Save these two names for the future.
They decided the best formation for the trio's deck was Golgari (BG), Selesnya (GW) and Izzet (UR) Drakes. I really liked this decision because I think all the three decks would have decent match ups against most of the trio's formation. I would be happier if we could play both Izzet Drakes and Jeskai Control but they use too many same cards.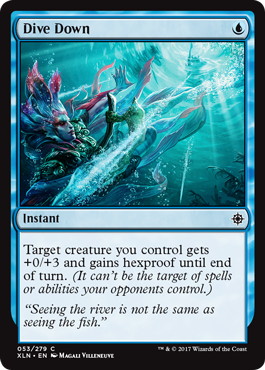 I was handled the Drake deck and the list was the same that won the StarCityGames.com Invitational the week before the World Magic Cup. I really liked the list and I prefer to play Drakes over 《Arclight Phoenix》 because 《Dive Down》 is so fantastic in the field. It protects your creature and buys you a lot of time since most of the removals cost between 2 and 4 manas.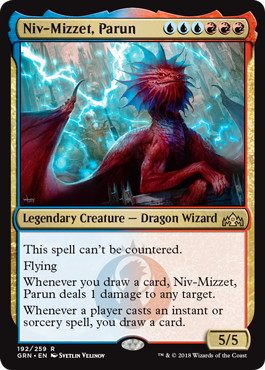 Also, the main deck carries 《Niv-Mizzet, Parun》. Have you ever seen this card working? Finally, I have 2 《Niv-Mizzet》 to be proud of! I think this is the best game 1 deck in the field since it has only problems with decks that populate the table with too many creatures.
My Results and Changes for the Future
I ended up having problems with a Golgari that loaded his sideboard with cards against Drakes. 《Plaguecrafter》 is such a difficult card to beat since you cannot stop it with any of your cards. Also, I screwed up a game against a 《Arclight Phoenix》 deck because of the lack of testing. My game plan was entirely wrong and I made a mistake not holding my Drakes to block his Drakes and I allowed him to put me in very low life, so he could finish the job with 《Shock》s.
Therefore, you have to test. You must know the line for every deck in the field. Trying to figure out during the game is very hard. This mistake cost our day 2 and I got pissed off a little bit with me for not spend more time preparing for this tournament.
My upgrade of this deck would include two cards at the main deck. I really want to have the 《Ral, Izzet Viceroy》 in the main so I could have a better game against Golgari and Mirror. I also would like to have the 《Murmuring Mystic》 in the main. To put these two cards, I would remove one 《Enigma Drake》 and one 《Beacon Bolt》. The mana cost of the deck would be a little more expensive but I am pretty sure it can support it.
Our Result
In the end we didn't make day 2 because we drew the last round. Lucas Caparroz won his game, I screwed up my game against the UR Phoenix and Fabricio who was playing Selesnya drew against a Boros deck. Both games went very long and were decided by a bunch of creatures on both side. The combats were involved more than 30 creatures and this kind of combat takes a lot of time to be resolved.
Besides the frustration, I think we had a great time as a team. The trip was good, we were relaxed, and this made us enjoy Barcelona. I love Europe because even if you don't do well at your tournament, there is a lot of good stuff to do and I think this is what the Magic trips are made of. You have to focus on the tournament, but you also have to enjoy the trip and the company.
Adopting Izzet Drakes to MTG Arena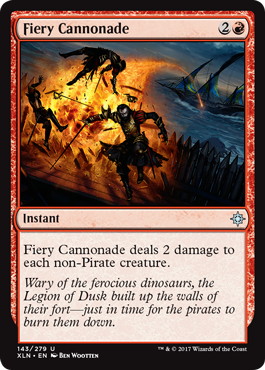 About the deck, I think it is a good deck to rank up on Arena. Since the ladder games are Best of 1, I think you could try to find some slot for a sideboard card like 《Fiery Cannonade》. It is a good way to improve your chances against the Boros or Selesnya match up and they will never expect that you are playing this main deck. Of course, you don't want to use multiple copies since you are going to face a lot of Controls or Mirrors but one or two will not kill you and will help a lot.
Watch Out for My Twitter and Stream!
I hope this mic can make my voice sound better on the stream. Anxious to start singing during my streams. Btw, i have to remember to never drop this mic because it is expensive. pic.twitter.com/kn3Ix3XQA3

— Carlos Jaba Romao (@Jabsmtg) 2018年12月24日
I also would like to ask you to follow my Twitter. Look for @Jabsmtg. I will start my stream very soon and really would like to see you there. I will do some streams in English and some in Portuguese so I can reach both publics. I really felt that I have to do it in Portuguese because the Brazilian players need this kind of content and I want them to be part of this new episode of our beloved game.
Thank you very much for your time and I hope to see you soon.
Carlos Romao@Jabsmtg