Drafting Modern Horizons
Hello everyone,
I usually make Draft with Hareruya Pros article where 4 different pros comment the first 8 picks of a draft and we can compare their choices, but today I decided to make my own draft article and comment the 8 first picks of every single pack of the draft.
Pack 1
Pick 1
《Faerie Seer》 is the best one drop for UB Ninja but it mainly good in UB and not great in other blue decks. 《Savage Swipe》 and 《Springbloom Druid》 are also 2 cards I like but I'm going for 《Pyrophobia》 here. The card can deal with many stuff including 《Ninja of the New Moon》.
Pick 2
《Man-o'-War》 is probably the best common in the set, since the uncommon and the rare are not great and there is no red card, it's a pretty easy pick.
Pick 3
I am a big fan of 《Igneous Elemental》. The card is just a 2 for 1 most of the time and having it early in the draft allows you to pick some ways to decrease the mana cost.
Pick 4
《Bogardan Dragonheart》 is combo with 《Goatnap》 and both are very easy to get. I think it's too early to pick it and 《Eyekite》 and 《Orcish Hellraiser》 are better options. Since I have already 2 good red card, I go with Orcish even if it's not very ambitious.
Pick 5
《Changeling Outcast》 has the same problem as 《Faerie Seer》, very powerfull in UB and medium in other decks. I just go for this very late 《Mob》. Maybe black is open.
Pick 6
《Answered Prayers》 is the best card in the pack but I have the feeling that the card doesn't work with my previous picks. It can be strange but I'm going to pick the 《Snow-Covered Mountain》 here. It works well with 《Rime Tender》 if I end up green and/or 《Winter's Rest》 if I end up blue.
Pick 7
This is a very strong pack for a 7th pick. I'm going for the second 《Igneous Elemental》 but I am very sad to pass a 《Springbloom Druid》.
Pick 8
Nevermind I got an other one. At this point, I am thinking about playing RG Splash blue.
Pack 1 Pick 9 to Pick 15
Pack 2
Pick 1
It is a very close choice between 《Genesis》 and 《Wall of Blossoms》. At this point, I don't have way to abuse 《Genesis》 so I go for the 《Wall of Blossoms》 but it can be a wrong decision. I played against 《Genesis》 a couple times before and it was a strong card.
Pick 2
《Rime Tender》 is the reason why I picked Snow-Covered Basics. It's just super strong if you can use the ability. Remember that it also untaps snow creatures.
Pick 3
Another 《Man-o'-War》 is a good reason to focus on the blue splash plan in my deck. Very happy to see the best common in the pick 3.
Pick 4
I'm still looking for ways to put lands in my gravayard here and 《Lonely Sandbar》 does the job. Also, I'm probably not really looking for 2 blue sources in play with my deck and it might just be the extra one I'm happy to Cycle.
Pick 5
Even if I want to put lands in my gravayard, 《Trumpeting Herd》 is a much better card than 《Nantuko Cultivator》. It's also another 2 for 1 card.
Pick 6
A second 《Springbloom Druid》 is exactly what I was looking for to fix both my blue splash and my 《Igneous Elemental》. I really needed more and 2 is the minimum number for the deck.
Pick 7
A very late 《Pyrophobia》 looks like red is super open and players on our left understood signal from first pack. Remember, it was my P1P1 and now I have it P2P7.
Pick 8
Wow. 《Reap the Past》 is an other super great way to make card advantage and it's in our main colors. Super reward to have it as the 8th pick, I could have first pick it.
Pack 2 Pick 9 to Pick 15
Final Decklist and Conclusion
Here is the deck I finally submit: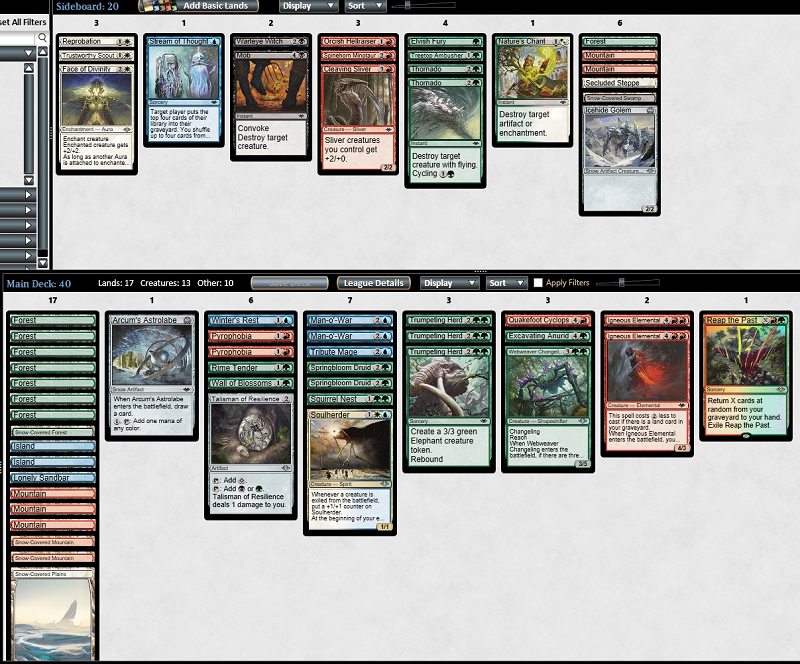 As you can see I'm running 4 colors but with enough fixing. It's little hard to play double green and double red + with 《Island》 and 《Plains》 but I choose to play all the best card I had. The deck still have 10 green sources + the Mage which can search for the 《Talisman of Resilience》. Then, I can get the red with the help of 《Springbloom Druid》.
I end with a easy 3-0 with the deck beating 3 UB Ninjas on the way.
Drafting Modern Horizons feel like drafting Cube sometime and I love it.
Thank you for reading,