Introduction
Hi everyone, my name is Cristian Ortiz Ros and I am also known as Naisirc on Magic Online.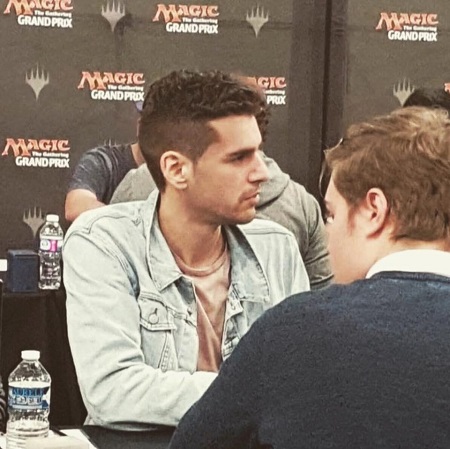 Today, I come here to bring you a detailed article about my hallmark deck and history of the strategy that I have played the most throughout my MTG life. That deck abuses the ability to discard and fulfill the graveyard by Cycling Creatures and then takes them all together into the battlefield with the namesake card of the archetype; 《Living End》. I am very proud of having a chance to introduce it.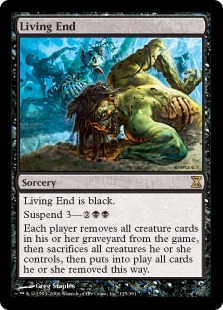 What do I expect from my article? I would like you to have the first learning resource for every beginning 《Living End》 player, and at the same time the ultimate complementary resource for players and knowers of this strategy.
Is the Deck too Simple? Yes or No?
Well, at first you will surely read all the cards and think that it is too simple. Just paying Cycling cost which allows you to draw a card while fulfill your graveyard as an instant speed and then tap three mana for casting Cascade spell to find 《Living End》, it is done, Good Games! … Wrong! It is not as simple as it seems. It is not always going to be this way, since our plan does not consist in simply doing a combo and a lot of people already learned how to fight the combo so we have to find the right moment and the right way to do it.
《Fulminator Mage》 and 《Beast Within》 are going to be key pieces to make our way up to that moment. Furthermore, sometimes, our best plan is to start casting our creatures from the hand paying their mana cost, yes, costs three / five / six. At first, it may seem crazy but over time you will realize that you can even win the games.
We must always be intelligent which to cast of all we have in hand and once we start that plan, we have to be cautious when attacking with them, since the creatures of your opponents can block yours and we must remember in every moment that later we will have to deal with them again if at some point we decide to combo, since they will return next to ours to the battlefield.
Calm down, with experience and effort you can get everything and when you get to that point, this deck is simply masterful. It will surprise you!
2010 (Extended Era)
In 2010, Travis Woo invented the deck and made top 4 in the Grand Prix Oakland 2010, in a format dominated by archetypes such as 《Hypergenesis》, 《Dark Depths》 and infernal Thopter/Sword Combo, and even then, the deck was successful. Two months later, he did update his list and sneaked into top 32 at the Grand Prix Houston 2010.
This original list has changed a lot since then, as you can see below.
2014
Already in the format called Modern, 《Living End》 was consolidated as one of the most popular graveyard decks. In 2014, this configuration led my friend and test partner Juan Belmonte to play his first Pro Tour.
The numbers of 《Living End》 were reduced from four copies to three, at the moment Jeskai Control, UR Twin and Jund were dominating the format.
2015-2016
Fun fact: Even the enchantment 《Splinter Twin》 also came into our strategy as a second option. Crazy, right?
Of course, when something is so good it ALWAYS ends up being banned. 《Splinter Twin》 was no exception in this and ended up leaving Modern in 2016. Although in 《Living End》 it was more for abusing the card itself than for the stability or advantage that it could provide you, though, it allowed you to confuse your opponent to have more ways to snatch victory.
2017
In 2017, after the departure of Amonkhet and with it, new Cyclers were naturally introduced to the deck and also part of the backbone of it. They would take me to get a 9-0 record on day 1 of the Grand Prix Copenhagen 2017 and subsequently lose the finals against Italian player Mattia Rizzi with Grixis Shadow.
From this list we highlight the incorporation of 《Horror of the Broken Lands》, best Cyclable creature of cost one and also the most aggressive one that we can get to cast, being able to have an attack value of six to eight easily (Cycling other cards, of course).
《Simian Spirit Guide》became a mandatory staple, providing a necessary speed and facilitating many matchups because it allows us to play a turn before 《Fulminator Mage》, 《Beast Within》 and even a 《Violent Outburst》 or 《Demonic Dread》.
During 2017-2018 《Living End》 suffered from some problems. 1) There were so many graveyard-hates, 2) Decks with hate-bears like 5C Humans and Bant Spirits were too popular.
How could this happen? It was clear that at the moment Dregde became very popular among Modern players and everyone wanted to play graveyard-hates. Decks like Humans and Spirits began to stand out and they were very good against 《Living End》 deck because of hate-bears in the form of 《Meddling Mage》 and 《Spell Queller》.
《Living End》 could still beat other creature decks but it was not the best time to play this deck, obviously.
2018
Year 2018, a Japanese player known as Jundilion on Magic Online, began to obtain positive results with 《Living End》 by adapting it in a different way. He describes it as a midrange deck, in which making a combo goes a bit to the underground.
As you can see, the number of 《Living End》 falls from three to two. The incorporation of 《Archfiend of Ifnir》 to deal with a metagame full of creatures. 《Bloodbraid Elf》 appears as reinforcement to the idea of midrange plan and 《Desert Cerodon》 is implemented to the bulk of Cyclers.
Before giving way to the current list in which I am working, order of Cycles and Sideboard Guide, I would like to highlight the inclusion of the London Mulligan to our game. For example, in the case of our strategy, it allows you to put one of the 《Living End》s in our opener hand on the bottom, thus creating a small advantage in knowing that one of them will be out of reach and there will be less options to steal it later; that is reason why we should not be afraid when it comes to forcing more mulligans.
Sample Hand
For example, this hand is a clear keep, but if we mulligan to six it is completely better since it would allow us to put the 《Living End》 on the bottom.
Another Approach
Wait, wait, I am missing something. While I am not a fan of playing 《Living End》 outside the classical composition, we also have a somewhat less known variant in the colors blue / red.
Its power is based on gaining time with 《Cryptic Command》 and respective counterspells until we find the ideal time to play 《Living End》 from the hand with the help of 《As Foretold》 or 《Electrodominance》.
Current Decklist
And now, without further delay, we are arriving at what is for me the most expected point of this article: my current list, order of Cycles and a Sideboard Guide that accompanies it to be able to successfully solve different matchups.
The Decklist and Card Choices
Again, we return to a more classic list, in this case focused on being able to succeed in the first games. We leave out cards like 《Shriekmaw》 or 《Faerie Macabre》 of the sixty main deck. Filling those slots with 《Twisted Abomination》 and 《Valley Rannet》 to always ensure we have access to our third land, which is very important, since our strength starts at the three mana. 《Nurturing Peatland》 makes its way into the mana base after the departure of Modern Horizons and it is appreciated to have an assured draw when a game is extended.
On the bench we highlight the 《Leyline of the Void》 playset (I consider myself an absolute fan of this card). For me, it is the best way to combat strategies that abuse or support part of their game in the graveyards but we can also use 《Faerie Macabre》 as a second alternative if we do not like this first option. We added a fourth 《Beast Within》 on the bench to reinforce the fight against cards like 《Teferi, Time Raveler》 or 《Rest in Peace》 by Azorius Control and in turn it gives us more success vs. matchups like TitanShift, Tron, Ad Nauseam or Four-Color Whirza.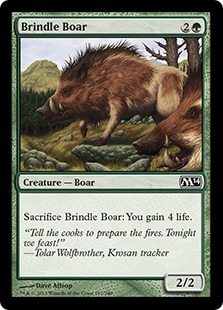 Special appointment also to the three copies of 《Brindle Boar》 in our sideboard is totally necessary because of the rising popularity of the Burn deck (to be honest, I am not able to play other gain life cards because I just love the boar😁).
Order of the Cycling in Our List
The two costs Cyclers will always be the last option and it is always better to draw a card than to find a land unless it's necessary.
Sideboard Guide
Azorius Control

Against Azorius Control
Burn

Against Burn
Jund

Against Jund
Tron

Against Tron
Eldrazi Tron

Against Eldrazi Tron
TitanShift

Against TitanShift
Grixis Shadow

Against Grixis Shadow
Hardened Scales

Against Hardened Scales
Orzhov Stoneblade

Against Orzhov Stoneblade
Four-Color Whirza

Against Four-Color Whirza
Devoted Company

Against Devoted Company
Gifts Storm

Against Gifts Storm
Ad Nauseam

Against Ad Nauseam
Humans

Against Humans
Bogles

Against Bogles
An Example: The Latest Modern Format Playoff
As an example that the deck is currently well positioned (from my point of view), here I leave you the matchups with the results in the latest Modern Format Playoff of Magic Online, where 384 players were fighting for the victory. I played same seventy-five cards above which I managed to finish in the 5th place after an 8-1 in the Swiss Rounds and losing later in the Quarterfinals.
| Round | Deck | Result |
| --- | --- | --- |
| Round 1 | Hardened Scales | 2-1 |
| Round 2 | Twiddle Storm | 2-1 |
| Round 3 | Jund | 2-1 |
| Round 4 | Abzan | 2-1 |
| Round 5 | Four-Color Whirza | 2-0 |
| Round 6 | Tron | 2-0 |
| Round 7 | Azorius Control | 0-2 |
| Round 8 | Burn | 2-1 |
| Round 9 | Burn | 2-1 |
| Round | Deck | Result |
| --- | --- | --- |
| Quarterfinals | Four-Color Whirza | 0-2 |
Always remember that this deck is always better in a current metagame tournament!
Conclusion
Well, if you got here, I hope that you enjoyed it, that now you want to try this fun strategy and that it will be easier for you to get that long-awaited victory. See you at the game in tables or on Magic Online, do not hesitate to say hello if so!
Finally, I would like to thank Hareruya and editor team for trusting me to write this article and give me the opportunity to show you my knowledge about this deck. For me it is a complete honor.
If you have any questions, I will be happy to answer you on social networks.