Nogaak – No Problem
I didn't really plan to write about the UB 《Vengevine》 version I built, but after having won the Modern PTQ at Magic Fest Utrecht, seeing more people pick up the deck and watching a few different streams, it became apparent that people needed a user manual in order to harness the full power of the deck, especially when it came to sequencing and sideboarding. In some cases it was as if you took a nicely polished Ferrari out for a joyride, you briefly appreciate the car glittering in the sun before taking off the rearview mirrors with a sledgehammer and then driving it backwards against a wall. 🙂
It's easy to underestimate the deck's complexity and I keep making mistakes and punting games away.
The Deck's Evolution
I have played pretty much all versions of the deck, starting with Bridgevine including 《Greater Gargadon》 and 《Goblin Bushwhacker》 over a year ago, continuing with fully powered 《Hogaak, Arisen Necropolis》 featuring 《Bridge from Below》, followed by Jund Hogaak with 《Temur Battle Rage》 in Barcelona (not yet having grasped the power of 《Hedron Crab》 myself), then 4C Crab Hogaak in Birmingham, and briefly right before the banning the peak of perfection that was GlimpseGaak.
The Gaak incident forced Wizards to really bring down the hammer on the deck, which was a shame. I still find it baffling how the card came to be, they probably just rolled some dice to decide what numbers to print on the card and then Play Design was either intoxicated or already busy with balancing 《Oko, Thief of Crowns》.
Getting multiple cards from one of my favorite archetypes banned was unfortunate and it required some, let's say, creative solutions to keep the deck competitive, all of which culminated in the latest version called Nogaak. After the bannings took place, I expected graveyard hate to disappear and decided to revisit the archetype during testing for Team GP Ghent, going through countless iterations of the deck before arriving at the build Elias Klocker and I submitted for the Team GP:
How the Deck Works
The goal is to either get 《Vengevine》s and 《Prized Amalgam》 into play on turn 2, using 《Hedron Crab》 and 《Stitcher's Supplier》 to mill yourself, or set up on turn 2 with 《Glimpse the Unthinkable》 to really go off on turn 3 and deal the last few points of damage with 《Creeping Chill》.
This version is optimized to kill on turn 3, which against the goldfish happens somewhere around 20% of the time, or create a board on turn 2-3 that can't really be dealt with. Turn 2 kills are theoretically possible but I've never been this lucky, and the deck goldfishes on average right around turn 4.
I think this is the most difficult to play version of the deck yet, followed by original Bridgevine. Hogaak was much easier to play while at the same time so powerful that it was quite forgiving when making mistakes. At first glance the game plan might seem straightforward, but the deck has a lot of unintuitive sequences and a tendency to punish even the smallest missteps. I recommend getting in as many reps as possible before taking it to an event and to continuously analyze your sequencing.
Card Choices
Mainboard
Enablers
《Hedron Crab》 and 《Glimpse the Unthinkable》 are your most powerful enablers and double 《Hedron Crab》 draws allow for really broken openings. Glimpse can be a two mana spell that deals 6 damage to your opponent, gains you 6 life and puts 4+ power into play on turn two.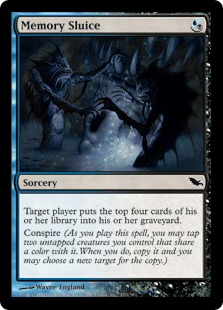 However, there are some curves where drawing the first copy of 《Memory Sluice》 is much better than the second copy of 《Glimpse the Unthinkable》, allowing you to mill 8 more cards on turn three while still being able to trigger 《Vengevine》 and synergizing nicely with 《Narcomoeba》, making it the next best enabler in my opinion. Keep in mind that with a Conspired 《Memory Sluice》 you still get to mill four cards against a counterspell.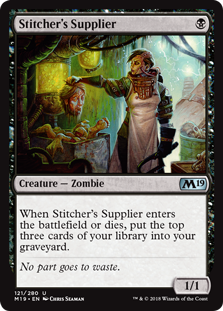 《Stitcher's Supplier》 is your least powerful enabler in terms of how many cards you get to mill, but you do need to keep your zombie and creature count high enough to ensure the rest of your deck is functional.
Payoff
The payoff cards should be quite self-explanatory, 《Vengevine》 makes your fastest kills possible, while 《Creeping Chill》 is a nightmare for Burn to play against and 《Prized Amalgam》 plus 《Narcomoeba》 improve the potency of 《Glimpse the Unthinkable》 and act as a bridge to give you access to 《Gravecrawler》.
Supporting Cast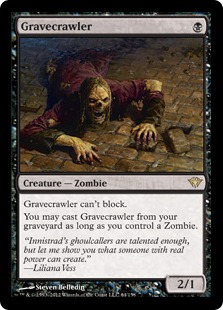 《Gravecrawler》 and 《Carrion Feeder》 get a category of their own as they aren't true enablers nor payoff cards. 《Gravecrawler》 glues the two categories together, being a payoff card but at the same time an enabler for 《Prized Amalgam》 and 《Vengevine》.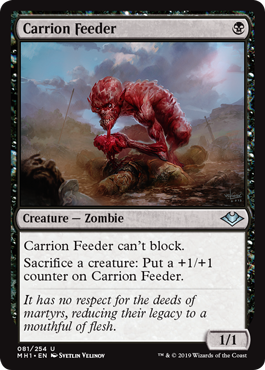 《Carrion Feeder》 is sort of an enabler and plays lots of different subtle roles. After having extensively played with lists not running 《Carrion Feeder》, I think it makes the deck operate more smoothly overall and wouldn't want to cut it. It keeps your zombie and one mana creature count high which is crucial, it helps trigger and especially retrigger 《Vengevine》s with 《Gravecrawler》, which can otherwise be difficult to accomplish. It has many additional matchup specific applications such as preventing lifelink from 《Wurmcoil Engine》, 《Batterskull》 and 《Daybreak Coronet》 and making sure your creatures go to the graveyard instead of being exiled by 《Ugin, the Spirit Dragon》, 《Deputy of Detention》, and 《Path to Exile》 or being bounced by 《Reflector Mage》.
In some games 《Carrion Feeder》 just grows to enormous size thanks to multiple copies of 《Prized Amalgam》 and a 《Gravecrawler》 and then goes to town.
Manabase
The manabase was quite contested and the reason for many arguments and discussions during testing. I did try other configurations incorporating 《Gemstone Mine》 and 《Darkslick Shores》, running fewer fetches, playing different fetchlands and 《Breeding Pool》 and once the red splash was added even a manabase with 《Steam Vents》 and 《Blood Crypt》 was considered.
Ultimately, while I think this manabase still has some issues, I believe it to be the best solution. Ideally all your lands would produce blue mana, but having a non-black producing land is just not acceptable as it will often mess up your curve. 《Swamp》 and 《Overgrown Tomb》 are by far your worst lands and I considered running only one 《Overgrown Tomb》 or even cutting them all together in case we decided to build a sideboard without green cards. I believe you want access to the second 《Swamp》 as it gives you better fetch patterns against aggressive decks such as Burn and to have additional insulation from 《Path to Exile》 and 《Field of Ruin》.
You want to maximize the power of 《Hedron Crab》, meaning every non-fetchland you add makes the deck slightly worse, at the same time I don't want to go below 7 fetchable lands.
Playing 4 《Polluted Delta》 seems optimal against the Urza decks with 《Pithing Needle》, since it's the fetchland they play four copies of.
Sideboard
One of the reasons to play this version of the deck is that you get access to 《Force of Negation》 out of the sideboard. During the early stages of deckbuilding the goal was always to keep the blue card count high enough to support Force as it's a card that helps with combating some of your tougher matchups while also being decent against various hate cards.
You should consider updating the sideboard as it was built for the Team GP metagame. We were expecting Whirza to be among the most played decks and the red splash was mainly targeted at Whirza, where the combination 《Ancient Grudge》 and 《Shenanigans》 can let you win through 《Grafdigger's Cage》 and 《Ensnaring Bridge》
Cards I'm Not Playing
Here is an incomplete list of cards that have either been (sometimes briefly) considered or tried in no particular order:
And many more. There was even a list running 《Rally the Peasants》, please don't ask how it performed. 🙂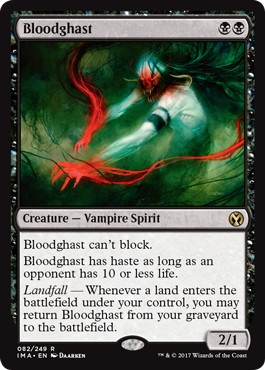 The card people most often ask about is 《Bloodghast》, and for good reason. In all the early versions of the deck I was running four copies of 《Bloodghast》, sometimes alongside 《Narcomoeba》, and it was a really difficult decision to finally cut them. One of the reasons being that the land count is not that high and the deck is built to function with only two lands if needed. You want to maximize your turn 2 explosiveness with 《Glimpse the Unthinkable》 finding 《Narcomoeba》 and 《Prized Amalgam》, allowing you to cast 《Gravecrawler》 on turn three from the graveyard even if you didn't draw a zombie. Unfortunately, while still being a really powerful card, 《Bloodghast》 doesn't enable these draws, as it is a slower and grindier card.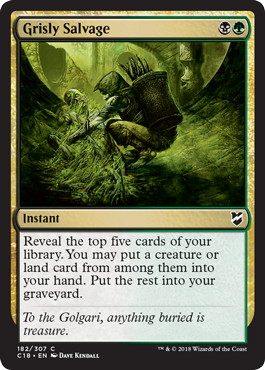 《Grisly Salvage》 is a solid enabler, albeit slightly less powerful than 《Glimpse the Unthinkable》, while at the same time putting more strain on your manabase and not being pitchable to 《Force of Negation》.
I don't think adding discard outlets improves the deck, since they will give you more cards you don't want to draw and you keep your hands based on already being functional and not on having outs to draw or mill a discard outlet. I try to avoid adding more cards that are close to bricks when drawn.
Tips and Tricks
As I've already mentioned, sequencing with the deck can be quite difficult and unintuitive, you want to make sure to take your time and think through your whole turn before starting to perform any game actions. Here are a few tips and tricks that should help you get the most out of the deck:
– Mulligan Discipline
You really need to be disciplined when it comes to mulligan decisions, one of the biggest mistakes people make when piloting the deck is to keep mediocre hands. Make sure to mulligan aggressively and don't be afraid to go down to 5 or even 4 cards. In the PTQ I won 2 games on 4 cards in the semis and finals respectively.
Nogaak is one of the decks that abuses the london mulligan the most, as you get to shuffle your payoff cards back into your deck. Funnily enough, this means that your average 6 and 5 card hands are better than your average 7 card hands and the deck can still produce really explosive draws on 5 cards.
As a general rule of thumb, I mulligan most hands without two enablers unless there are some really special circumstances. Two 《Stitcher's Supplier》 won't count except if you also have a 《Carrion Feeder》 or know you are facing either a slower matchup or one where they are likely to die.
You very rarely want to keep one-landers unless you are already down to 5 or 4 cards, as hands with one land aren't really functional.
– Slow Rolling One Drops
I frequently see people cast a one drop on the first turn without giving more thought to it, but it is often correct to save your one mana creature for turn 2 or even turn 3 if you are planning on casting Glimpse on turn 2. This means you will need to either draw only one more creature or mill a single 《Gravecrawler》 and will give you a better chance of triggering your 《Vengevine》s in situations where you didn't already have three one mana creatures in hand.
In many spots you don't want to expose 《Hedron Crab》 on the first turn to protect it from removal. This can again change depending on the texture of your hand (if you are holding 《Glimpse the Unthinkable》 or multiple Crabs) or when facing a deck with counterspells or discard.
In hands with 《Hedron Crab》 and 《Glimpse the Unthinkable》 you almost always want to play 《Hedron Crab》 on the first turn.
Normally you don't want to play a fetchland and respond to your 《Hedron Crab》 trigger by searching for a land. The best way to do it is to let the trigger resolve and if you hit a 《Narcomoeba》 you want to respond to the 《Narcomoeba》 trigger by fetching. This allows a 《Prized Amalgam》 that you might mill with the second trigger to see the 《Narcomoeba》 enter the battlefield.
All of this changes if you already have a guaranteed way of triggering 《Prized Amalgam》, such as 《Vengevine》 or 《Gravecrawler》, or if you are running low on fetchable lands, then it is correct to respond to the 《Hedron Crab》 trigger by fetching and avoiding the risk of running out of fetchable lands.
– Don't Forget to Sacrifice Your 《Vengevine》s
Don't forget to sacrifice your 《Vengevine》s to 《Carrion Feeder》 if you are going to cast a second creature, unless you are expecting a hate card such as 《Surgical Extraction》.
– Keep a Zombie Creature in Your Hand against Mass Removal
Make sure to keep a zombie in hand against decks with mass removal so that you can get back your 《Gravecrawler》 and 《Prized Amalgam》 after they sweep the board.
– Keep Track of Your Fetchable Lands
If you have already milled an 《Overgrown Tomb》 then there is no point in fetching for one unless you boarded in green cards or want to protect your 《Watery Grave》 and 《Swamp》 by leaving them in the deck.
In some cases you want to have access to double blue mana on turn three to cast a 《Hedron Crab》 and a 《Narcomoeba》, which means you shouldn't always automatically fetch for 《Overgrown Tomb》 once you have access to one 《Watery Grave》.
– Considering Your Clock and Matchup
If you have the option of bringing back a 《Vengevine》 on turn 2 or casting 《Glimpse the Unthinkable》 make sure to carefully consider your clock and the matchup to figure out what you would need the Glimpse to hit to make it better than just attacking with a 《Vengevine》 right away.
– Casting Your Creatures Wisely
It can often be correct to cast a creature / 《Gravecrawler》 from hand instead of from the graveyard to save it for a later point to trigger 《Prized Amalgam》.
– Learning The Amalgam Tricks
The Amalgam trick lets you get back 《Prized Amalgam》 at the end of your opponent's turn and grow your 《Carrion Feeder》 for free. When you control a 《Carrion Feeder》 and have multiple copies of 《Prized Amalgam》 trigger at the end of your turn you want to let them enter one by one and always sacrifice them right away so that they see the last 《Prized Amalgam》 enter play. This will give you Amalgam triggers in your opponent's end step, allowing you to play around mass removal such as 《Anger of the Gods》 or 《Supreme Verdict》. Depending on the board state you can keep going and sacrifice the Amalgams again in your opponent's end step to grow 《Carrion Feeder》.
Keep or Mulligan and Sequencing
Keep or Mulligan
To put the theory into practice here are a few example hands and my take on them:
Sample Hand 1
I would mulligan this hand as you are really reliant on 《Stitcher's Supplier》 finding a 《Narcomoeba》 or 《Gravecrawler》 to be able to mill enough cards, and I think you can do much better on six cards. If this hand had an additional one mana creature I would keep.
Sample Hand 2
While not optimal, I think you should keep this hand and try to build a board on turn 3, but I wouldn't really fault anyone for taking a mulligan, especially on the draw.
Sample Hand 3
This hand is as close as it gets, you don't have any bricks in hand but also only one enabler. I would mulligan this hand on 7 cards and keep on 6 cards. 《Carrion Feeder》 will allow you to trigger 《Vengevine》 on turn 3 even if you have to run out your creatures to Conspire 《Memory Sluice》.
Sample Hand 4
While similar to one of the previous hands, I think this hand is a mulligan, as it is lacking a second one mana creature or a second enabler.
Updating the Deck
There are multiple Throne of Eldraine cards that are potential additions to the deck. The cards in question are 《Merfolk Secretkeeper》, 《Once Upon a Time》 and 《Oko, Thief of Crowns》. I didn't have time to properly test the new cards and only theorized about them. I don't think any of these cards are better than the cards currently in the maindeck.
What people tend to underestimate is that Secretkeeper can be slightly awkward for your mana in some sequences. I could see running a split of 3 《Carrion Feeder》 / 1 《Merfolk Secretkeeper》, but I still believe that the fourth 《Carrion Feeder》 adds to the consistency of the deck and makes it operate smoothly. 《Memory Sluice》 being easier to cast and milling 8 cards outweighs the benefit of having a creature stapled onto a spell that mills only 4 cards.
《Once Upon a Time》 gives you more cards that you don't want to draw on a later turn and puts slightly more strain on your mana. Besides 《Hedron Crab》 there aren't that many high impact creatures you want to find, and I don't think the downsides justify the upside of being able to have a split card of land / one mana creature in your opening hand. If there was a second creature enabler as good as 《Hedron Crab》 that might change my view on 《Once Upon a Time》, though I can see being wrong on the card and it's entirely possible it should have a place in the deck.
《Oko, Thief of Crowns》 is the most promising card of the bunch. I'm not convinced it is really needed or worth the slots, as it is a card that doesn't support your primary gameplan and most of the time only becomes relevant once your development has been stifled / you are facing hate. I think the matchups where Oko shines are already favorable, such as UW Control. It might be at its best against something like Eldrazi Tron with 《Grafdigger's Cage》.
Other potential changes are adding more graveyard hate to the sideboard, if you anticipate to play mirror matches and as a consequence upping the number of answers to 《Leyline of the Void》, removing the red splash if you expect Urza Ascendancy PO to take the place of Whirza, as the red sideboard was specifically built to combat the 《Whir of Invention》 deck.
---
When trying new maindeck cards, especially for an archetype such as Nogaak, I recommend goldfishing as many hands as possible to get a feel for these cards instead of playing random games on Magic Online, you will get a bigger sample size and a much better understanding for how a card performs and how certain play sequences change. Once you have decided on a new configuration to test, I would always play matches against the specific matchups you deem most important and approach these matchups with a list of questions you want to try and answer. Only when you are close to finalizing your list does it really make sense to practice on Magic Online, as you move from testing your deck to just getting in a few more reps, and these aren't the same things in my opinion.
Conclusion
I don't think the deck is broken by any means, but it has been well positioned for quite some time, with graveyard hate declining and favorable matchups occupying a substantial share of the meta, the deck might be in a slightly worse spot now, if people dedicate more hate to it, but it is still an inherently powerful deck.
Thank you for reading and let me know if you have any questions.
Andreas Ganz (Twitter)