My Testing Process for MC VI
Mythic Championship VI (MC VI) was an interesting one. Much like the previous tabletop in Barcelona, everybody had a solid idea on what the best deck was but this time the card pool was much smaller. This meant that not only the answers were more reduced and ineffective but there were also much less opportunities to create a different a strategy to fight against it.
With that said, the Hall of famer Willy Edel said from the beginning in our group chat that he was not going to play 《Oko, Thief of Crowns》 in Richmond. I guess the only time a Jund-like deck is proven to be the best deck in the field, it's the time he refuses to play it. #Edelgenious
We wanted something that punished the maindeck 《Noxious Grasp》s that people were already maindecking to have an edge on the Oko mirrors, but at the same time, no one was not impressed with the Azorius Control and Temur Reclamation decks that popped on the MC VII qualifier weekend.
Willy then moved to the Rakdos Sacrifice deck and came to the same conclusion most of us in the group had. The deck was too clunky. Sure, when you draw your pieces and your opponent fails to interact efficiently with you it seems like it is the best deck in the world, but in most of the games, your game plan is like a giant castle of cards and not much needs to go wrong for it to fall on the floor.
His next adventure was the Mono-Black that Fabrizio Anteri was playing a while ago. Now this one caught my attention. I played this deck back in the Golos meta after Fabrizio beat me in one of the last rounds of the last MOCS playoff. I liked the deck, but on the other hand, I couldn't see myself playing an aggro deck, if it didn't run 《Embercleave》. I played Gruul for a while too and was really impressed with that card. If only we could run it on the Mono-Black…
Now this is the part I'd like to take credit for. We refused to play tap lands, even 《Fabled Passage》 was out of question, since the first turns are crucial. You need to develop the best board state possible, in order to make a limit for your opponent's blocking options and profit the best from your combat tricks. That's simply not possible when your lands come tapped in your first three turns.
With that said, it left us only with 《Blood Crypt》… and 《Tournament Grounds》. The deck has already a bunch of knights in it. The red we want is mostly for the equipment anyway, so what if we replace all the other creatures for knights in order to have better mana?
I quickly used the keyword "knight" on my MTG Arena collections and saw some interesting options such as 《Stormfist Crusader》 and the Oko proof 《Oathsworn Knight》. I built a sketch of it and shipped the list to Willy.
On the next day, when I returned from work I had a message from Willy saying that the mana actually is working well and the Crusader, Oathsworn and Javier (Dominguez) were actually pretty good. Probably better than the 1, 2 and 3 drops of the original Mono-Black.
On the other hand, there were something he didn't like too much:
Now I will let you think for a while on what 《Phage》 is.
A Side Note on Willy's Madness
If you know Willy, he is famous for calling new cards a renewed and better version of an existing card. Let me give you some examples:
In this case Phage is 《Rotting Regisaur》, but due its incredible combination with 《Embercleave》, both were rebranded as the Standard 《Splinter Twin》 combo. The best one though, was when he referred to 《Blightbeetle》 as the 《True-Name Nemesis》. Now you know why we call him The Witch (Bruxão).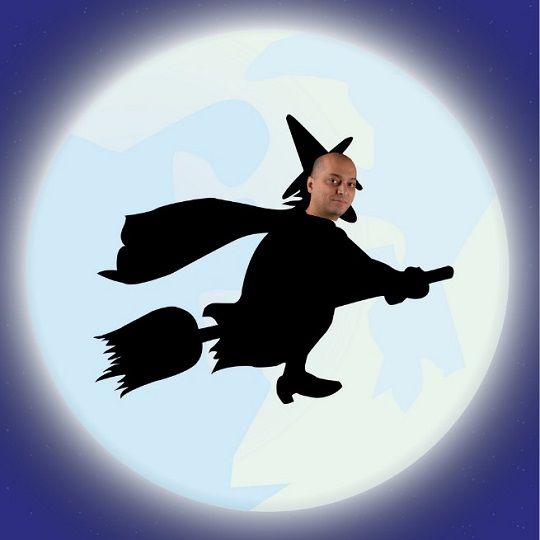 Registering Rakdos Knights at MC VI
So, the deck was legit, but let's not get crazy over here. We didn't break it. It was 50-50ish against Oko and quite polarized against the rest of the field. Having good matchup's against Temur and Azorius, while having a hard time against Rakdos Sacrifice and Golgari Adventures. One thing I liked a lot was how on even the bad matchups you can just 《Embercleave》 them to death. Another good thing about this deck is how much easier it is to play with and how much harder it is to play against, to the many different tricks you can have.
On the flipside 《Wicked Wolf》 was really hard to deal sometimes. And this deck gives you very little margin to outplay your opponent. Sometimes you just play your creatures and attack and hope that they play around the wrong tricks you have.
Also, Oko is a really good deck! There was a reason for almost 70%(!!) of the players decided to play it. Add to that the fact that I just 8-0ed the MOCS the weekend before and you can imagine how difficult it was for me to pull the trigger.
My reasoning was that if Rakdos was 50-50 against Oko, it was pretty much the same as playing Oko mirrors. Sure, you have a little more room to have a playing edge with Oko, but the fact that people were not prepared for Rakdos is also something that you shouldn't ignore. Even with open decklists. Also, a ghost from a past MOCS came to my head, when I 7-1ed the MOCS the week before MC IV in Barcelona with Hogaak to then 2-7 the constructed portion of it.
In the end the tiebreak was the fear of unintentional draws. I don't have the reputation to draw many games, but I can see an Oko mirror drawing more often than average percentage of the time, while with Rakdos Knights I was not going to have that problem.
In the end, this is what I've registered.
Card Selection and Updates
Sideboard Guide with Updated List
Golgari Adventures

Against Golgari Adventures (On the Play)

Against Golgari Adventures (On the Draw)
Selesnya Adventures

Against Selesnya Adventures
I don't really like Regisaur when you board 5 drops. It also matches up poorly against both versions of 1 drop Adventure (《Giant Killer》 and 《Foulmire Knight》).
Gruul Adventures

Against Gruul Adventures (On the Play)

Against Gruul Adventures (On the Draw)
Don't forget that 《Questing Beast》 kills your 《Oathsworn Knight》 (or trades if it still has the 4 counters).
Temur Reclamation

Against Temur Reclamation
《Stormfist Crusader》 is probably your weakest card in this matchup. It dies to 《Bonecrusher Giant》 and 《Flame Sweep》, while give your opponent some free extra draws to develop their game plan and find ways to deal with both your nightmare 3 drops.
Jeskai Fires

Against Jeskai Fires (On the Play)

Against Jeskai Fires (On the Draw)
Rakdos Sacrifice

Against Rakdos Sacrifice
The 1 toughness creatures are quite bad in this matchup, for obvious reasons. For that reason, I like to have the one drops better. Not only they put in more damage in the early turns, but it makes you at least have some mana advantage against the 《Diabolic Edict》 effects. 《Embercleave》 is your biggest weapon so don't even think about cutting some on the sideboard. Also be aware of 《Claim the Firstborn》 when you have your 《Embercleave》 equipped on a big boy. An easy way to play around it is to free equip Javier before passing the turn. Or kill them, that's even better.
Jund Sacrifice

Against Jund Sacrifice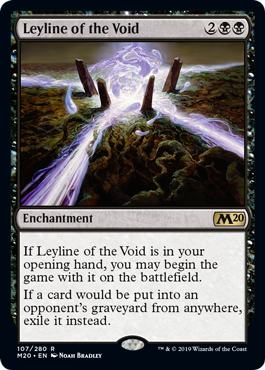 《Leyline of the Void》 is not as important to have early in this matchup as it is for the Rakdos version. Also, you get much more punished here for drawing multiples, as this deck can actually win easily against it, if you make your draws much more clunkier.
Mono-Red

Against Mono-Red (On the Play)

Against Mono-Red (On the Draw)
Rakdos Knights Mirror
I have to confess that it feels weird to play mirrors. I've never been this involved in the creation of a deck that became so popular. I feel robbed, when I lose.

Against Rakdos Knights Mirror (On the Play)

Against Rakdos Knights Mirror (On the Draw)
On the Standard Bans
As I finish writing this article it was announced the much expected Oko ban in Standard. With him 《Once Upon a Time》 and 《Veil of Summer》 also say goodbye to the format. I must say that I'm pretty happy with these changes.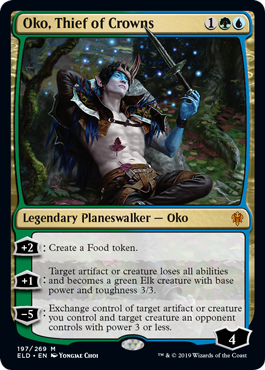 Oko was just too busted. It was too much loyalty for a 3 mana planeswalker with 2 good plus abilities. Just too miserable to play against. I certainly won't miss you in Standard.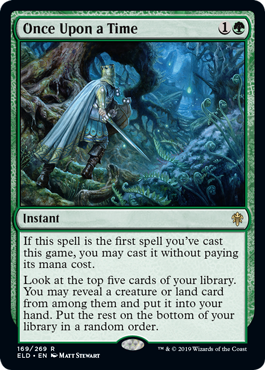 《Once Upon a Time》 is also a messed up magic card. I talked about it on my most recent podcast. I wish it had never been printed. It's not like it is super broken, its power level is fine, but the combination with OUAT, London Mulligan and open decklists makes it that the games all play out the same. Pretty boring, if you ask me.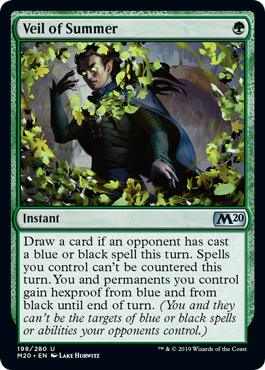 《Veil of Summer》 is also too much. The reward is just too much for something that in the worst case scenario cycles for 1 mana. Not only green had the best removal, card selection, card advantage and creatures it also had the best sideboard card, by far. And it isn't even a 《Leyline of the Void》 kind of card, that is very good, but also very specific. It is good against a lot of different strategies. It counters counter spells, removal spells, discard spells you name it.
What does it mean for Rakdos Knights?
So… nothing of our deck was banned. A good sideboard card against us (well… it was OK, not even THAT good, but as I said, it cycles, so it is never dead) was also banned so this should be good news, yes?
Well… yes and no.
On the good side what I said above is true. Veil is gone, so we can even increase the number of 《Noxious Grasp》 and 《Duress》 in the sideboard, that we were careful to not overboard. 《Wicked Wolf》, one of the best cards against us lost his buddy Oko and I doubt he sees play in Standard after this, as other than 《Gilded Goose》 I don't see other good enough for constructed food generator that can help him.
《Once Upon a Time》 getting axed, also means that it gets more difficult to draw 《Massacre Girl》, which is also good news for our deck.
On the dark side of the spectrum, as I said before this deck has some polarized matchups. With the bans, the format will open up, and 70% of the field is enough decks that I can see a scenario where the metagame is filled with more bad matchups than good matchups. Also, people will start to devote a lot more sideboard and maindeck slots for aggro decks, something that they didn't have to do before, because how weak those strategies were against Oko.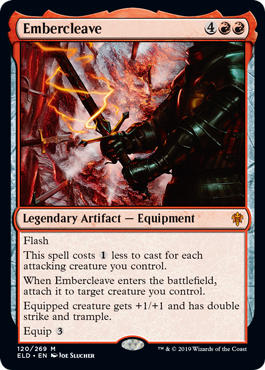 I think this deck will do well in the first weeks of the new Standard, while people durdle around with some less tuned strategies. Eventually the metagame will adapt and keep it in check, but I think it will still be a viable option for the future and definitely 《Embercleave》 will become a format defining card in Standard.
I hope you like it, if you have any question, please let me know on the comment section down below!
To finish it off, a much-requested picture of my dog Chillin.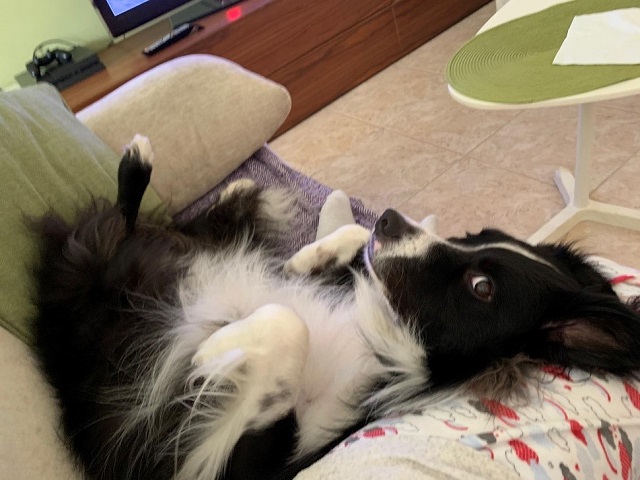 See you next time!
Gonçalo (Twitter)