Introduction
Hello dear readers! I'm back from Mythic Championship VI, and I know there is only one thing I can write about. Yes, about the best non-green deck of the tournament – Jeskai Fires. This year I've changed my approach, and during the season I almost never played something considered as "the best deck". My goal was to find the best "out of the radar" deck, tune it to beat enemy #1, and master it, while other people focus on beating mirrors.
Even though I didn't spike any of tournaments I played, I'm very happy and proud of what I did, and I'm sure I'll try to explore this strategy in the future. For the reference, at the Modern "Hogaak MC" I played UW Control (finished 12-4, 13th place), at the MTG Arena "Golos MC" I played Bant ramp (finished 4-3, 25th place missing day2 on tiebreakers), and now, at the "70% Food MC" I decided to play a non-green deck (12-4, 9th place).
Playing something that's under other people's radar might mean you play a few % worse deck in theory, than "the best choice", but you gain a lot more advantage by people making mistakes against you. At this tournament itself my opponents:
If you add to this suboptimal mulligan decisions, and some other minor mistakes, advantage coming from playing a deck that people didn't test a lot against is huge. And before you start thinking "oh, how those people can make mistakes like this, all those interactions are so obvious!" while seating at your chair and reading the article, please trust me – Mythic Championship players are around the top 500 players in the world. If you add a high stake, time pressure, and other factors like that, combined with playing unexperienced match ups, mistakes just happen.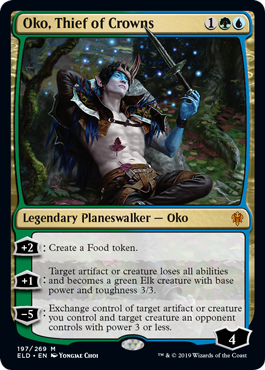 I can tell you from my experience, when I played against UW Control in day one. During three very close games of magic I made a lot of minor mistakes that led me to lose the match in the end. I'm pretty sure I would be able to win the match, if I played the match up many times before, and was more experienced with that, but I decided to use my testing time to master Oko match ups, because this was the most important thing going to this event. Even though I lost one round because of that, I'm sure my approach was correct, as it gave me more confidence in other six rounds when I played vs food.
Sideboard Guide
Sultai Food

Against Sultai Food
I don't like 3rd Dispute here, because of cards like 《Vraska, Golgari Queen》, 《Liliana, Dreadhorde General》 etc. Remember that with Fires on the battlefield, our counterspells are almost useless (technically you can cast them in your turn, but let's be honest, it almost never happens), so putting every single copy in your deck is a real cost, and gives you a chance to draw a dead card later in the game. Be careful with that!
Simic Food

Against Simic Food
Here Dispute is better, as they have cards like 《Brazen Borrower》, or 《Aether Gust》 instead of 《Noxious Grasp》. On the other hand, our Gust gets worse, with more blue spells instead of Vraskas. Without acces to Grasp on the opponent's side, I'm happy to keep both Kenriths. Also, with 4x 《Brazen Borrower》 Fae gets better than Sphinx, as 1/4 cheap body with flying is more relevant this time.
Sultai Sacrifice

Against Sultai Sacrifice
Spyglass is mostly for Oko, I don't think Oven is a good enough card against us, to bring Spyglass, but obviously you should name it, if they have one mana artifact, and didn't draw Oko.
Non-Green Cat/Oven Combo

Against Non-Green Cat/Oven Combo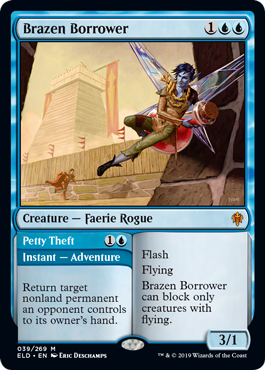 As I said above, without Oko I don't like bringing Spyglass. Since our Gust are useless here, it's time to bring our joker card.
GB / GW Adventures
No sideboard.
Temur Reclamation

Against Temur Reclamation
We don't have enough cards in sb to bring in, so we have to choose one necessary evil. I think Clarion is the best out of the worst, as it's our insurance from random 《Legion Warboss》 or 《Bonecrusher Giant》 aggro plan. Sometimes lifelink option might be relevant to escape from one-shot range with 《Expansion/Explosion》, which might give us one important turn to finish opponent. I expect opponents to board out 《Niv-Mizzet, Parun》 even if they have one, so 《Prison Realm》 is close to useless.
UW Control

Against UW Control
And again, we're missing two cards. On the other hand, that's what we signed up for while registering powerful 《Fae of Wishes》, and I'm still convinced it's worth it. Out of all bad cards I like 《Aether Gust》 the most, as it can return Chandra stolen by 《Agent of Treachery》 or 《Mass Manipulation》, or deny opponent's counterspell and put Fires back on the top of our library, instead graveyard.
Nice trick worth to know against Agent/Manipulation is 《Prison Realm》 and 《Teferi, Time Raveler》. You can exile whatever they stole first, and then bounce the 《Prison Realm》 with Teferi. You get your permanent back, ready to use, draw a card thanks to planeswalker's ability, and stay with removal spell in your hand. Pure profit!
Mirror

Against Mirror
Mass removal is just bad. 《Time Wipe》 never works as you might want it to. If your opponent has Fires, and enough creatures to be worth Time Wiping, they usually have advantage big enough, to destroy you anyway. It's better to focus more on early game and countering Fires, than trying to solve it by overcosted mass removal.
What After Bans?
Well, it's not an easy question. We can be (almost) sure, that our deck will be safe. The most realistic scenario is making food decks worse (either by banning Oko, or cards around), and that's even better for us. This opens a good opportunity for aggro decks, as they were historically bad against food, and if you read my article carefully, you already know that the more creatures they have, the better for us.
Without 《Oko, Thief of Crowns》, we can cut 《Sorcerous Spyglass》 from our sideboard and put some actual good cards against other match ups. It might be 《Devout Decree》, if we expect black or red based aggro to rise, it might be 《Dovin's Veto》, if UW Control becomes better. I don't know how metagame will evolve, or what gets banned, but I know something else. I'll keep working on Jeskai Fires after bans, so if you enjoy the deck, and want to be up to date with post ban version, be sure to follow my Twitter!
Thank you for reading, until next time!