Introduction and My Deck Choice at MC VII
Hello!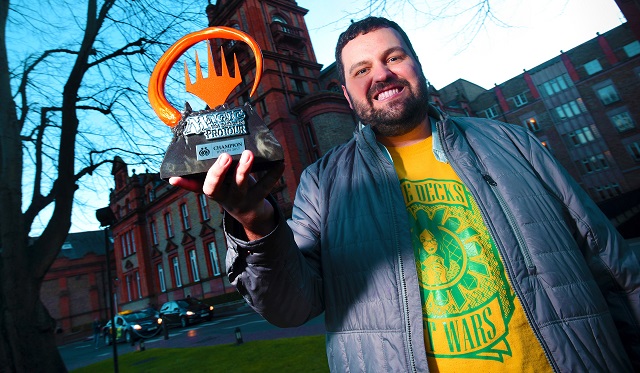 I am Lucas Esper Berthoud, former Pro Tour Champion, a Pro Tour Team Series finalist with Hareruya Latin and a member of MPL in the 2019 season. Hareruya has been a great sponsor to me for the last few years, so today I am happy to contribute to Hareruya articles.
I will talk about my preparation for Mythic Championship VII where I played a new deck, SIMIC RAMP.
I am passionate about playtesting and the process of preparing for magic tournaments. I wrote about it before in a free forum, which you can read here.
Since I have a full-time job outside of Magic, I usually don't have much time to playtest, so I try to be as efficient as possible. I put a lot of focus in being able to learn the root problems of a matchup and make effective notes from information I gain through playtesting, watching videos and reading articles. All of those notes helped me writing a sort of diary of the things I learned, which I am happy to share with you on a condensed form.
Hopefully it will show our thought process as we learned the new Standard format.
The team for this tournament was me, Carlos Romão, Márcio Carvalho, Lee Shi Tian, Andrea Mengucci and Anthony Lee, who selflessly helped us despite not being qualified to the event.
After that, you'll find my sideboard plans, approach to common matchups and how to navigate mulligan decisions.
Lucas Playtest Diary
– Early decks that stood out from day 1 were Jeskai Fires, Jund Sacrifice, Temur Reclamation, and Rakdos/Knight Aggro. Of those, we quickly figured out that Jeskai and Jund were the strongest. From my experience preparing for Mythic Championship VI Pro Tour Richmond, the Rakdos/Knight Aggro deck can be beat by anyone that wants to tune their deck a little to target it.
– Jeskai got much better with 《Sphinx of Foresight》.
– Early testing revealed that Jeskai is a favorite beat Jund, in part because it has access to a sideboard plan of 《Disenchant》s + 《Devout Decree》.
– Andrea Mengucci built a Golgari Ramp deck with 4 《Casualties of War》 and it showed great promise against Jeskai. An accelerated Casualties would often end the game. The trick was using 《Beanstalk Giant》 as a ramp spell that Jeskai couldn't interact with 《Deafening Clarion》. While BG Ramp had other issues, this showed that Jeskai isn't an unbeatable force. At the same time, we figured that counterspell decks such as Flash and Control had strong game plans against Jeskai Fires. All of this gave us the impression that Jeskai Fires isn't a safe deck choice – if it is popular, other players will figure out how to beat it.
– The main problem with Golgari Ramp was that it was losing to Jund Sacrifice because all the cheap cards it played generated significant card advantage before Casualties came online.
– Márcio Carvalho, Carlos Romão and Lee Shi Tian kept working on tuning Jund Sacrifice list. At some point Márcio went 32 wins and 1 loss with on ladder and Magic Online leagues. Very impressive. (Later on, everyone on the team was having 80%+ win rates on Arena ladder with basically any deck, so we learned to distrust ladder results).
– In Magic Online, a PTQ top8 had 4 Fires and 4 BGx decks. Metagame started to look very polarized.
– We played more Jeskai Fires versus Jund Sacrifice, where Jund tried different plans. 《Korvold, Fae-Cursed King》 was a new addition to Jund and it made a huge difference. Previously, Jeskai Fires was winning the contained games where players kept disrupting each other's engines. However, Korvold sidestepped that – in a single turn Korvold would draw 2-4 cards and undo all the work while presenting a huge threat. Between Casualties and Korvold, Jund now had the stronger late game, so Jeskai now felt more pressured to win a tempo game. This is where keeping 2-3 《Wicked Wolf》 in Jund started to become an effective plan, as killing the first creature from Jeskai bought a lot of time.
– With those changes, the matchup felt a lot closer, and at the same time very skill dependent and fun to play. In paper, I thought that Jund would be ahead but in practice Fires was still winning a little more.
– In addition to Korvold finding a way in the deck, it made sense for Jund to start maindecking 《Thrashing Brontodon》 and 《Casualties of War》, since both of those cards are reasonable in the mirror and against Jeskai. However, they are not very good against a more open metagame, so there is risk in playing them.
– We always kept looking for new decks. Lee Shi Tian liked UR Phoenix and Mono-White Aggro, but nobody wanted to go onboard. I felt that a lot of the cards Phoenix was playing simply didn't matter enough, everything except 《Crackling Drake》 could be ignored. For Mono-White, the deck is too linear and felt unlikely to succeed when opponents had access to open decklists – it's easy to mulligan into a hand with 《Deafening Clarion》 or 《Mayhem Devil》 / 《Massacre Girl》.
– Surfing through new Twitch channels I came across UG Ramp, popularized by streamer and MCQW winner FleshEatinGnome (here is his Twitch channnel). The main innovation of the deck was the late game spells: 2 《Finale of Devastation》 and 《End-Raze Forerunners》. Those are spells that can quickly end the game in a single turn and looked much better than 《Mass Manipulation》. Finale also had a huge bonus of being a versatile early game plan, including finding a 《Gilded Goose》 on turn 3 so you can cast a Nissa or Cavalier on turn 4.
– I browsed through about 10h of video archives on the deck and it looked powerful and innovative. Anthony Lee helped build a streamlined version of the deck and won a PTQ with it. The matchup against Jeskai Fires felt puzzling, however. In some games, even against Jeskai's strongest hands, UG would explode in mana and stall the board long enough blockers to the point where any big spell would win the game. In others, Jeskai would stop the mana development with removal on mana creatures, add some fliers to the board, bounce a blocker and quickly end the game.
– Trying to address the Clarion problem, I made a different version of UG that had more lands and accelerated through 《Growth Spiral》 and 《Arboreal Grazer》. It improved the matchup a little and as a bonus got stronger against Jund Sacrifice, since 《Paradise Druid》 and 《Gilded Goose》 were easy targets for 《Mayhem Devil》.
– Some more focused practice against Jeskai Fires revealed I was still unfavored in the matchup as they generally had explosive turns faster and could win some tight races with 《Teferi, Time Raveler》 and 《Aether Gust》 bouncing blockers. I had a feeling that if UG sideboarded more cards that stop the card 《Fires of Invention》, it could be ahead post-board, but it was very hard knowing what cards to take out in the matchup. I spent a lot of effort in perfecting the sideboard.
– While I was brainstorming about UG, the team kept working on Jund. The trend for the Jund Sacrifice mirror match has been to overload on 《Casualties of War》. This had several different implications. For one, ramping was important, which led to more mana sources and 《Paradise Druid》. However, those cards aren't exactly great in grindy games and created tension. Second, if 《Trail of Crumbs》 and 《Witch's Oven》 were getting killed over and over in the mirror match, maybe it was best to play less lot of 《Cauldron Familiar》 and 《Witch's Oven》 and overall rely less on the engine elements. Because of this, the team wanted a plan to win the lategame that couldn't be stopped by 《Casualties of War》. Carlos Romao and Anthony Lee thought of 《Command the Dreadhorde》, 《Bolas's Citadel》, 《Escape to the Wilds》, 《Cavalier of Night》. But Korvold proved to be good enough to play that role by itself.
– Meanwhile, the RUG 《Lucky Clover》 deck created by Aaron Getler was gaining traction. In a detailed post, he explained that he had some troubles against the Jund version of sacrifice deck because of the card 《Mayhem Devil》 and RUG's lack of interaction. This made me think that a version of his deck with a different removal suit could succeed in the matchup. And this also made me see the value of playing a deck with a powerful late game that attacked the metagame through a different angle. I became inspired to work harder on UG, knowing that if I failed, I could always play Márcio Carvalho's excellent Jund list.
– Zvi Mowshowitz wrote an article saying that Fires has a bad matchup against versions of BG that maindeck Brontdon and 《Casualties of War》. This contradicted our playtesting (I thought it would be close). I figured that our disagreement was that our version of Fires had stronger sideboard plans for the matchup than what Zvi was doing (《Devout Decree》, 《Disenchant》, 《Narset, Parter of Veils》, removal for 《Shifting Ceratops》). But Zvi's article maybe means other players are less likely to play Fires themselves, which would make UG a little better as a deck choice.
– As I kept improving my sideboard plans, the more I liked UG. I felt like I had a strong grasp on mulligans and what I needed to do against several different decks.
– However, late in the testing process, I also realized one of its vulnerability against Jund. Their hands with removal for blockers, early 《Mayhem Devil》 and the Cat/Oven combo could kill us before we could stabilize. Because of London mulligan rule, competent Jund players could develop a strategy of only keeping those kinds of hands against us. One of the reasons to play UG was its ability to beat Jund Sacrifice, so them having access to this line was very concerning.
– Still, after playtesting more, UG could partially counter that strategy by bringing in 《Aether Gust》 and 《Thrashing Brontodon》. This slowed down Jund just enough. Additionally, we thought that most Jund list would be low on removal for their maindeck, so they could only deploy that strategy effectively in sideboarded games, while BG decks couldn't race us at all because they lacked 《Mayhem Devil》. At this point I didn't think any good players would choose BG over Jund, but you can never know for sure.
– The final deck selection choice came down to Jund or UG. The team's Jund deck looked very good and had game against anything. It is clearly the best deck in the ladder format and against a diversified metagame. The concern against it was if the MC would believe Jund is the best deck and therefore base their deck choice on trying to beat it. I am usually on the side of still playing the best deck in scenarios like this. In fact, this is what I did all year with Hogaak, Esper Control, Golos, Oko. Jund is flexible and it's hard to stop it with a single angle of attack.
– However, I thought UG was good enough to be worth a bet. I really liked my sideboard plans, which I will talk about below.
– Deep down, I worked so much on the deck that I was curious on how far I could take it at the MC, and maybe that's the real reason I chose it. If this would be my last tournament as an MPL, I would prefer to go down on my own terms, playing the deck I worked the hardest to improve.
How to Play Simic Ramp
This deck abuses two rules introduced this year: London mulligan and open decklists.
UG plays a lot like Tron decks in Modern. It is designed to have the most powerful end game in the format, but this leaves you vulnerable in the early game. So, against decks that are trying to race you, the best answer is to mulligan away your initial hand every time it isn't great, which is viable strategy due to the London mulligan rule. With open decklists, you'll even know when you need to take a risk and when to play it safe.
You want the early game to follow the same script. Even though the deck ultimately needs a lot of resources to develop its plan, it's still good at going to five cards. All the card drawing and scry will help find the missing pieces when needed, and once it gets going the deck rarely runs out of gas. When deciding which cards to send back, I tend to error on the side of keeping more lands and mana sources in hand, but it's too complicated to have a hard rule.
An ideal hand can produce a 5-drop (= a spell that costs five mana) on turn 3. This is unlikely to happen, but it's good to know that it's possible. For instance, if you are willing to always mulligan to 5 on the draw against a hyper aggressive deck, you are likely to hit a 5-drop on turn 3 about a third of the time. Those are surprisingly good odds for when you are facing your worst-case scenario. (Remember that you can use 《Quasiduplicate》 on 《Arboreal Grazer》 when you really want to cast a turn 3 Nissa!)
A very good six card hand looks like this:
This hand has great odds of producing a chump blocker on turn 3 and a five-mana spell on turn 4. If you are not pressured, the "chump blocker" card can be used to generate card advantage on the late game. So, it's a great hand against any opponent.
Please note the additional comments on mulligan strategy on the Fires matchup section below.
Matchups and Sideboarding