Introduction
Last weekend I managed to win Mythic Championship VII.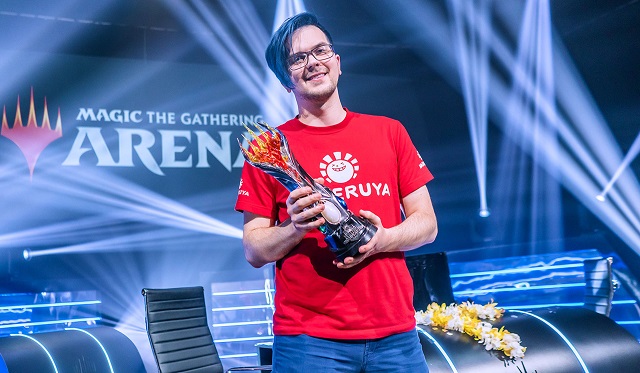 Given that it was the best possible outcome available for me entering the tournament, I am pretty happy and excited to get to finally hoist a trophy. I have never won a large scale tournament before, and the trophy shelf at my house was glaringly empty. Not only did that change, but I also got qualified to World Championship in Hawaii in February, where I'll be competing for money, fame, and most importantly a chance to get immortalized on a Magic the Gathering card. I've never made it to Worlds before either, and I'm very happy to be able to attend.
Deck and Preparation
I prepared for this tournament alone. The typical approach of gathering with a testing team and playtesting in secrecy is extremely unappealing to me. Part of it is that, unlike the majority of other MPL competitors, I enjoy streaming just as much as I enjoy the competition. I value creating good, honest, and entertaining content over the immeasurable benefit of not leaking technology leading into a tournament.
I also wouldn't ever be comfortable registering a deck for the tournament without a sizable number of games on MTG Arena ladder or Magic Online leagues with it under my belt. Many players malign using online play to practice for tournaments, as an MPL level-layer should always have an inflated win percentage in such an environment, but I have always valued being able against a wide swath of players, archetypes and differing sideboard strategies.
That said, for this tournament, I made a conscious decision to try to find a good version of a tier-one archetype, devise good sideboard plans, and roll with it. Oftentimes I try to get fancy with my deck choices, frequently outsmarting myself. To this day I don't know if my MC V deck – Black-Green Adventures with 《Vivien, Arkbow Ranger》 into the Golos meta – just didn't work out, or if it was a plainly poor choice going into that tournament. Given the fact that I cut a now-banned card from my build, two of basically only other decks existing got banned too, and the archetype still doesn't seem to be all that good really makes you think, huh.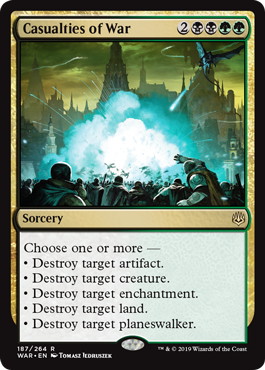 Decklist submission deadline was not too many days deep into the new Standard format with no 《Oko, Thief of Crowns》, 《Once Upon a Time》, and 《Veil of Summer》, with two relevant tournaments happening before it – Twitch Rivals and an MTGO PTQ. Twitch Rivals was mostly dominated by Jeskai Cavaliers. The common opinion was that it was beating 《Cauldron Familiar》 decks. MTGO PTQ had an even split of Jeskai Cavaliers and Cat Oven decks in the top 8, including a Golgari build with 4 《Casualties of War》 maindeck.
This one piqued my interest. Over the last few days before submission, I played a lot of ladder games with the archetype; tried out many cards; did a targeted playtesting session versus Jeskai Fires against my good friend Louis Deltour, confirming my suspicions about the matchup being close, allowing me to cross out inflexible Jeskai as an option to play; figured that 《Beanstalk Giant》 fits the archetype ten times better than 《Paradise Druid》, played out specific sideboard numbers to get numbers right. Once I got my decklist into a place I liked, I streamed wit it for a day, did some last minor tweaks and registered it.
It didn't take long during my exploration to find out that splashing for red cards makes the deck just insurmountably better. That claim seems to be supported by much better performance of Jund when compared to BG at the MC. When you compare both versions, Golgari is an extremely passive deck. It can get into situations where it has all the card advantage in the world, but lacks ability to close. Being a very defensively-slanted midrange deck is often unsafe, as people can try and get over the top of you rather easily.
Splashing for two insanely powerful threats that close the game quickly seems like a no-brainer for me. Cost of the splash is to run many more shocklands, but the format was nearly devoid of aggro decks; for some reason for a few days general population seemed to assume that you are not allowed to put 《Casualties of War》 in Jund, but there was actually no such rule in place. I was thoroughly surprised to see many players choosing Golgari as their weapon of choice for the MC.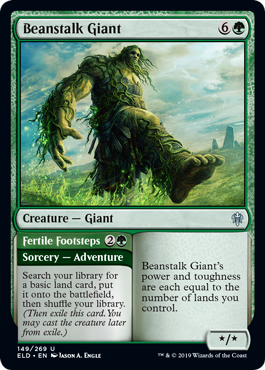 《Beanstalk Giant》s were the big breakthrough for me where I really started liking my deck; I knew I wanted to support a playset of 《Casualties of War》; I knew I want to play red, and I knew that then-stock 《Paradise Druid》 was really bad in the format. A quick search for the words "mana" and "land" on MTG Arena reminded me of the Giant's existence, and it was perfect. Ramping towards my big cards and fixing my colors, while not being weak to 《Mayhem Devil》, 《Massacre Girl》, and 《Deafening Clarion》s.
The Tournament
Back in September, right after Throne of Eldraine got released, I won my MPL split with Green-Black Adventures. That meant that I started MC VII with an insane advantage of a super-bye seeding me directly into day two of the tournament. I was able to sit out during day one, relax, and watch other people play their rounds. After not making day two at either of two previous Arena MCs, it felt a little bit off.
Conclusion
Huge thanks to my Hareruya mates who I stayed with and who supported me; Luis Salvatto, Sebastian Pozzo, and Matias Leverato; thanks to my wonderful girlfriend Katarzyna, who cheered for me from Poznań; and thanks to my twitch chat, who did a good job spamming tournament's Twitch chat and my Discord channel while I was playing. It was awesome to get there, and here's hoping for many more.