Introduction
I wasn't expecting to be writing a tournament report/deck guide so soon again, and especially not about Legacy, a format I've played once or twice a year for about the last 10 years, but here we are.
Ironically, the first Grand Prix at which I qualified for a Pro Tour was the crazy Legacy GP in Madrid, which, possibly even more ironically, was the biggest GP to date back then, with 2227 competitors and 17 rounds. If I remember correctly, there was an announcement that players at 0-3 in the main event might be forced to drop, as there simply wasn't enough playing space once all the bye players entered the event, oh how times have changed. 🙁
As you can probably already tell, I don't think Legacy is the format where most of my expertise lies, but seeing as I made top 8 at Grand Prix Bologna, I knew I wouldn't be able to avoid writing about the format. It took me longer than usual to put this article together, as I find it more difficult to provide useful advice on a format I'm not that familiar with, so if all the Legacy specialists could cut me some slack, that would be greatly appreciated. Luckily, unlike Standard, Legacy is one of the least time-sensitive formats in regards to information becoming obsolete.
Testing and Deck Choice
How did I end up in Dr. Edge's medical office?
I didn't feel that motivated to test Legacy for the GP, and considered to only play Mystery Draft side events, as I had just won a PTQ and made top 8 at the Standard GP to qualify for the first Players Tour. But since everything had already been booked, and despite not having a lot of incentives, I decided to still put in some work, exploring a wide variety of Legacy archetypes.
In this context, please allow me a short rant on Organized Play, or rather Disorganized Play. A few weeks after having won the PTQ, I got an email from Wizards of the Coast, informing me that I receive an invitation to the first Players Tour based on the old pro levels. My PTQ finals opponent (with whom I had negotiated a split) then messaged me to let me know that he was given the invitation from the PTQ. While I am happy for my opponent, I am at the same time really annoyed about Wizards making all these last minute announcements and retroactive changes that affect players. In this case, had I known about my invitation, it would have impacted my decisions regarding which events to attend or compete in, and it just creates feel bad moments.
Anyway, back to the task at hand. Legacy is a format that doesn't evolve too rapidly. I believe innovation is somewhat suppressed for a multitude of reasons:
The format's power level is really high, most new cards don't even come close to being good enough to see play in Legacy.
Legacy decks are quite expensive, making it difficult or impossible for a lot of players to quickly switch decks.
Decks have been tuned to perfection for years, it's unlikely that a certain deck has not yet been found, comes out of nowhere, and is able to stand its ground.
Similarly, having experience with piloting the same Legacy deck for years can be valuable when facing some of the more obscure matchups.
Wizards doesn't really support Legacy at the highest levels of competition (though we did get to play Legacy at the Team Pro Tour 25th Anniversary), resulting in there not being a lot of incentive for some of the best players to tackle the format.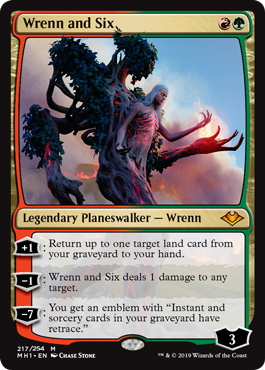 All these factors considered, I believe that right before the Grand Prix Legacy was (and still is) in the unique situation of undergoing major changes. The banning of 《Wrenn and Six》 was a breath of fresh air, removing a highly constricting factor from the format. Then there were various Legacy power level cards that had been printed in War of the Spark, Modern Horizons, and Throne of Eldraine, some of which are still looking for new homes. This gave me the impression that there was merit in trying to find something new, or at least make a few updates to existing archetypes.
I have the most experience with ANT, as this is the deck I played multiple events with. If all else failed, this was my fallback option, but there were lots of cards and decks to try. I decided to start out with somewhat of a pet deck and pet card of mine, 《Hogaak, Arisen Necropolis》. While I do like graveyard based decks, I still try to not let personal preferences influence my deck choices and instead play what I believe to be the correct choice for an event, which can sometimes be difficult. But choosing decks for sentimental reasons is often not the best idea, at least if you want to win.
I expected the metagame to shift, with different fair blue decks occupying a large share of the metagame, and then a lot more Death and Taxes decks showing up. Hogaak seemed well positioned against these decks. I went through various iterations of Hogaak decks, some of them were rather experimental, while others I was close to submitting for the GP. For my first attempt, I decided to fuel up Brew Force One, and built a list using lots of artifact fast mana, then 《Brain Freeze》 (or 《Grinding Station》) to mill myself to find 《Cabal Therapy》, 《Narcomoeba》, 《Bridge from Below》 and 《Hogaak, Arisen Necropolis》, and in some cases getting back 《Altar of Dementia》 with 《Sevinne's Reclamation》 (or 《Dread Return》 on 《Sharuum the Hegemon》) for the kill. While these versions were capable of some busted draws, they were also way too fragile and unreliable, some would even call them terrible.
I continued working on more traditional builds of Hogaak, trying out the following somewhat unconventional cards among others:
After all these experiments, I arrived at the following list:
While 《Vengevine》 is great against the fair decks, it can be too slow for Legacy, and your matchup against these decks is already favorable. The deck is focused on 《Altar of Dementia》 kills, or playing a quick Hogaak backed up by multiple Cabal Therapies. However, I just couldn't tell with certainty if this was a better deck than the regular, more aggressive version with 《Putrid Imp》 and 《Vengevine》. It played more like a combo deck and had some advantages, but also disadvantages, mainly that 《Daze》 and 《Wasteland》 are better against you, because you are more reliant on two mana spells. Ultimately, I decided to shelve the deck and move on, looking for recently printed cards that might have potential and still seemed somewhat underexplored.
《Wishclaw Talisman》 and 《Echo of Eons》 then caught my attention, a 《Timetwister》 with Flashback is no joke. I tried TES incorporating both of these cards and ANT with 《Wishclaw Talisman》, then different decks with 《Echo of Eons》, such as Belcher, Bomberman and the 《Urza, Lord High Artificer》 / 《Echo of Eons》 deck (by @WhiteFacesmtg). Most 《Echo of Eons》 decks seemed to have too high of a failure rate and a weakness to 《Force of Will》, but I think Belcher becomes an overall better deck with the addition of 《Echo of Eons》. The most promising one was the Urza/Echo deck, it just had problems closing out the game, even after drawing lots of cards, in matchups where 《Chalice of the Void》 was not too impactful, and you had to let your opponent untap without having comboed 《Narset, Parter of Veils》 and 《Echo of Eons》.
After briefly tinkering with Elves, which my teammate Florian Koch expected to be a lot better positioned with the departure of 《Wrenn and Six》, and OmniTell with 《Veil of Summer》 and 《Eureka》, I turned my attention to Dredge, mainly to be able to better compare it to the different Hogaak builds, and find reasons to play one over the other, as both decks are trying to execute a similar game plan. My impression was that Dredge is overall more explosive and consistent, and ultimately a superior deck, it is also favored against Hogaak, unless 《Altar of Dementia》 is involved. Hogaak, on the other hand, is a more robust deck, it can still function when facing hate, by executing a mediocre beatdown plan, this is especially true for the 《Putrid Imp》 and 《Carrion Feeder》 version. Dredge is so one-dimensional that it is forced to directly answer most hate cards, otherwise it simply implodes.
It was at this point, while trying out regular Dredge lists, when I stumbled across a Blue/Red version by Andreas Reling (@Andifeated_R), incorporating 《Fiery Islet》 as an additional, albeit mostly weaker, 《Cephalid Coliseum》. The list seemed so elegant, and my first impression was that the deck was an improvement over old Dredge builds.
I then played a few games with different Delver decks, in order to better understand public enemy number one, and studied the results from the Cardmarket Series Prague to get a clearer picture of the developing metagame. It still looked like Dredge was well positioned against all the different blue decks. For the GP I expected a wide range of fair blue decks, encompassing UR Delver, Grixis Delver, Sultai Delver, and then the various 《Arcum's Astrolabe》 decks, as people were switching from Temur to these decks, as well as a resurgence of decks such as Death and Taxes, Miracles, and 《Wasteland》 / 《Life from the Loam》 decks, now that 《Wrenn and Six》 couldn't foil the plans of these decks anymore. Lastly, I anticipated 《Oko, Thief of Crowns》 to slowly make its presence felt in Legacy (possibly one of the few formats where the card will not end up being banned), which would translate to some more fair blue decks incorporating the card, and weakening 《Chalice of the Void》 decks. The day 2 GP metagame breakdown looked pretty much as expected, of course Legacy is still a vast and diverse format:
As the Grand Prix was getting closer and closer, I used the remaining time to work on UR Dredge, and consulted a few of my friends who had more Legacy experience, especially playing Dredge, to help finalize the list. Here is what we ended up with:
On the surface, Dredge is a simple deck to understand and operate, it is the scenarios in which the deck is not operating at its full potential, or your opponent is disrupting you / you are trying to maneuver around disruption, where it becomes difficult to play. Your game plan is to get a card with dredge (ideally multiples) into your graveyard, then create as many card draws as possible, replacing all of them with dredges, thereby flipping most of your deck into your graveyard, and giving you access to multiple copies of your payoff and disruption cards, ultimately attacking with 《Ichorid》 and a zombie army for the win.
Card Choices
Main Deck
Dredge is pretty straightforward when it comes to building the deck. It's highly synergistic, and since most cards only function in conjunction with each other, there just isn't a lot of room for innovation, most card choices are predefined. However, the addition of 《Fiery Islet》 does mean you need to make a few modifications and sacrifices in deck construction, especially in the sideboard.
Enablers & Card Draw
These are the cards that allow you to either get dredgers into your graveyard, or give you additional card draws, once you already have a dredger.

《Breakthrough》 isn't a true enabler in the sense that you don't want to cast it as your first spell just to discard dredgers, you really want to draw 《Breakthrough》 in combination with one of your other enablers, that's why there are only three copies in the deck.

《Insolent Neonate》 is a concession to the fact that you can't play a card like 《Putrid Imp》, but really want to have a few more discard outlets in addition to 《Careful Study》 and 《Faithless Looting》.

《Lion's Eye Diamond》 enables your most broken draws, especially in combination with 《Faithless Looting》, allowing you to dredge almost half your deck on the first turn.

《Street Wraith》 isn't really an enabler, but it can speed up your clock, while at the same time adding to your black creature count (which is already on the lower side) to support 《Ichorid》.
Dredgers
This category should be pretty self-explanatory, as these are the cards that help you flip over your deck by abusing the dredge mechanic. Very rarely, and only in the most desperate of times, will you find yourself casting these cards. There are lists trimming a 《Golgari Thug》, but I think finding a dredge card and chaining them together is too integral to your game plan to not have the full four copies.
Payoff
These are the cards that ultimately win you the game. It doesn't look like much on paper, but when they all show up at the same time and create an army of zombies, it is usually more than enough. There are lists trimming a copy of 《Ichorid》, and I would advise strongly against that, as you are reliant on finding multiple 《Ichorid》 or 《Narcomoeba》 to get off the ground.
Disruption
《Cabal Therapy》 is one of the most powerful disruption spells available, being able to cast multiple copies for free, and take out your opponent's key cards, is immensely valuable. All it asks from you is some familiarity with the Legacy format and matchups, making it the most difficult card in the deck to apply correctly.
《Cabal Therapy》 is the card that gives the deck the capability of competing with faster combo decks, allowing you to tear their hand apart when you would otherwise goldfish too slowly.
Mana Base
First of all, don't be like me, instead just play two 《Mana Confluence》, as it's the superior version of 《City of Brass》 when facing 《Rishadan Port》. I only brought one copy of the card and didn't bother finding an additional one.

Some lists play fewer copies of 《Gemstone Mine》, but since the mana base is already quite painful, and you don't plan on using your lands for mana for too many turns, I believe four copies of 《Gemstone Mine》 to be optimal.

《Cephalid Coliseum》 is your most broken land, giving you access to additional draws, and while 《Fiery Islet》 is sort of a toned down version, it is still pretty good at providing that precious card draw.
Sideboard
The sideboard is where you have to make some of the biggest sacrifices in order to accomodate 《Fiery Islet》. Cards like 《Serenity》 and 《Nature's Claim》 would be great to have access to, but, unfortunately, these cards just can't be cast reliably enough with the new mana base. This is where 《Chain of Vapor》 comes into play as your catch-all answer to different graveyard hate cards, such as 《Leyline of the Void》.
The 《Dread Return》 package is mainly for matchups where you need to either goldfish faster, or prevent your opponent from executing their game plan, for example against fast combo decks.
《Shenanigans》 is an answer to 《Grafdigger's Cage》 and 《Chalice of the Void》, that you can access via your graveyard.
None-Ofs
Here are some of the cards I'm currently not playing:
It is with great regret that I had to decide to omit one of my favorite cards. Hogaak is somewhat slow, requiring you to first go off in a way that allows you to create either multiple zombies or bring back 《Ichorid》 to cast it, and then still having to wait another turn before it can enter the red zone. If you decide to run Hogaak, I would include two copies, this gives you the option of creating lots of zombies by "looping" the two Hogaaks.
I really wanted to play 《Lotus Petal》 in the main deck (there are two copies in the sideboard), as it speeds up the deck and is often just a 《Time Walk》. However, my friends with Legacy Dredge experience advised against playing it main, arguing that it was not needed in the expected metagame of mostly fair decks. I can see this changing depending on the metagame, or just being flat out wrong and there should be a few copies main.
《Putrid Imp》 can be found in most regular Dredge lists, it's an enabler that works nicely with 《Cabal Therapy》 and 《Bridge from Below》. Unfortunately, you can't reliably cast a black one drop with the 《Fiery Islet》 mana base, but I've never been a big fan of 《Putrid Imp》 anyway.
《Cavalier of Flame》 is a card we considered for the sideboard to play the role of 《Flame-Kin Zealot》. In the best case scenario it is going to be slightly more powerful, giving you additional draws to dredge, and then a trigger when you sacrifice it to 《Cabal Therapy》. However, at that point you have probably already dredged more than half of your deck anyway, and it then requires you to have two spare mana to activate its ability if you want to attack with your zombie tokens on the same turn, and that's just too high of a cost.
If you are expecting to face a lot of creature based decks, 《Firestorm》 is a powerful sideboard card that allows you to deal with sideboard hate cards, such as 《Containment Priest》.
Tips and Tricks
– Don't Keep Speculative Hands
Dredge is a deck that mulligans quite well, therefore you shouldn't keep hands that are missing a piece, and hope to, for example, draw into a dredger.
– Sequencing Your Enablers
You want to be aware of all the possible answers your opponent could have for your enablers, and then sequence them in a way that either protects your best enabler, or makes it awkward for your opponent to keep open their answers. For example, you would rather get your 《Careful Study》 exiled by 《Force of Negation》 than your 《Faithless Looting》. On the other hand, your opponent could be holding a 《Pyroblast》 to counter 《Careful Study》 or 《Breakthrough》, making it better to cast a non-blue enabler. 《Insolent Neonate》 can get around 《Force of Negation》 and 《Spell Pierce》 / 《Flusterstorm》.
– Using the Cleanup Step as an Enabler
When you are on the draw, knowing that you are facing a 《Force of Will》 / 《Force of Negation》 deck, it can often be optimal to move directly to the cleanup step and discard a dredger. This way, you can get your dredge engine going, without taking the risk of getting your enabler countered by 《Force of Will》. You have to be really careful when choosing to go on the draw, you want to be sure that you know exactly what's in your opponent's deck, and that it's not a matchup where they can meaningfully pressure you. It's also not something you want to do after sideboard, when your opponent gets access to high impact hate cards.
I did make good use of this in game one of the quarterfinals, moving instantly to cleanup, when my opponent chose to be on the play, and we had access to each others decklist. There is a chance that, in this specific scenario, my opponent should have chosen to go on the draw and hope to stifle my development with 《Force of Will》.
You often want to put a card draw spell such as 《Breakthrough》 on the stack, and in response crack 《Lion's Eye Diamond》 to discard your hand and get a dredger in the graveyard. If you discard or dredge a 《Faithless Looting》, you can then flash it back with the mana from 《Lion's Eye Diamond》.
– Going All-In on Turn 1
One of the more difficult decisions is when to discard your whole hand to 《Lion's Eye Diamond》 on the first turn, and when to wait for the second turn. Ideally, you want to wait for turn 2, as getting two lands into play is extremely valuable to later be able to activate 《Cephalid Coliseum》 or 《Fiery Islet》. But if your hand is weak to disruption such as 《Thoughtseize》, or you are playing a matchup where you need to be as fast as possible or disrupt your opponent with 《Cabal Therapy》 right away, it can be correct to go for it on turn 1.
– Good Things Come to Those Who Wait
It's sometimes best to go slow about things instead of aggressively dredging or discarding your hand. For example, when I was expecting my opponent to be holding 《Surgical Extraction》, I first hardcast 《Golgari Thug》 and then cast and Flashbacked 《Cabal Therapy》 before getting the dredge engine online.
In the same vein, you can dredge only a few cards to hopefully find a 《Cabal Therapy》 first, then cast a creature from your hand to flash it back, before exposing your payoff cards to 《Surgical Extraction》.
If you end up in the unfortunate situation where you have to cast a 《Golgari Thug》, you can sacrifice it to 《Cabal Therapy》 and use its trigger to put a 《Narcomoeba》 back on top of your library, to then dredge into play.
《Ichorid》's triggered ability goes on the stack in your upkeep, then your opponent has to decide if they want to respond, they won't know if and what creature you exile, and once a creature has been exiled, it's too late for your opponent to take any action before 《Ichorid》 enters play.
– Gathering Information in Sideboard Games
With Dredge you should try to collect all the information you can get about your opponent's sideboard hate cards and configuration. This allows you to adapt your sideboarding in a potential game 3. This means not conceding too early, and keeping track of how many copies of a certain sideboard card you see.
It's not that intuitive, but if you discard 《Bridge from Below》 to 《Insolent Neonate》, you will get a 2/2 zombie token. The discard is a cost you have to pay, meaning 《Bridge from Below》 will already be in the graveyard and see 《Insolent Neonate》 dying.
You can put a draw from 《Insolent Neonate》, 《Street Wraith》, or 《Fiery Islet》 on the stack, in response crack one (or multiple) 《Lion's Eye Diamond》, then use the card draw to dredge 《Golgari Grave-Troll》, and cast it from your hand, provided you have two additional mana. This play only comes up in fringe scenarios, but it's something to be aware of.
– Getting Threshold on the Draw
Keep in mind that you can get Threshold for 《Cephalid Coliseum》 with 《Lion's Eye Diamond》 when you are on the draw. In most cases this is not the best line of play, and it's better to wait for turn 2, but I can imagine matchups and scenarios where you want to do this on turn 1.
《Cephalid Coliseum》 allows you to force your opponent to draw three cards, this can be relevant in mirror matches, or matchups where your opponent draws their whole deck.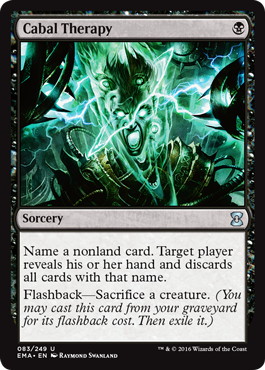 With 《Cabal Therapy》 being the most difficult card in the deck to apply correctly, I think it deserves a section of its own. Before the event, I was somewhat worried about not being able to harness the full power of 《Cabal Therapy》, because of my lack of Legacy experience, making it more challenging to name the correct cards, or identify the opposing deck as quickly as possible. However, after the Grand Prix, I was quite happy with, not only my overall 《Cabal Therapy》 hit rate, but also having been able to name the relevant cards in many crucial situations.
Some of the highlights were hitting two 《Show and Tell》 in a spot where it wasn't necessarily that clear what type of blue deck my opponent was playing, sniping a 《Gamble》 out of my Lands opponent's hand on a later turn, and getting two copies of 《Sneak Attack》 for the low price of one 《Cabal Therapy》. This brings me to what I believe to be the most fundamental concept when choosing what cards to name with 《Cabal Therapy》.
– Choosing to Win vs. Choosing to Hit
In most cases it is not about choosing the card your opponent is most likely to be holding, but rather about naming the most relevant card. It is perfectly acceptable to not get a card out of your opponent's hand if, in the process, you can ensure they aren't holding a card you lose to. This is especially relevant in sideboard games. Your opponent might be more likely to have a 《Brainstorm》, but cards such as 《Surgical Extraction》 and 《Rest in Peace》 are what you really care about.
If it is unclear what you are playing against, just think of the worst matchups your opponent could be representing with the lands / cards you have seen so far, and then name cards as if you were playing that matchup.
– Self-Therapy
If the occasion calls for it, 《Cabal Therapy》 can act as a pseudo enabler by targeting yourself to get rid of a 《Bridge from Below》 or a dredger.
– Give Your Opponent Time to Respond
Make sure to not hastily name a card after putting 《Cabal Therapy》 on the stack. Give your opponent enough time to confirm that the spell is resolving, without accidentally providing additional information. You only choose the card to name upon resolution of the spell.
– Reading Your Opponent
You want to pay close attention to how your opponent reacts the moment you cast 《Cabal Therapy》. Do they pause and think before letting it resolve, or do they not hesitate at all? This can be a tell that they considered playing a counterspell or are holding some other instant (《Brainstorm》, 《Surgical Extraction》) they thought about responding with.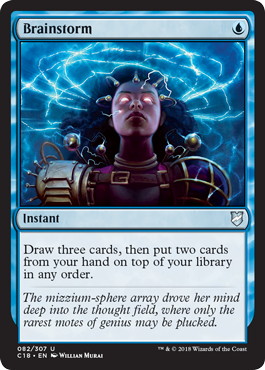 When I cast 《Cabal Therapy》 against my Arclight / Delver opponent, he hesitated for a split second, and then decided to let it resolve. Reacting with a surprised "but I had the mana to cast it!" after I named 《Brainstorm》 and hit.
Try to force your opponent into situations where they need to quickly process new information, while still being left in the dark about as many things as possible. This can mean playing a 《Lion's Eye Diamond》 without playing a land first, so that it's more difficult for them to know what deck you are playing. Play a land and instantly play a 《Cabal Therapy》 announcing the target, then watch your opponent intently to see if they tank.
When playing against 《Cabal Therapy》, try and figure out on your turn what spells you are going to counter / if you want to respond, in order to avoid giving a tell. You can also take this to the other extreme, and go in the tank in spots where you are not holding 《Force of Will》 or any other instants, just don't overdo the theatrical performance.
Matchups and Sideboarding
With Legacy being such a vast format, I can't cover all the matchups you might encounter, which is why I'll first give you some general sideboarding guidelines that can be applied to different groups of archetypes.
The Tournament & Judges Are Your Friends
The Grand Prix played out surprisingly smoothly, I went undefeated on day one, despite facing a wild assortment of decks, and then was fortunate enough to have the luxury of drawing into the top 8. These were the archetypes I played against (in no particular order): Nic Fit (with 《Muldrotha, the Gravetide》), Grixis Delver, Sneak and Show, OmniTell, 4C Mentor, Lands, Punishing Eldrazi, Mono-Red Prison, Mono-Whte Eldrazi, BUG Delver, Hogaak, Arclight Delver, BUG Zenith and Bant Miracles in the quarterfinal.
It was quite a wide range of decks, with nothing really standing out. I don't think going into a lot of detail about the matches played, and doing a round by round report, is of much use. However, there were a few weird situations I found myself in that I want to share:
– When OK Means not OK
I cast a 《Faithless Looting》, and waited for my opponent to respond, he then said "OK!" and I went to draw two cards. When I was about to add the two facedown cards to my hand, my opponent stopped me, stating that he didn't mean to say the spell resolves, and that he thought it was a different card. The ruling was that I had to put the two cards back on top of my deck and my opponent was allowed to respond to the 《Faithless Looting》.
While I understand that you can interpret this as some sort of miscommunication, I would at least expect my opponent to be able to name the card he confused the 《Faithless Looting》 with, which he couldn't.
My opponent played a 《Wasteland》 and immediately activated it to destroy my 《Cephalid Coliseum》, he then went deep into the tank, and, after not taking any other game actions, played a second land. Fortunately, I caught it immediately, and I do believe it was just an honest mistake.
This is something I can imagine happening quite regularly in Legacy, especially if people play their 《Wasteland》 like a spell, and don't register it as a land drop. Sadly, there was also a player at a recent Cardmarket event, who intentionally committed that "error", and was later disqualified. What I'm trying to say is that you need to always be vigilant and call a judge, ensuring that these incidents can be tracked to see if there are any patterns.
Both me and my opponent had 《Bridge from Below》 in our graveyards. I then cast a 《Cabal Therapy》 with Flashback targeting my opponent, and put my Bridge triggers on the stack. I resolved the triggers and waited for a reaction from my opponent. I then asked if I could name a card with 《Cabal Therapy》, and my opponent confirmed, still not making any motion to exile 《Bridge from Below》. At this point I called a judge, expecting my opponent to get a warning. Instead I found myself waiting at the table for about 30 minutes, while the head judge was talking to my opponent and the floor judge, then briefly returned to ask me questions about the game state, how I assessed my current position in the game, and what I was about to name with 《Cabal Therapy》.
After what felt like an eternity, my opponent and the judge returned, and it was ruled that my opponent is getting a warning. We were then told to continue playing, at which point my opponent shook my hand and informed me that he was conceding the match. I was so confused, thinking my opponent misunderstood the ruling, and told him that we can just keep playing. My opponent clarified that he was "too nervous", expected to be making more mistakes, and wanted to "avoid getting banned". After my opponent had left the table, I still couldn't fully make sense of the events that had just transpired, and asked the judge what was going on. As it turns out, there must have been multiple similar incidents on the first day of competition involving this player, and I assume there was a lengthy cheating investigation.
This could have been an honest mistake, but 《Bridge from Below》 is one of the key cards in both of our decks and especially in the matchup, and you really do need to pay attention to your triggers. All of this goes to show that it's in your best interest to always call a judge to fix and track these incidents.
– Unfortunate Outside Assistance
In game three of my quarterfinal match, my opponent cast 《Rest in Peace》 and then passed the turn without announcing his trigger, exiling his graveyard, or telling me to exile my graveyard. A few seconds after my opponent had passed, the table judge intervened with a comment along the lines of "You didn't exile your graveyard?", thereby making my opponent realize he had missed the trigger. This created the awkward situation where, on the one hand, I didn't want to win because of a missed trigger, on the other hand it was clear that my opponent only remembered because of the judge's intervention, and I didn't want to be disadvantaged in that way. A similar thing happened in game two, where the 《Rest in Peace》 trigger was pretty much also missed (without the judge stepping in) and I decided to let it slide. The table judge then had to rule that the trigger was missed, and I ended up losing to 《Rest in Peace》 anyway. This at least gave me the opportunity to join the last Mystery Draft that fired on Sunday.
Updating the Deck
Moving forward, I can see adding two copies of 《Echoing Truth》 instead of 《Chain of Vapor》. This gives you outs to double 《Leyline of the Void》, as well as more answers that don't get shut down by 《Chalice of the Void》 on one.
There is a chance the two 《Lotus Petal》s should find their way back into the main deck, though I find it difficult to make room. I would cut a land and a 《Street Wraith》, as it serves a similar role to that of 《Lotus Petal》 by speeding up your clock.
If you consider picking up the deck, keep in mind that it's not so much about how good Dredge is, but rather about what the metagame and especially sideboards look like. Of course you should practice with the deck, but ultimately, it will be tough if the field is ready for the matchup, or if there are lots of combo decks. If you expect having to fight through a lot of graveyard hate, it's probably better to just switch to a different deck. On the other hand, it can be smooth sailing if you are operating on an axis most of your opponents aren't prepared to interact on.
Thank you for reading and let me know if you have any questions or comments.
Andreas Ganz (Twitter)