Introduction; Why I chose Vampires?
Hello everyone, after a storm of bans, Wizards have finally come to a kind of formed and "fair" Pioneer metagame (I, personally, don't see any candidates for ban right now). Today we'll have a look at Mono Black Vampires, back in the day people often referred to it as a subtype of Mono Black Aggro or Mono Black Devotion, it is neither, yes, there is an aggro plan, but midrange plan is preferred and devotion comes by default playing mono-colored decks. I haven't played much Pioneer before the last ban, but now it seems the waters are calm and you can start testing for the coming MagicFests without a fear of having to change the deck right before the event.
First of all, why Vamps? I have 2 reasons:
(1)

The secret of mono-colored strategies performing very well in Pioneer is their self-sufficiency

. You just won't make the Mono Green Ramp better by adding the 2nd color, green has all you could possibly want. Same is with aggro decks, Red and Black provide enough cards to put together a consistent list.
(2) Vampires deck plays as classic Modern midrange deck like Jund, it has disruption, good creatures, an insane Planeswalker (Yes, I'm comparing 《Sorin, Imperious Bloodlord》 to 《Liliana of the Veil》) and 8 utility lands. Some decks like 《Lotus Field》 may have a good game 1 vs it, but

it's really hard to figure out an effective sideboard against midrange

.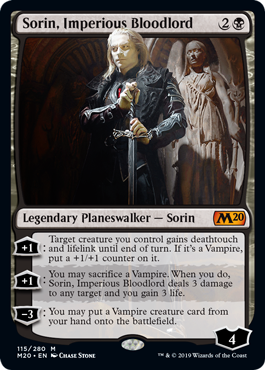 The tribal theme limits the cards you can play in the deck, so let's just have a look at most of them and I'll try to explain what makes me play some over another.
Sideboard Candidates
It has a plenty of potential targets like Green Walkers, 《Teferi, Hero of Dominaria》, 《Questing Beast》 and 《Lovestruck Beast》s along with other green beef. It's reasonable to have a few copies.
Against the matches you bring 《Duress》 in, you should have no problems activating the "Spectacle" and 《Drill Bit》 works better against Ramp.
There are at least 2 Graveyard based strategies (Phoenix and Dredge). I don't know how successful 《Soulflayer》 is, but Leyline is OK to board in against the Lotus Storm to cut them from 《Dig Through Time》 (and you have things to side out).
A great sideboard against Bogles, Control and Ramp and a fine creature if you need to take some cards out.
I've seen it in a few decklists, but I can't see a problem it solves. It shuts down Lotus Storm, but the match is already OK postboard.
《Cry of the Carnarium》 is awesome against Mono Black Aggro, but so is 《Liliana, the Last Hope》. Sometimes it is reasonable to have a couple though.
Current Sideabord
Right now I have sideboard configured this way:
Decklist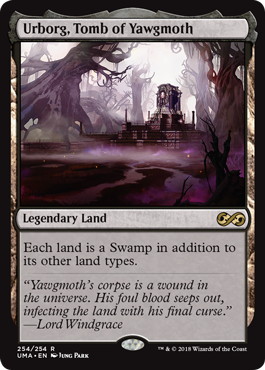 The deck itself doesn't have much tricky interactions. As irrational as it sounds, try to play Urborg as soon as possible.
Remember you can 《Fatal Push》 your own guys to fizzle 《Stomp》 and opposing 《Swift End》. Because if an Adventure spell has no legal targets it gets countered and you don't have to deal with the Adventuring creature an opponent would play later.
Speaking of 《Swift End》, don't forget it's also a 3 mana creature so sometimes you should play it on turn 3 as a threat.
Sideboarding
Mono Red
I'm still trying to solve the Mono Red side plan. It's also a midrange and it's always hard to find a correct strategy here.

Against Mono Red
Mono Black Aggro

Against Mono Black Aggro (On the Play)

Against Mono Black Aggro (On the Draw)
Mono Green Ramp

Against Mono Green Ramp
Azorius Control

Against Azorius Control
Izzet Phoenix

Against Izzet Phoenix
Lotus Storm

Against Lotus Storm

Against Soulflayer
The Possiblity of Splash White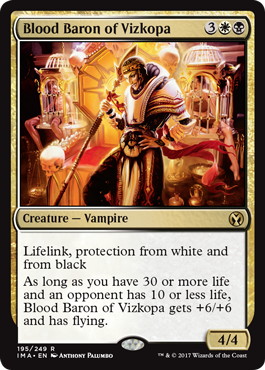 People are splashing white for 《Blood Baron of Vizkopa》 and some sideboard options, but I remain unconvinced they are worth the splash. With red decks being on the rise it suffers from 《Chandra, Torch of Defiance》 and 《Glorybringer》. Against Mono Black Aggro Baron doesn't solve the Rankle & Spawn problems if you play it for mana, and if you sneak in a Kalitas or Champion on turn 3 that should be enough anyway.
Certain sideboard options like 《Rest in Peace》 do the same as your Leyline. 《Devout Decree》 looks good, but a sideboard card has to be much better to justify splash.
Conclusion
As I write this article (January 9th) I am pretty happy with the deck and seriously consider taking it to Players Tour.
Thanks for the reading and hope you've found it interesting! If you have any questions feel free to ask me on Magic Online or Twitter.
See you in Nagoya,
Dmitriy Butakov (Twitter)