Introduction
Hello, I'm Bernardo Santos a new member of Hareruya Pros and Rivals League participant. I have been playing Magic: The Gathering for almost eight years now, I started playing in Return to Ravnica but only started being competitive in 2016. Since then I have been playing all the Magic tournaments I can play. In 2017 I got the old Silver Level Pro status and the next year I upgraded it to Gold Level with 3 Grand Prix top8s.
Last year my good results in the tabletop tournaments accumulated enough Mythic Points to tie with Eli Kassis for the last tabletop spot in the brand new Rivals League. I was later invited due to that fact to partcipitate in this inaugural League and I very gladly accepted. For me Magic is more than hobby as it is my only source of income and the place where I've made most of the friends I hangout with today.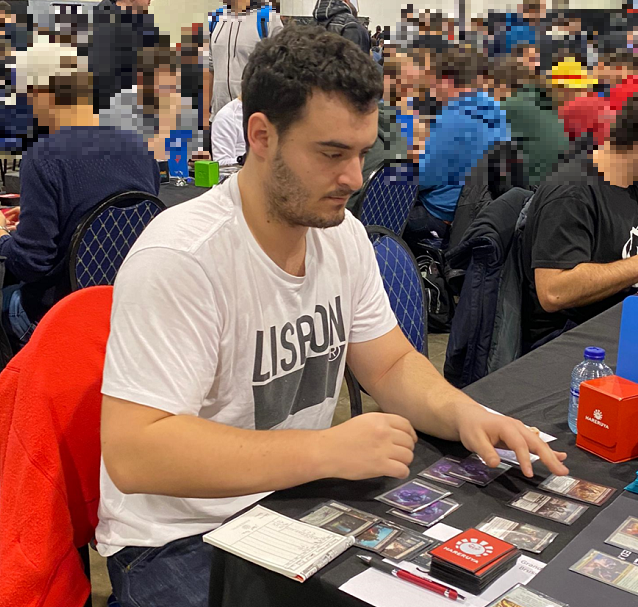 Preparation for the Players Tour Brussels I've tested like always with the other Portuguese players Marcio Carvalho and Goncalo Pinto as well as other Portuguese friends who were qualified (Luis Gobern and Bernardo Torres) and of course the Brazilian powerhouses like Thiago Saporito, Lucas Berthoud and Carlos Romao. I really like testing with this group because they are good at Magic and most importantly I consider all of them as good friends.
Color Ranking
I'm going to talk today about Theros Beyond Death Limited and particularly about the color; black. In addition here's the color ranking for Theros Beyond Death draft.
| Color | Rank |
| --- | --- |
| Black | #1 |
| Green | #2 |
| White | #3 |
| Red | #4 |
| Blue | #5 |
Black is the deepest color and the one with access to most removal at common level and we think it is the best color by a decent amount. Since most people think the same, many players will fight for taking black so you have to read the signals as usual. However, since black has so many good playables at common so even if it's hate-drafted a little you can still have a good deck.
Next, I'm going to talk about how to draft black, how to pair with other colors and how to value its cards. When you're drafting you need to recognize "what is missing for your deck" and even though we have a pick order like below, always be mindful of what your deck needs most at the time. For instance, in a deck with a decent amount of removal and not many early plays with an Escape theme you probably should take 《Mire Triton》 over 《Final Death》 even though it wouldn't be correct otherwise.
Conclusion
That is all I have for today I hope you liked my first article here in Hareruya, it's an honor for me to be part of this incredible group of players and I'm going to do my best to keep inproving and deserving this spot.
Thank you for reading.