Introduction to the Best Deck
Hello everyone, it's nice to finally be back from vacations to talk to you about what is the best deck in Standard for me (I admit it is probably not the best deck, but it's my favorite one and everytime people understimate it, it comes back and wins everything – or loses in the finals if you are me), Jeskai Fires.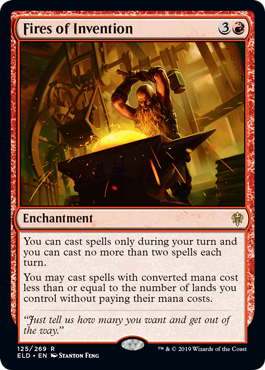 As you know, I played this deck at World Championship XXVI for a second place finish, and after taking a few days off to enjoy sunny Hawaii, I decided to run it back at the Mythic Point Challenge. The deck once again performed great, with me getting to 10 wins and only one loss and some precious Mythic Points for this year's Magic Pro League (MPL) Race.
My Decklist at the Mythic Point Challenge
Here is the decklist I used:
Changes after World Championship XXVI
Main Deck
Let's talk about changes I made after Worlds:
《Dream Trawler》 was not good enough anymore as you want to be very efficient with your mana, and sometimes you stop at the 5th land and you are happy with it. I decided to give a chance to the powerhouse which is 《Elspeth Conquers Death》: It might look odd to have it on this kind of deck, but the card is very powerful and allows you to come back from behind on unwinnable spots. Also, all the targets on your deck that you can bring back with chapter three are game breaking, and will win some games on the spot.
Another card I decided to try was 《Brazen Borrower》, so as I thought aggressive decks were going to be less represented, I decided to give this guy a chance. Let me tell you the truth:
PLEASE DON'T PLAY THIS CARD ON YOUR FIRES DECK!!! IT'S NOT GOOD!!
Sideboard
In the sideboard I also changed a few things:
《Mystical Dispute》 wasn't very good for me when I played four, so I decided to go down to only two and add two more 2 CMC creatures to pressure my opponents.
Some people asked why I decided to run 2 of each 《Tithe Taker》 and 《Robber of the Rich》 instead of the full four of either of them. There are two things that made me choose the split:
Why Jeskai Fires is so Good right now?
So Marcio, would you run Jeskai Fires this weekend at MTG Arena Mythic Invitational Qualifier if you could?
Here is my answer:
Yes! I think Fires is VERY well positioned right now.
You ask me why?
After Mono Red won Grand Prix Lyon last weekend, and the rise of Rakdos Sacrifice, both very good match-ups for my beloved Fires, the deck is definitely the right choice. Both Bant Ramp and Temur Adventures are also match-ups that are slightly even, so with tight play and good draws you can come out on top.
I would bring back the 4th 《Deafening Clarion》 to the main deck to combat the aggressive decks, and maybe run a 《Heliod's Intervention》 in the main deck. I made this suggestion to another Fires master, Toni Ramos and he crushed the Standard Challenge last weekend with an impressive 10-0 score.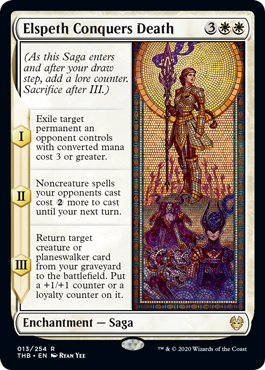 If I would make a change I would play another 《Elspeth Conquers Death》 in the sideboard for sure because I think having 2 in the 75 is very important (Probably replacing the second 《Disenchant》 on this list).
Updated List and Sideboard Guide
As I know you guys love sideboard guide so here we go with the most played decks based on the list I would run this weekend:
Mono Red

Against Mono Red
Jeskai Fires Mirror

Against Jeskai Fires Mirror
Bant Ramp

Against Bant Ramp
Azorius Control

Against Azorius Control
Temur Reclamation

Against Temur Reclamation
Temur Adventures

Against Temur Adventures
Rakdos Sacrifice

Against Rakdos Sacrifice
Conclusion
That's it for today, I hope you guys enjoyed this article! I'll be back soon, good luck to everyone!