Introducing My Pet Deck
Hola!
As Magic players, we often hear about pet decks. For me, there's one deck that always comes to my mind. Let me introduce you my pet deck: Cephalid Breakfast (Legacy).
Where Does the Deck Come from?
Once Upon a Time… Pro Tour Columbus 2005 happened. For that event, teaming with my good long-time friends Aniol Alcaraz and Joel Calafell, we brewed the following deck:
This is, even to this day, one of the best decks I've ever played for a tournament. Out of a group of 6 friends, we put 2 in the Top16 and one more on the top32. Keep in mind that our relative level, compared to the level of the Pro Tour back in the day, was really low, but the deck really carried away even if we were miles away from our opposition in terms of skill level. Our opponents really having no idea about what was going on was really a huge advantage for that tournament.
In the old times of Magic, some combo decks were named after stuff like cereals (think of Trix, Cheerios…), and there was even a deck named Full English Breakfast, so that's how we ended with that name.
How Does the Combo Work?
Welcome to the Cephalid University!
The original combo is made of these two cards: 《Cephalid Illusionist》 and 《Nomads en-Kor》.
What happens if you ever have those two cards in the battlefield is that you can target your 《Cephalid Illusionist》 with your 《Nomads en-Kor》 as many times as you wish. Every time you decide to do so, you will mill yourself for three cards. This means you can mill your whole library as long as you can have these two creatures out there, even at instant speed! Once your library becomes your graveyard, we just proceed to win the game with 《Dread Return》 sacrificing 《Narcomoeba》s to reanimate our win condition.
Before, the best win condition was reanimating 《The Mimeoplasm》 copying 《Lord of Extinction》 and 《Walking Ballista》. This way, 《The Mimeoplasm》 would become a copy of 《Walking Ballista》 while having a +1/+1 counter for each card in each graveyard thanks to 《Lord of Extinction》. That was enough to end the game on the spot in most situations. However, the deck got a huge upgrade on that department.
What Changed?
《Thassa's Oracle》. It is that good in the deck. I've been saying for a while this deck wasn't that far from actually being a fine deck to play in a tournament, but the old win conditions simply required us to play too many dead cards in our deck. I've joked multiple times in the past about how the best card they could print for Cephalid Breakfast would be a win condition that wouldn't require us to play too many dead cards, and finally, after a very long wait, Theros Beyond Death delivered. 《The Mimeoplasm》 and its friends often ended creating cool situations, like copying opposing creatures and the such, but Oracle is just straight better at winning the game.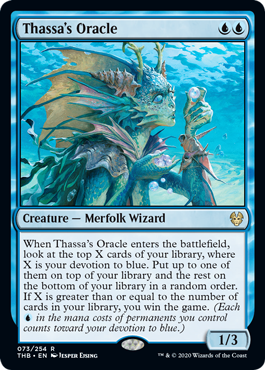 2020 Version
Legacy has recently seen some strong printings in the last year, with cards like 《Oko, Thief of Crowns》 joining the format, but those printings also improved Cephalid Breakfast, making it better than it has ever been in Legacy.
Additional Tips and Tricks
First of all, let me tell you this deck is extremely hard to play properly. There are a lot of micro-decisions that can lead into losing the game, as it is also relatively punishing. I've been playing the deck for ages and I still make game losing mistakes, but that's part of why it is so fun! You can play many games and still learn new tricks.
Be careful with 《Cavern of Souls》. It can be awkward to have a Cavern and wanting to use the mana for something like a 《Ponder》 after you get 《Wasteland》ed.

If you are on a spot where you really don't care if your spell gets countered, it can be better to just play a normal land and save the Cavern for later

, when forcing a game winning Cephalid can be better.

It is reasonable to sideboard out a land or some Vials against decks that don't attack your mana

. This applies some other Legacy decks as well, but against certain decks you'd rather cut a land to have a higher density of spells. Just make sure that whenever you sideboard in creatures you have the full 4 Vials.
Whenever trying to decide for card selection or advancing your battlefield position,

usually go for the battlefield first

. Many games you can try to play a tempo game where you have a reasonable board position. If you manage to force your opponents to react or get some value out of your battlefield, it will be easier to find a window to combo off. Also, the more the game drags the easier it will be to play the cantrips.
If it's not clear, similar to what I explained with 《Cabal Therapy》,

it is often better to use your countermagic to force your combo through

.
Watch out for different options with 《Nomads en-Kor》. Against damage based decks, for example, if you don't have multiple ways of that effect, it is better to run first another body so your combo doesn't get disrupted by a 《Lightning Bolt》. 《Nomads en-Kor》 + 《True-Name Nemesis》 also play well together.
Don't unnecessarily attack with a combo piece into the 《Ice-Fang Coatl》. I am very guilty of this mistake, particularly because…

Attack as much as you can

. I've won more games on Nomads + 《Narcomoeba》s with some equipped 《Shuko》s than you might think!

You don't need to mill everything directly

. You can beat 《Surgical Extraction》 if 《Narcomoeba》 + 《Cabal Therapy》 get milled before the combo pieces, since you can simply Therapy for it and go for the win if you have 3 creatures on the battlefield. This also forces them to cast the Surgical, so you can keep playing a fair game even if you can't kill them with the combo.
Postboard, while playing 2 《Thassa's Oracle》, you can find yourself in a spot where they could have a 《Surgical Extraction》 and nothing else. If you have drawn one of the Oracles and have extra mana

you can simply play it and with the trigger on the stack mill your whole library

. This way your opponent has no window to stop your combo kill with 《Surgical Extraction》 on the other Oracle.
It is occasionally correct to hold 《Shuko》 in your hand so you can put it back to your deck with a 《Brainstorm》 to make the 《Stoneforge Mystic》 trigger relevant to the game.
Be vigilant about those spots where 《Dread Return》 is actually a fine card to have in your hand, since it is very easy to autopilot shuffle it away with a cantrip. I've regretted doing so many times. This usually involves a 《True-Name Nemesis》 getting 《Pyroblast》ed or just having the missing part of the combo in the graveyard.
It is legal to 《Thoughtseize》 yourself. Very narrow but can work to discard your 《Dread Return》 if your Therapies happen to be gone.
Be very careful about sideboarding out 《Batterskull》 against combo decks. While it is fine to put sideboard it out against decks that really don't have an alternative plan like Sneak and Show, it will be enough to beat other B-plans like Storm's 《Empty the Warrens》. I've lost to cards like that many games simply because I did not have 《Batterskull》 in my deck.
Sideboard Guide
Sideboarding with a graveyard deck like this with multiple angles is always going to depend on what your opponent presents. Even if it is technically possible, I do strongly recommend simply never sideboarding out the whole combo.
Sometimes, your opponent will be organically too prepared against your creature plan that it's not worth even bringing it in. In those situations that usually involve multiple cards like 《Punishing Fire》 or 《Ensnaring Bridge》, I like to only sideboard in the 《Thoughtseize》s and the additional 《Thassa's Oracle》 and hope the combo gets us there.
Delver Decks/Fair Creature Decks

Against Delver Decks/Fair Creature Decks
Fair Non-Creature Decks

Against Fair Non-Creature Decks
Eldrazi/Chalice Decks with Creatures

Against Eldrazi/Chalice Decks with Creatures
Stack Combo Decks (Storm, TES)

Against Stack Combo Decks (Storm, TES)
Sneak and Show/Doomsday

Against Sneak and Show/Doomsday
Conclusion
Thanks for reading, and I hope you enjoy trying this fun deck!
Any questions or ideas feel free to ask either on the comments or on my Twitter; The Cephalid University is always open to new aficionados!
Bye!