Introduction
Hello everyone =)
I have to say that my excitement about Ikora: Lair of Behemoths is at its climax. I want to be honest though, my initial reaction when I saw the first preview cards wasn't very promising. I was a bit confused with the alternative arts, mechanics and didn't get any high hopes for this set. As more cards appeared and I learned a little better the set's theme, my initial impression started changing and I began believing in it again. Now I'm super hyped for what's coming.
Even though I really liked and enjoyed the pre-Ikoria Standard format, I was starting to feel a bit bored and tired of playing the same matchups. Ikora came out right on time to shake things up and bring some freshness to the pool.
Let's jump into this new set, today I want to talk about one of my favorite cards in this set: 《Song of Creation》.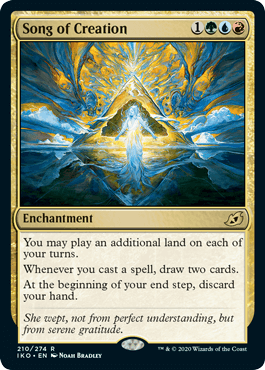 I know, you'll think there's no surprise there, just another powerful 4 mana enchantment that does some pretty wild stuff, but you can't blame me, it's super interesting.
Let's try to break it down line by line:
1. You may play an additional land each of your turns – Okay, thanks. That's very nice.
2. Whenever you cast a spell, draw two cards – WHAT??? REALLY? WOOOW.
3. At the beginning of your end step, discard your hand – OK, I saw what you did there.
After seeing the whole picture, you understand that this isn't a card you can just randomly put in a deck, it needs a build-around shell. The question is: are we able to find it?
What we need to make it work:
Decklist
This is probably not the optimal build for this deck, but it's a great starting point. We will have to play and also see how the metagame will take shape. There are also some cards that might be relevant to consider:
Other Candidates
I can see running 2 of them in the maindeck and have some sweet sideboard cards prepared. For example: 《Chandra, Awakened Inferno》, 《Storm's Wrath》, 《Planewide Celebration》, 《Mass Manipulation》, 《Underworld Breach》, etc.
It's a good buddy or alternative to 《Thassa's Oracle》. If we are on the 《Fae of Wishes》 plan, for sure this one is a must in the sideboard.
A pretty cheap threat that can be a sweet win condition taking the place of 《Thassa's Oracle》. In theory I like more the Oracle, but for sure I will try this one.
What I find interesting about these options is the ability to play the Adventure part and have stuff to do after discarding your hand. Also, this deck has no interaction, so maybe they will be needed. But I think it's just not enough to make the cut yet.
---
Even though I really want this deck to work, it might not be the time. Maybe with the following set people will chill on cards like 《Aether Gust》 maindeck or maybe it is powerful enough that can present decent battle right now.
Bonus Track – Izzet Phoenix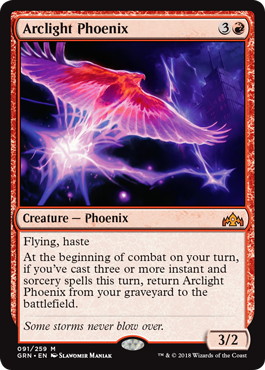 Just in case, I want to give you another decklist of a deck that I think very powerful and will be battling with no fear the current metagame.
Conclusion
That's all for today. Hope you are as excited as I am to try the new cards and to see some changes in the current Standard format. Thanks for reading =)
Have fun and stay home.