Introduction
Ok, ok……maybe this was a little clickbaity because I was the only one playing this archetype, but I had in fact a 64% win rate with a 9-5-1 overall record and 3-0 record against the feared Temur Reclamation.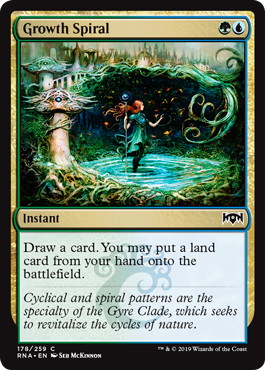 Let me get this straight. The 《Growth Spiral》 decks (both Bant and Temur Reclamation) are the best decks in the format, this is probably not even a tier 2 deck. With that being said, I really believe this deck is extremely well-positioned right now. Temur Reclamation is really one of its best matchups, UWx are pretty close and the worst matchup, the 《Cauldron Familiar》/《Witch's Oven》 decks are on the decline.
Especially after last weekend, every deck will be tuned to beat the other control decks. Bant decks are just playing 2 copies of 《Shatter the Sky》 and I wouldn't be surprised if some players decide to cut them all from the main deck.
Ok, now that I was completely honest, do I still have your attention?
It's Time to Bring it Back!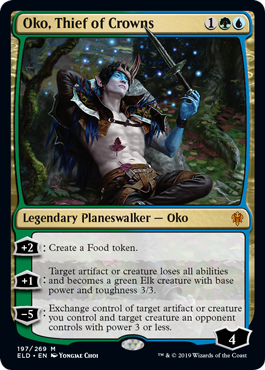 Me and Willy Edel played this deck at Mythic Championship VI while everybody else was playing 《Oko, Thief of Crowns》 (you can read how we came up with the deck HERE). The circumstances were similar, the deck was not the best in the format, but the metagame was defined well enough that we could benefit from both being under the radar and being well-positioned.
I was trying a bunch of different decks and while I was winning only a bit more than I was loosing on the MTGA ladder, I wasn't really happy with any deck, especially when I played against Temur, which was obviously going to be the most represented deck on the Players Tour.
I remembered Rakdos Knights was pretty good against it and decided to run a list I had saved since a little after 《Oko, Thief of Crowns》 was banned. The destiny paired me twice in a row against Temur and I just destroyed it. I jokingly messaged Willy and he was also playing it!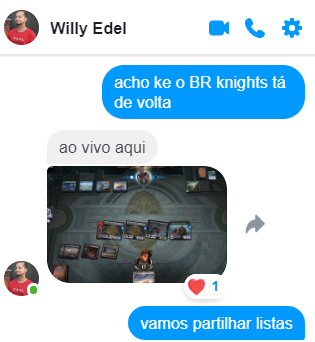 Willy
Me
I will save you guys from most of the process, but it was basically me ignoring all Willy's untastable spells trying to make the best of his ideas with a semi-decent mana base.
After destroying the Arena ladder and reaching Mythic #10 I decided to pull the trigger and register my sweet Rakdos Knights.
Rakdos Knights
This is what I ended up playing on Players Tour Online 2:
Without getting into many details I went 5-4 day one and then 4-1-1 on day 2 where an ID on the last round was actually the same as a victory, due to my terrible tie breaks. (why we keep giving prizes according to final rank and not final score is something that really bugs me, but oh well…)
| Archetype | Result |
| --- | --- |
| Temur Reclamation | 3-0 |
| Bant Ramp | 2-2 |
| Sultai Ramp | 2-0 |
| Jund Sacrifice | 1-0 |
| Temur Clover | 1-0 |
| Rakdos Sacrifice | 0-1 |
| Mono Green | 0-1 |
| Azorius Yorion | 0-1 |
Card Choices
Cards that I don't Recommend You to Change
This is the reason why this deck exists. Play 4 of each and move on.
One Drops
I feel like having 12 strong one drops is where this deck has an edge from the other aggressive 《Embercleave》 decks in the format.
Two Drops
I think that in order to run the 《Fervent Champion》/《Gutterbones》/《Knight of the Ebon Legion》 one drops, you need to run either knights or black creatures as the 2 drops. I would love to use 《Dreadhorde Butcher》 as a 2 drop, but I already have some concerns about not having stomp's mana on turn two with enough consistency. The freshly spoiled 《Kitesail Freebooter》 will fit like a glove here, though.
24 Lands
I think this deck would happily run only 23, but not having enough double-colored untapped lands makes me want to run the extra mana source in order to increase the odds of having the right lands at the right turns a little more often. While sometimes you will mana flood, keep in mind that these scenarios will happen very often too:
Updating the Deck for This Weekend
Maindeck: No Changes
I'm pretty happy with the main deck for now. I think it is close to playing 《Agonizing Remorse》 instead of the 《Heartless Act》, but ultimately I think my Game 1 against 《Uro, Titan of Nature's Wrath》 decks will be stronger (mostly because they will try to focus more on the mirrors), so I think having a stronger Game 1 against the other decks, such as Rakdos Sacrifice, Jund Sacrifice, Mono Green and Mono Red is preferable.
Sideboard
As I said, the 《Agonizing Remorse》 overperformed last weekend being very effective at dealing with a card that is pretty strong against you and everybody seems to be running these days. The 《Blazing Volley》 is pretty much just against Mono Red, a deck that is clearly on the decline now and an extra way to kill that annoying oven may come in handy.
Conclusion
I hope you like it and find this useful for your next tournament or arena run. I really think this deck is the best deck right now to grind the arena ladder and is in a pretty good spot to do well in a big tournament.
Don't forget to follow me at @u_mad_bro_MTGO for more Magic: The Gathering updates!
Goncalo Pinto (Twitter)