Introduction
War of the Spark Standard is in full flux, and the metagame is changing rapidly. It's paramount in this Standard to stay up to date, and you can gain meaningful edges by doing so. The format is being pulled in multiple ways right now – in particular by the extremely powerful Planeswalkers printed in the new set. When I was first evaluating the set, three walkers, in particular, stood out to me: 《Teferi, Time Raveler》, 《Narset, Parter of Veils》, and 《Sarkhan the Masterless》.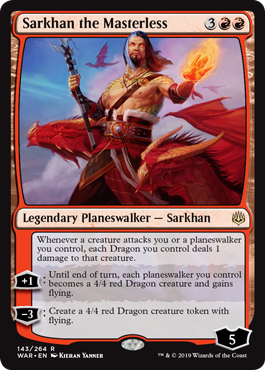 I had seen UW super friend strategies early on but felt the lists were making a massive mistake by not playing red for Sarkhan. When you turn Sarkhan into a card where both of its abilities are great, it becomes multidimensional and as a result, extremely powerful. It's incredible at killing opposing Planeswalkers and has fantastic synergy with 《Teferi, Time Raveler》 (they cannot respond to you turning your Planeswalkers into 4/4s). If you think they have removal, you can tick it down and make a 4/4. Now they must choose between dealing with a 4/4 flyer or the Sarkhan itself, which is often a very tough spot for the opponent. With all of this in mind, I decided to brew up a list:
blazed my way from gold to mythic with this w/ this new creation dropping only two matches along the way! fairly confident this is tier1. sarkhan is busted here. sideboard guide coming tomorrow if anyone interested in trying it out🔥@arenadecklists pic.twitter.com/AoqwBIHV6I

— John Rolf (@JRolfMTG) 2019年5月10日
Basics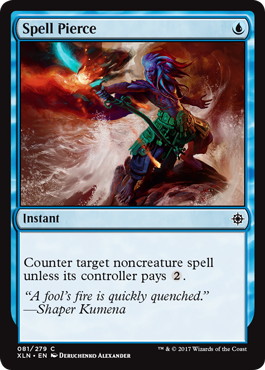 《Spell Pierce》 seemed like a natural fit because it was hard to hold up mana, but 1CMC was much more doable. After turn three onward you will be tapping out a lot, so its cheapness is vital for this reason. It quickly became clear to me I was on to something due to the amount of winning and ease of hitting on Mythic that I experienced. I was losing very few matches, and no one seemed even to have Sarkhan on their radar. I can only imagine the confusion of some of my opponents when a Sarkhan quickly decimated a board state or life total that looked stable in one turn.
The core of the deck is very clearly Teferi, Narset, Sarkhan. I did not (and still currently do not) want less than 4 of any of these cards. I think doing otherwise is a huge mistake. Teferi and Narset's abilities and passive abilities are incredibly powerful. Baby Teferi forced UG Nexus out of the metagame, and Narset has made individual cards like 《Hydroid Krasis》 and 《Chemister's Insight》 feel like a joke. The rest of the deck plays the role of support. You want enough three and four drop Planeswalkers to maximize Sarkhan's potential. T3 Walker, T4 Walker, T5 Sarkhan attack the opponent's walker is a line that occurs often, and you want to maximize the odds of it happening.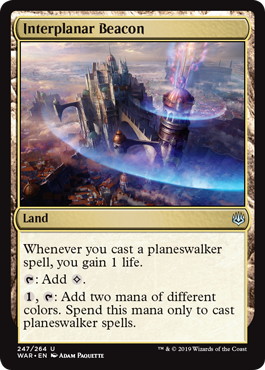 《Interplanar Beacon》 is secretly one of the best cards in Standard. It fixes your mana, and the passive life gain is incredible. I very rarely lose to Mono Red because of it. Their 《Shock》s and 《Lightning Strike》s are a lot less impressive when I am sometimes gaining multiple life points each turn that goes by.
The rest of the deck is malleable, though. I felt strongly about 《Kasmina, Enigmatic Mentor》 (especially when you are on the play), and 《Spell Pierce》s but wanted more early action. The deck starts on three. I must admit this first list was rough though and it was clear it needed more tuning.
Evolutions
The more I worked on the deck the more I realized 《Urza's Ruinous Blast》 and 《Jaya's Immolating Inferno》 were too slow. Both Dovins also felt incredibly weak. I wanted more interaction in the early game, so I added 《Deafening Clarion》s (an idea by Savjz) and 《Shock》s to the maindeck. They fit perfectly.
I kept working the list, was able to get #1 Mythic on Arena, going on substantial win streaks in the process. I felt unbeatable and honestly could only lose to myself. People were somehow still sleeping on Sarkhan, and even Jeskai Walkers as an archetype despite multiple premier event tournaments featuring the new Standard already being completed.
Here is the list that got me to #1 rank Mythic:
9-0'd from rank #9 all the way to the #1 spot with my trusty jeskai walkers list
faced a lot of elderspells along the way – that card means business 🙂
deck still feels insane, shout out to the twitter sickos that helped contribute to the list! @ArenaDecklists pic.twitter.com/T01AMLwbfZ

— John Rolf (@JRolfMTG) 2019年5月17日
The evolution of Jeskai Walkers was still not over yet though and to this day isn't!
StarCity.com Open Sycracuse just concluded, and Team Lotus Box took the base of the list and added 《Saheeli, Sublime Artificer》, 《Opt》s, 《Karn, Scion of Urza》s, and 《Mobilized District》s to the main and 《Legion Warboss》es to the side. Shout out to Abe Corrigan for his top 8 and Zan Syed for winning the whole event. A genuinely incredible showing in deck innovation as well as play skill by them.
While I have played with their changes, I still have found myself preferring the 《Fblthp, the Lost》 version without Saheeli, at least for the Arena metagame. Flbphpt is not by itself a powerful card at all, but it importantly affects the board before turn 3 and smoothes your draw. I of course, am biased, but Saheeli is not precisely where I want to be right now. I put a very high priority on having my spells turns 1 and 2 do something to the board and additionally I often find myself wanting to play 《Teferi, Time Raveler》 or Narset on three, and I don't like Saheeli in multiples, unlike the other walkers.
Lotus Box correctly identified that Saheeli works well with Karn, but I highly prefer Kasmina over Karn, which is another strike against it. Kasmina's ability gets you a 2/2 and lets you loot a card all at once, whereas with Karn you must choose between the creature or card advantage. Add on the fact that Kasmina has a passive ability (everything costs more to target your walkers) and it leans even more towards Kasmina. If you are interested in running the Lotus Box version you can consider replacing the Karns with more Kasmina, I don't think that would be an unreasonable change, but I am not positive. I will say I do like Saheeli's application in the mirror. The 1/1s can be surprisingly relevant and it can spiral out of control quickly.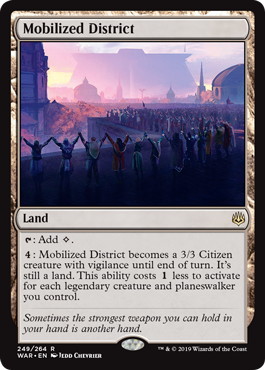 Utility lands are something I desperately would like to play, as flooding can be an issue, but each utility land you add to the deck decreases the chances you will be able to 《Shock》 or Clarion in a timely matter. It's often essential to have your 《Shock》s and early red/white spells on time, so, for now, I am maximizing consistency as much as I possibly can even if the deck could still function with a couple more colorless lands. If 《Llanowar Elves》 and 《Incubation Druid》 decks begin to decline and the format becomes slower, and even more plansewalker oriented the addition makes perfect sense to me. For now, I have chosen to be more conservative with the mana base, but it's certainly possible I'm being too conservative, as it appears others have had success with the utility lands.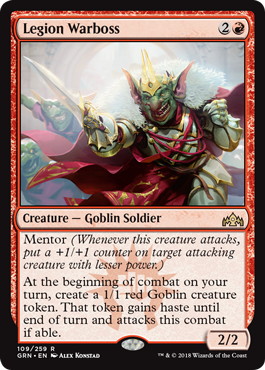 《Legion Warboss》 is an excellent addition to the sideboard if you are expecting a lot of mirrors. It adds another dimension to the deck because you can operate on a creature axis as well as a Planeswalker one. Cards that are good against creatures like removal aren't usually good against Planeswalkers. The only thing I dislike about it is the fact that it requires four slots in your sideboard. For now though I'm happy to not have them in my sideboard but gain the value of people playing around them anyways. Opponents are forced to leave in 《Shock》s against me in the mirror or questionable cards that can kill creatures but are otherwise bad against me out of respect for the Warboss. Meanwhile, in the mirror, I will keep in my 《Shock》s for their Warbosses (a good target), while they will struggle to make their 《Shock》s good. Perhaps they will try to pick off a walker after it has been used a couple of times netting value, but it's not a very good card in the matchup if this is its role.
---
The deck continues to evolve, and things will constantly be changing. I expect more strong innovation in the coming weeks and would not fault anyone for landing on one particular version as I think there are compelling arguments for each type. As I am typing this up 4 Color 《Command the Dreadhorde》 decks are prevalent on MTG Arena and can cause problems for this archetype, so you will see my list and sideboard slanted for this matchup.
Current Dekclist and Other Options
Here is where I what I currently recommend, but make sure check out my Twitter, I'll be posting more updates there.
Below you will find a general sideboard guide and some tips and tricks with the deck but first here is a non-exhaustive list of cards I think you should seriously consider at any given time during the meta that are not in my current list:
Sideboard Guide
Please do not just copy this sideboard guide. It is meant to be a general guide to show you what cards I consider better than others in individual matchups. For this deck, a lot depends on being on the play or draw. For example, I frequently board out Kasmina on the draw, whereas cards like 《Spell Pierce》 are better on the draw. Similarly, Fbltphp is better on the play because you have more time to get it into play. The cards I consider taking out most often are 《Spell Pierce》, Tibalt, Kasmina, and Fblhthpt.
Mono Red

Against Mono Red
I am currently trying to perfect a plan against them because it has been the most challenging matchup for me to face. The way I see it, there are three options to combat them each with their pros and cons. All three of them revolve around 《Command the Dreadhorde》. Perhaps the right answer is a combination. Only time and testing will tell:
(1) Focus on Exiling Their Graveyard with 《Remorseful Cleric》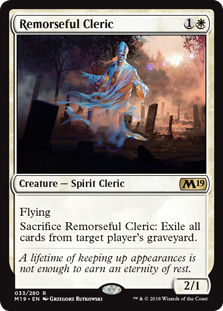 I was also running 《Ashiok, Dream Render》 to achieve this but I realized that preventing them from gaining life is much better approach so I cut him. However, 《Remorseful Cleric》 is still useful as an answer for 《Command the Dreadhorde》 and attacker for their Planeswalkers.
(2) Focus on Stopping Them from Gaining Life
If you can do this, it is riskier for them to play 《Command the Dreadhorde》 because you can kill them in one shot with a Sarkhan you have in hand or on the battlefield. 《Lava Coil》 for 《Wildgrowth Walker》 and Tibalt help you do this. Tibalt can also stop early beatdowns from the Explore creatures like 《Merfolk Branchwalker》 and 《Jadelight Ranger》. This matchup is the reason why I added 《Tocatli Honor Guard》 recently and I'm comfortable with them.
《Dovin's Veto》 and 《Narset's Reversal》 are good here. You can copy Command with Reversal, return all the Planeswalkers in the graveyards to play, and kill them the next turn before they can do anything. The downside to this strategy is they have 《Teferi, Time Raveler》 making your counters/copying spells useless if you can't remove it and they have discard. Smart opponents will make you discard with 《Duress》 before they play Command. The Planeswalkers and 《Remorseful Cleric》s don't suffer from this problem.
Mono White / Azorius Aggro

Against Mono White / Azorius Aggro
You can consider keeping in 《Spell Pierce》 on the draw since it hits Baby Teferi, 《History of Benalia》, 《Gideon Blackblade》 and 《Conclave Tribunal》 but I think we have enough good cards to where it's perhaps not needed.
Bant / Bant Flash

Against Bant / Bant Flash
Boarding this matchup is very tricky and will depend a lot on their specific deck build and whether you are on the play or draw. For example, cards like Clarion are much better on the draw compared to the play because it's more likely you will need it to catch up on the board.
Make sure you prioritize aggressively killing their mana creatures, their deck is entirely different without them. Clarion is one of your best cards against this deck. If you are looking to add more cards for the matchup, 《Kasmina, Enigmatic Mentor》 is the next card I would cut.
Esper / Grixis Control

Against Esper / Grixis Control
《Shock》s stay in for 《Legion Warboss》 / 《Thief of Sanity》, 《Lyra Dawnbringer》 is good against Grixis post board, and an 《Interplanar Beacon》 can be cut on the draw in these grindy matchups.
Esper Hero

Against Esper Hero
Boarding here is highly dependent on their deck build, 《Shock》 is good against 《Thief of Sanity》 and 《Hero of Precinct One》.
Gruul

Against Gruul
Mirror

Against Mirror
Tips and Tricks
1) If you activate Sarkhan's +1 and make your Planeswalkers into 4/4 Dragons, you can put their loyalty to 0, and they will not die until the end of your turn. So for example if 《Teferi, Time Raveler》 is on three loyalty you can activate Sarkhan, -3 Teferi bouncing something, and still attack with the Teferi.
2) If you active Sarkhan's +1 and make your Planeswalkers into 4/4 Dragons you can return the Planeswalker to your hand with 《Teferi, Time Raveler》 because it is now a creature. So for example, if you think they have an 《The Elderspell》 or want to reset your loyalty on one of them attack with it and then return it to your hand after combat.
3) 《Teferi, Time Raveler》 can return 《Mox Amber》 to your hand to add extra mana. Tap it for mana, return it to to your hand, replay it and tap again. 《Teferi, Time Raveler》 can return Fblthp to your hand when you need to draw more cards. 《Teferi, Time Raveler》 can return 《Prison Realm》 to your hand when you want to Scry each turn. Return it, cast it, Scry, and put it back on the same thing or something different if you wish. Returning enchantments works exceptionally well if they are on something like 《Hydroid Krasis》 because when Krasis returns it will be a 0/0 and die.
4) Set up turns where you make 4/4 Dragons with Sarkhan and cast Clarion to give them all Lifelink and gain lots of life. Make sure you activate Sarkhan's +1 first or else this will not work.
5) Be conscious of 《Teferi, Time Raveler》s +1 ability. You can cast Clarions and 《Lava Coil》s at instant speed. Sometimes this can kill opposing 4/4 Planeswalker in the mirror if you have a Dragon and Sarkhan out as the Sarkhan's ability will deal one and then the Clarion 3.
6) Don't be afraid to use Teferi and Narset's minus ability early to buy time and draw a card even if they will die. It more often correct than you might think at first to buy time and get more control over the board.
7) Be aware of the fact that using enchantment removals on Planeswalkers against 《Teferi, Time Raveler》 decks can be risky since they can bounce your enchantment and re-use their Planeswalkers. Counters are also good and bad against Teferi. Very good when you can counter one, but very bad when one is already in play. Be aware of this when you are deciding are making your plays and adjust accordingly.
Conclusion
Good luck battling with the deck and as always let me know if you'd like any specific questions answered. Let me know if you disagree on something or want a further explanation on something. I want to make the deck as strong as possible and look forward to watching the next step in its evolution.