Introduction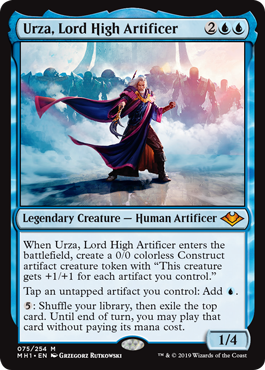 A couple weeks ago, I finished 12-3 at GP Columbus with my own take on Urza midrange in Modern. That record was good for 9th place on tiebreakers, which is always a bit disappointing. At the same time, I took my third loss early, in round 11, so it was fortunate that I was even in contention in the last round.
In this article, I'd like to discuss where and why I deviated from the decklist that Team Lotus Box has been dominating the SCG and PTQ circuits with, give a brief tournament report, and offer some sideboarding and play advice.
Decklist
This is the Urza list that Zan Syed, Jeremy Bertarioni, Collins Mullen, and Edgar Malgahaes piloted to the top 8 of SCG Atlanta 2019.
Watching the Urza deck on coverage, it was clear to me that it was the most powerful deck in the format. Because of 《Emry, Lurker of the Loch》, 《Gilded Goose》, and 《Arcum's Astrolabe》, the Urza deck has most of the explosiveness of the traditional 《Mox Opal》 decks but none of the compromises. Instead of 《Ornithopter》s or 《Terrarion》s, it just plays good cards.
《Oko, Thief of Crowns》 and 《Mystic Sanctuary》 further shore up midrange decks' traditional weaknesses in Modern. It's hard to flood when your fifth land comes with a 《Mystical Tutor》, and Oko turns your extra 《Mox Opal》s into 3/3 hastes.
However, I felt like the deck didn't fully take advantage of 《Mystic Sanctuary》. The only targets in Team Lotus Box's list were 《Cryptic Command》 and 《Whir of Invention》, the latter of which only searches for the Thopter-Sword combo. While those targets are strong, 《Mystic Sanctuary》 gets a lot more powerful when you have access a diverse assortment of costs and effects. And despite all the fast mana in this deck, 3 《Cryptic Command》s is just an excessive number of 《Cryptic Command》s for Modern.
The Thopter-Sword combo also didn't seem worth its vulnerability to both artifact and graveyard hate. The deck can get some natural mileage out of 《Thopter Foundry》 via 《Arcum's Astrolabe》s and 《Mox Opal》s, but otherwise Whir, 《Thopter Foundry》, and 《Sword of the Meek》 are actively bad in isolation. And even the full combo is only okay without 《Urza, Lord High Artificer》 to make it infinite.
In all, I made the following changes:
I wanted to slim the deck down and make it more interactive, with the aims of making the deck more resilient to hate cards and of improving the Grixis Shadow and creature combo matchups (eg. Infect, Burn, and 《Devoted Druid》).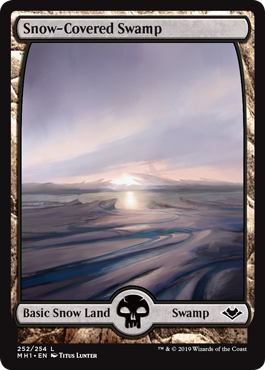 I also added a land, as I pretty much always do. Although it's bad with 《Mystic Sanctuary》, I felt like not playing with 《Snow-Covered Swamp》 was just too greedy. Having the 《Snow-Covered Swamp》 makes it much harder for decks with 《Field of Ruin》 to take the deck off of black mana and being able to fetch for black mana without taking additional damage can be invaluable against Burn and Shadow (Being able to fetch for both 《Snow-Covered Forest》 and 《Snow-Covered Swamp》 actually came up against Brandon Burton, alias sandydogmtg. He was on Burn, as always. I stabilized game 3 in my match against him at 1 life and would have certainly lost if I'd needed to fetch for 《Watery Grave》 or 《Breeding Pool》).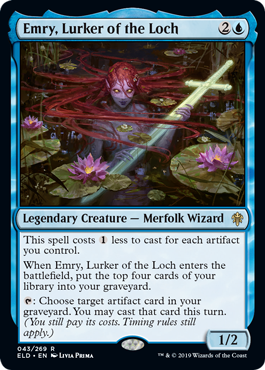 The change I was most uncertain of was cutting the 4th Emry. However, in this build of the deck, Emry is primarily a 2-card combo with 《Mishra's Bauble》. And while a 1-mana 《Archivist》 is absurd, I didn't feel like the upside was worth the downside of 《Norwood Ranger》.
Because I essentially moved the sideboard to the maindeck, these changes also opened up a bunch of sideboard space. I used it to get some additional percentage in the mirror and against Grixis Shadow (With incidental gains against control, Tron, and Dredge).
In the end, I submitted this decklist for GP Columbus.
Grand Prix Columbus
I mostly attended GP Columbus to hang out with my friend Jake Koenig, who's doing his PhD at Ohio, so I wasn't that invested in the tournament. That said, I still had a lot of fun.
My favorite memory from the weekend was playing Mental Magic with Ari Zax's Grixis Death's Shadow deck. If you haven't tried the format, I highly recommend it. It's the complete opposite of normal Mental Magic, where both players have access to all the card draw and interaction that's ever been printed. Everything in Grixis Shadow costs 1 black or 1 blue, so you have to get real scrappy to answer permanents like 《Shrieking Affliction》, 《Graf Harvest》, and 《Vitu-Ghazi, the City-Tree》. We played with the Legacy cardpool and 《Yixlid Jailer》 in play.
If you find yourself in Columbus, I highly recommend The Eagle, Jenni's Ice Cream, Hubert's Polish Kitchen, and Jake's scrambled eggs. I would not recommend Drunch.
As for the tournament itself, I played against the following matchups.
| Round | Against | Result |
| --- | --- | --- |
| Round 1-3 | Bye | – |
| Round 4 | Elves | 2-0 |
| Round 5 | Tron | 0-2 |
| Round 6 | Affinity | 2-0 |
| Round 7 | Mirror with Whir and 《Goblin Engineer》 | 2-0 |
| Round 8 | Burn | 2-0 |
| Round 9 | Grixis Shadow | 1-2 |
| Round 10 | Eldrazi Tron | 2-0 |
| Round 11 | Sultai Shadow | 1-2 |
| Round 12 | Burn | 2-1 |
| Round 13 | Azorius Control | 2-0 |
| Round 14 | 5C Niv with 《Utopia Sprawl》 | 2-0 |
| Round 15 | Bant Control | 2-1 |
I punted games in 2 of my 3 losses due to unfamiliarity with the deck, which was just desserts for trenches testing.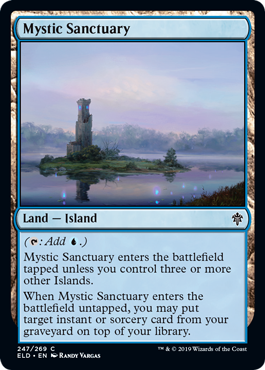 Against Tron, I found a line where I could fetch for 《Mystic Sanctuary》, put Cryptic back on top, cast Urza, crack Bauble, and draw the Cryptic on my opponent's upkeep with exactly enough mana to cast it. But then I just forgot to put the Cryptic back on top before putting Urza on the stack, missing the trigger.
Against Sultai Shadow, I shaved an 《Engineered Explosives》 because that was my plan against Grixis Shadow, where Explosives and 《Fatal Push》 both only answer 《Death's Shadow》. But against Sultai, Explosives answers literally everything. I left in 《Thoughtseize》 instead, which is much worse against Sultai since it plays fewer counterspells and doesn't play 《Gurmag Angler》. And then I lost game 2 with a 《Thoughtseize》 in my hand when Explosives would have killed 2 Shadows and won me the game.
So it goes. Poo-tee-weet.
Sideboard Guide
Sultai Shadow

Against Sultai Shadow
Eldrazi Tron

Against Eldrazi Tron
Mirror without Karn

Against Mirror without Karn
Mirror with Karn

Against Mirror with Karn
Humans

Against Humans (On the Play)

Against Humans (On the Draw)
Vengevine

Against Vengevine (On the Play)

Against Vengevine (On the Draw)
(Maybe Veils are fine, depending on how they sideboard)
Dredge

Against Dredge
Azorius/Bant Control

Against Azorius/Bant Control
Azorius Stoneblade

Against Azorius Stoneblade
Bant Stoneblade

Against Bant Stoneblade
Jund

Against Jund (On the Play)

Against Jund (On the Draw)
(Not sure about Trophy vs. Explosives)
Infect

Against Infect
(Unsure about cuts)
Storm

Against Storm
(Actual no idea what to cut, depends a lot on how they sideboard too)

Against Devoted Druid Combo
(Some Disputes are probably good if they have Oko and/or countermagic)
Titanshift

Against Titanshift
Bogles

Against Bogles
Simic Merfolk

Against Simic Merfolk
(Maybe Veil if they have a ton of countermagic postboard)

Against Hardened Scales
Tips and Tricks
You can use 《Mishra's Bauble》 and a fetchland to build a free 《Opt》.
Similarly, you can use 《Mishra's Bauble》, Emry, 《Cryptic Command》, and 《Mystic Sanctuary》 to build your own 《Forbid》 or 《Constant Mists》. Use 《Cryptic Command》 to tap your opponent's team or counter their spell and bounce your 《Mystic Sanctuary》. Then use Sanctuary to put Cryptic on top and Emry to bring back Bauble and draw a card on your turn.
Be mindful of when you use your 《Mishra's Bauble》s. If you use them on your turn, then you can draw countermagic or removal to play on your opponent's turn.

But you'll also open the cards you draw to discard spells

.
Before you crack your 《Mishra's Bauble》, consider what happens if your top card is 《Mox Opal》, Oko, or Urza. A single draw step with a 0-mana artifact in play is often better value than two draw steps without one if it means having Metalcraft to deploy one of your threats ahead of schedule.
If you have both Urza and 《Gilded Goose》, you can get 2 mana out of each of your Food tokens. Similarly, even if your Food tokens is one of your only 2 artifacts, you can still cast Emry for 1 mana by declaring you're casting her and only then feeding the Goose. However, this trick does not work with 《Metallic Rebuke》, since tapping the artifacts is part of paying costs with Improvise.
You can tap 《Witching Well》 and 《Engineered Explosives》 to pay for their own abilities using Urza. However, you cannot tap Food to pay to sacrifice it, since tapping Foods is part of the activation cost.

Be mindful of putting permanents into play ahead of time so that they lose summoning sickness for Oko

. With most Opal decks, I hold my Opals until I need them to disguise that I have access to fast mana and so that I don't expose the Opals to artifact destruction (eg. 《Reclamation Sage》). However, with this deck, you should cast your Opals if there's any chance you'll play Oko the next turn.

Be aware that you can play Explosives proactively

. The most common situation this comes up is against Grixis Death's Shadow, where 《Death's Shadow》 is the only card that Explosives kills. However, even in the mirror, you should consider playing Explosives for 3 on turn 3 if you don't have another play to force your opponent to Elk it. Against Azorius and Bant Control, you can use Explosives for 3, 4, and 5 to bait out counterspells.
With 《Damping Sphere》 in play, cast Explosives last. Mana you use to pay the 《Damping Sphere》 tax counts towards the Sunburst on Explosives. This is similar to the 《Thalia, Guardian of Thraben》 trick.

Astrolabe makes snow mana if you filter mana through it, but not if you tap it using Urza's ability

(Since Urza will make the mana in that case, not Astrolabe).
Don't be afraid to fetch the basic 《Snow-Covered Swamp》 or 《Snow-Covered Forest》 to save life. You rarely want to use 《Mystic Sanctuary》 as your 4th land anyway, so having 1 non-《Island》 isn't a big deal.
Note that you can use both 《Mishra's Bauble》 and 《Gilded Goose》 to trigger Revolt for 《Fatal Push》.

Artifacts that Oko turns into Elks are no longer artifacts

. Be careful about that with Constructs and 《Mox Opal》s.
《Nihil Spellbomb》 and 《Drown in the Loch》 are a nonbo. The cards are strong enough that it's sometimes right to play them both together anyway, but board in Spellbomb more conservatively than you normally would and be conscious of the interaction.
Goose, Emry, Bauble, Opal, Urza is, in fact, the nuts.
Don't be shy about casting extra Urzas to make Construct tokens. The Constructs are big.
Oko has 3 abilities. You should be using all of them.
《Cryptic Command》 has 4 modes. You should be using all of them.
Conclusion
This is the best Modern deck I've played in some time and also the most fun. I love flexible midrange decks like this one. If you're a fan of Jund, this is the best Jund has ever been and will ever be in Modern, including the period where it had 《Deathrite Shaman》.
Thanks for reading, and best of luck.
Allen Wu (Twitter)