Introduction
Hey! I really wanted to be here again with all of you.
As we are in the Pioneer era and the first Players Tour in Brussels (and Nagoya) of this same format will be held soon, I wanted to bring you a guide about one of the possible options to consider when covering this event: Dredgeless Dredge.
Explanation of the Strategy
First of all, it is worth noting that in this format our archetype is a bit slower than in others formats, as would be the clear example of this same deck in the well-known Modern.
Well, we are facing a deck that abuses the graveyard, so this is always going to be our priority way to get the victory through it, but we will also always have the option of casting creatures with costs between one, two, three and even four. We will even be able to cast some 《Creeping Chill》s that we usually don't want to draw.
Yes, it isn't an ideal but casting creatures/《Creeping Chill》s from your hand sometimes contribute to win the game. It is quite important to always keep in mind all these options when deciding to play this type of decks, since as in life itself, nothing is easy or perfect and everything requires some kind of effort. Dredgeless Dredge is no exception in this sense.
---
We will separate our cards into two groups to explain it better.
Mill Enablers
The best way to start our game, our cost one. This creature in addition to putting three cards from our library in the graveyard upon entering the battlefield, will also trigger the same ability upon death, great, right? But this is not all: it will create situations in which our opponents will be afraid to block it to not give us the chance to trriger the ability, which will surpass a point of damage in our race and of course, this will create the same situation when we are attacked, since if we block with it… Surprise!
Without a doubt we are facing our best cost two. We reveal five cards as an instant and we can take land or creature and the leftovers will go to our graveyard. Remember that we can use it as a combat trick. For example, you can cast 《Grisly Salvage》 before declare blockers and if you hit 《Narcomoeba》 or 《Haunted Dead》 you can use those 1/1 flyers to block so always keep in mind to use it during opponent's combat phase. Especially, if you think your opponent has 《Goblin Chainwhirler》.
This is going to be our second-best cost two. This card also allows us to obtain a land and, although we put a card less in the graveyard than the previous one already named, we will obtain a 1/1 body on table that will allow us to advance a little earlier in the race of lives against a control deck, for example, or have more options to stop an explosive exit by an aggressive deck.
We would catalog this card as our third-best cost two. It is very important to get all the possible value from our cards and, in this case, it is good to try to take advantage of the second ability that this card allows us. If we already have two or more instant or sorcery spells in our respective graveyard this would allow us to obtain two creatures instead of just one among the five revealed cards, which makes us think that it is always better to cast the two previously named cards first.
Graveyard Payoffs
This is our best card with ability from the graveyard, which also complements great with the other cards with abilities between them. It is important to keep in mind that this creature will return to the beginning of the next final phase, so it will be better to do so before the final phase in which we want it to return. Therefore, most of the time we will activate 《Scrapheap Scrounger》/《Haunted Dead》 or cast 《Grisly Salvage》 into 《Narcomoeba》 in the second main phase of our opponent turn and, in this way, we will return all 《Prized Amalgam》 at the end of their turn. In addition, it allows us to be casted normally by three mana giving us a force on table like 3/3.
This is an easily castable cost two flyer if your version of lands and colors allows it. It is the best way to trigger our 《Prized Amalgam》s if it puts into our graveyard from the library, in addition to entering the battlefield for free without paying any cost. A very key card in our strategy, even when discarded or exiled to throw abilities of other cards between our ranks.
This would be our second free cost card when putting into the graveyard from the library, like the card previously named. It is able to make a difference in games, especially if it is an aggressive deck or combo that we have in front, since it deals three life and gives us another three. Also, you can cast it from your hand when we end up into the long game (always keep it in mind).
Well, it is a perfectly castable four cost card, more than that it is notable in the strategy for its "two" cost, since discarding two cards is not a big problem for these types of strategies and will always be great when, between those two discarded cards, there is some 《Prized Amalgam》s. Remember that its activation is possible instantaneously and can allow us to block some threat with the 1/1 flying token which was added to the table when entering, in addition to that the ability always being a little out of the radar of our opponent.
Cost two castable from the hand and returnable from the graveyard. Sometimes it is a good way to accelerate a life race by casting it in turn two directly from the hand, but we have to remember that it cannot block and that it does not have any type of evasion. It will always be a headache for our rivals for being easily returnable from the graveyard more than once, in addition to activate the possible 《Prized Amalgam》s that we can have in our graveyard. We must always bear in mind that 《Scrapheap Scrounger》 consumes our resources and these are not infinite.
This card manages to transform our weakest creatures into great threats. More than one game we will get the victory thanks to the ability of "Despair" by leaving our rival with hardly any resources in hand to be able to fight us, even play "Driven" in the first few turns if we have nothing better to do, happens to be remarkable in some of our games.
What can I say about this creature that we no longer know? A threat 5/5 too relevant, that is able to close games if we managed to cast it in turn two or three, which is nothing strange when we are dedicating ourselves in this strategy to throw cards from our library to the graveyard. Always taking into account which cards we should and which we should not exile with the Delve ability, since they can be very useful later.
---
Before giving way to our list of benches on the strategy vs the different confrontations, we will see and comment on the list chosen for this occasion:
Selected List
This is the last Magic Online trophy of my teammate Sergio Ferrer Rozalen, with whom I speak daily and with whom I share ideas about this strategy, since for me he is one of the best players in the world of this type of strategies and with which I have worked on this list.
This list has the Sultai colors among its ranks, since for me it is too important for being able to have the option to also cast your blue cards from the hand, as is the case of 《Narcomoeba》 and 《Prized Amalgam》.
The main base of this cover is perfect from my point of view. Cutting a card to each playset of 《Scrapheap Scrounger》, 《Haunted Dead》, 《Gurmag Angler》 and 《Driven/Despair》, since they are very good cards, but all of them require a certain sacrifice of resources that should not be exploited (you cannot cut more copies despite the wear that can sometimes cause us).
As for the fifteen sideboard cards, it will always end depending on the metagame expected at that time. In the end it is a continuous change, but personally I like the one used in this list, decently covers the necessary pairings. We could highlight the lack of removal to 《Leyline of the Void》, but in the end it is something that we will live with continuously, that is, we cannot always know for sure when we are going to have one in front of us and often play around it is a serious mistake. Even so, we carry a copy of 《Assassin's Trophy》!
---
We will now give way to how to combat the different pairings:
Sideboard Guide
Mono Red

Against Mono Red
Mono Black Aggro

Against Mono Black Aggro
Izzet Phoenix

Against Izzet Phoenix
Soulflayer

Against Soulflayer
Niv to Light

Against Niv to Light
---
As a last step, I would like to comment on possible letters from Theros Beyond Death that may come into our strategy!
Possible Additions from Theros Beyond Death
With this new edition a new ability called "Escape" is born, which consists of exiling X cards from our graveyard and paying a cost depend of the card that we are playing to cast it from our graveyard.
It is still necessary to try this new edition but at the moment I will highlight three cards that maybe they could get to be played in this archetype. From least to greatest relevance: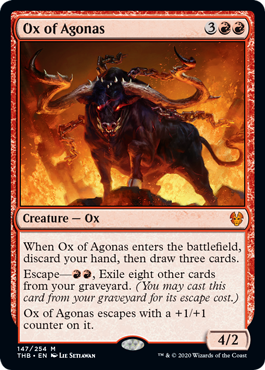 This card is a complete bomb in the archetype of Modern, but it is different in Pioneer. It is still a good card, but its red color and that we do not have here the ability to Dredge… makes it more difficult to add to our deck, but we don't close any door, we'll check it over time.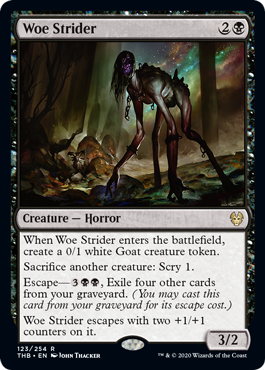 This card allows us to obtain two creatures at the table and gives us the opportunity to sacrifice creatures to Scry 1, which combines very well with 《Stitcher's Supplier》 and with the possibility of taking advantage of any our creatures in the battlefield. We would also say that being black is easily acceptable among our ranks and that its Escape cost is completely affordable.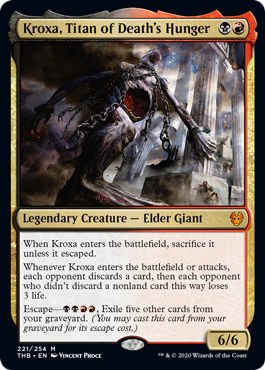 I like this card, for two mana we have the possibility of discarding a card to our rival and if they discard a land they will lose three additional life, its Escape cost is not high and it is a force 6/6 at the table, which is relevant. We will have to seriously consider whether we should add red to our ranks!
---
I hope that when you get to this point it will be easier for you to understand the functioning of the strategy and you want to try it. I would sincerely like to say that it is the best deck we have in Pioneer, but no, it is not, although for any lover of the strategies that abuse the graveyards it is probably the best option, as it is in my case, since without place to doubts this is going to be my choice to fight in Brussels.
Conclusion
Well, once again it is time to say goodbye to all of you and it is a real pleasure to be here and share all my knowledge about this great game that is Magic: the Gathering.
I would like to thank Sergio Ferrer Rozalen for sharing his knowledge with me for this article, Thank you very much friend!
I would also like to thank the person who inspires me every day, yes, you, thanks D.
And of course, also big thanks to Hareruya as always for trusting me.
If you have any question, I will be happy to answer you on social networks.
See you in Brussels!