Introduction
Hello again! My name is Ricardo Beja also known as shadow_PT on Magic Online (MTGO), I'm a Hareruya Hopes member from Portugal and I won a Standard MTGO PTQ for Series 2 with Jeskai Fires. The tournament had 7 rounds of swiss and the top8.
Deck Choice
Before Theros Beyond Death came out, I was playing Simic Ramp but with Mono-Red Aggro being popular on MTGO, I don't think the deck was well positioned. So, I decided to try out Azorius Control but I didn't feel comfortable with the deck on the Aggro matchups, I then tried Jeskai Fires which I had played before and I knew it was good agaisnt Aggro Matchups.
I expected the most played decks to be Aggro decks and Azorius Control so I wanted to have a good chance against those 2 archetypes. I believe Jeskai Fires is good vs Aggro and have a close matchup against Control.
This is the decklist I played:
Card Choices
Maindeck Anti-Aggro Package
I wanted to win against Aggro decks so I decided to have a 10 card maindeck package against them.
Nice removal against Aggro and solid blocker. If you have one on turn 2 you are guaranteed to have turn 2 and 3 plays.
I went heavy on sweepers because those are the best cards against Aggro decks and I really wanted to win the Game1s against Aggro.
Sideboard Anti-Control Package
As I said before, the other deck I wanted to be ready for was Azorius Control, so I dedicated 10 sideboard cards against it plus the 4 《Teferi, Time Raveler》 maindeck.
It makes their counterspells or any other spells they cast during your turn cost one more, so early game they aren't able to cast 2 counters on the same turn or even any counter at all.
It lets you resolve one of your important spells, normally 《Teferi, Time Raveler》 or 《Fires of Invention》 and protect it against counterspells with using just 1 mana.
It's a 3 drop that demands an answer against control or it will win the game alone. If you are on the play and cast it on turn 3 they won't be able to counter it.
On my Azorius Control Modern article I said that "it's insane how good it is" and now here we are, in a different format and in a different strategy but it's still true. It makes opposing counterspells useless, 《Wilderness Reclamation》 doesn't do much when Teferi is in the battefield and can bounce big creatures against Ramp decks and attack for lethal.
Exile effect (very relevant) for red or black creatures that lets you scry. Best targets are 《Anax, Hardened in the Forge》, 《Midnight Reaper》 and 《Korvold, Fae-Cursed King》.
In the week before, the Standard Challenge was won by a Azorius Control with 4 《Banishing Light》, so that's why I chose to play 2 《Disenchant》 but it looks like most of the list now are playing between 0 and 2 《Banishing Light》, so it's not worth for that matchup anymore. With that said, in the future I will cut one from my sideboard.
Playing one in the sideboard is still worth it because it is good against 《Wilderness Reclamation》, 《Witch's Oven》, 《Anax, Hardened in the Forge》 and 《Embercleave》. If you are on the draw against Mono-Red you can destroy Anax on their turn 3, untap and cast 《Deafening Clarion》 to kill their entire board.
Solid card against several different strategies. It gives you time against Mono-Red, slows down Temur Reclamation and can take a big creature out of the way against the Ramp decks.
Decklist Updates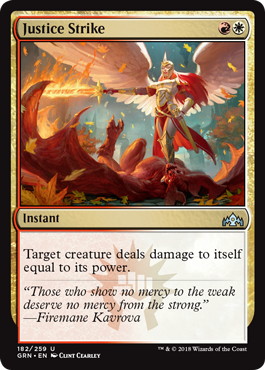 Going forward, I will changed 1 《Disenchant》 and 1 《Devout Decree》 for 2 《Justice Strike》 in the sideboard. I felt like I needed to get a way to deal with big creatures and that's why I added 2 《Justice Strike》. Cutting 《Disenchant》 was obvious taking in consideration what I said above. The other card I decided to cut was 1 《Devout Decree》 because 《Justice Strike》 can take almost the same roll as 《Devout Decree》, you lose the exile part of it but it gives you more options for other matchups.
I played a Standard Challenge with the updated decklist and went 5-2, this were the matchups I played against:
| Round | Opponent Deck | Result |
| --- | --- | --- |
| Round 1 | Mono-Red Aggro | 2-1 |
| Round 2 | Temur Reclamation | 2-0 |
| Round 3 | Simic Ramp | 1-2 |
| Round 4 | Mono-Red Aggro | 2-0 |
| Round 5 | Azorius Control | 1-2 |
| Round 6 | Azorius Control | 2-1 |
| Round 7 | Mono-Red Aggro | 2-1 |
Updated Decklist and Sideboard Plans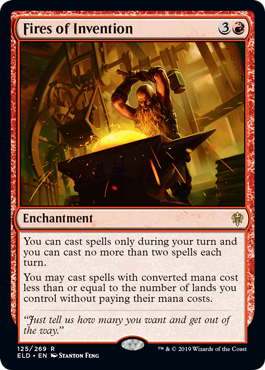 Because 《Fires of Invention》 is your main plan, I'm not going to mention it on the keycards for every matchup but you should assume it is there. You normally want to draw one in every matchup.
Conclusion
Going into the event, I expected to face mostly Aggro and Azorius Control decks and I ended up being right. That and being lucky (always needed) were part of why I won the tournament.
You should play Jeskai Fires If you expect a lot of Aggro decks. If you expect a lot of Simic Ramps and/or Sultai Ramps this is not a good choice.
I would like to thank Hareruya and all my friends for their help and support.
If you have any question, please let me know on the comment section below.
I hope you enjoyed,
Ricardo Beja