Introduction
Hello everyone! The Mythic Invitational Qualifier is going to start in about 4 hours and I've decided that I am going to share my Bant Ramp decklist and sideaboard plans against the most played decks in the field with you. While writing this I obviously have no idea how am I going to do, so it's entirely possible that you are reading an article from a person who is going to play the next MTG Arena big money tournament or a scrub who 0-2ed 😀 Well anyways I can assure you that I played a lot and my decklist is good – at least given the archetype.
I am not necessarily saying that it's the best 75s in the format – it is extremely difficult to play every single deck in the format to the point where you know everything about it and have a close to perfect list. People often think that their deck is the best because they tried something else (or beat something) and it just wasn't performing as good but they don't realize that the same would be true for the deck they are playing now if they just picked it up – small differences that you don't see at the beginning can look marginal but they have a huge impact on the outcome of the games.
Beginnings with Bant Ramp
I mostly focused on Limited and Pioneer prior to Players Tour Nagoya but after a short break I couldn't wait to get my hands on the freshly looking unsolved Standard – my strongest format. I was pondering about what deck to start battling with – the classic look at Magic Online (MO) winning decklists didn't satisfy me and the decks that people posted on Twitter seemed medium at best. That was continued untill I saw the deck from currently one of the most active streamers – Crokeyz: Bant Ramp – on the first glance it looked like bunch of random cards mashed together and could improve, but it played almost all of the strongest cards currently available in a midrange shell which is a style of a deck that I like so I was hooked.
The way I usually approach Magic is not with a proactive strategy that tries to find ways around opponent answers, I am much rather on the other side – building my deck in a way where I can just trade resources and win a lategame with power is always my cup of tea and fortunately the most dominating decks in Standard usually tend to be that way if you build and play them correctly. The reason why many people struggle with these strategies is that every single small thing matters a ton – in an aggressive deck for example it might not be as significant even if you end up playing a build that isn't optimal – well… if you just curve out and kill them who cares, but in a control or midrange shell – having a wrong piece of an answer for the current metagame that doesn't line up well is just immediately going to turn into a loss.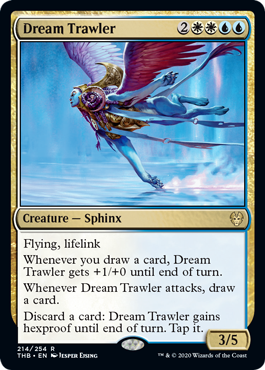 I was toying with Crokeyz version and for a short while the decklist got a little bit out of hand – at some point the format seemed to be mostly mirror, Sultai Midrange, Temur Adventures and Mono Red and none of these could realistically beat turbo 《Dream Trawler》 so I just put together 31 (!) lands deck with infinite Ramp and 《Dream Trawler》s.

Standard was Shifted and Back to Basics
This worked for a short amount of a time but the metagame shifted drastically: a lot of people picked up the new Rakdos Sacrifice deck – it's not just that a new deck popped out and that's it – it showed up in huge numbers means that the other decks changed as well and the plan wasn't working anymore – when your entire plan is based around 1 key card and your opponent is playing a Temur Reclamation with 《Mystical Dispute》 main you have a list for disaster. That didn't mean that the deck became bad though I just kinda had to go back to the basics.
My List at the Mythic Invitational Qualifier
Here is my current build and card explanations:
The Mainboard Choices
I think the deck has many unorthodox things going on so I am going to explain how did I arrive to my conclusions: The core of the deck (cards that can't change) is:
The Core of the Bant Ramp
I think that all these cards make the deck no matter what – 《Growth Spiral》 is the best card in the deck – there are not that many options that you can play in these colors and the games where you have Spiral and don't are extremely different and it's also a reason why you see 3 《Aether Gust》 main deck.
For a long time I was struggling with finding another cheap option and I tried both 《Arboreal Grazer》 and 《Paradise Druid》 but they were just too weak – the problem with those cards is that you actually need to play ton of lands in your deck (currently playing 29) to make 《Uro, Titan of Nature's Wrath》 and Spiral good – if you do that though you need to make sure that your deck has enough lategame power (and good topdecks) so that you won't just simply flood out – if you put cards like Grazer or Druid in your deck you often have these games where you either don't draw enough lands (versions with Druid for example play less lands) – and your Spirals and Uros are bad and you are just sitting there thinking why do I have to pay 2 mana for Druid when I could just play a land instead or you just don't draw powerful enough spells in the lategame. 《Aether Gust》 is a nice solution – most decks nowadays play either red or green so it's rarely useless (you can still bounce your 《Nissa, Who Shakes the World》 or 《Hydroid Krasis》 even in those cases) but it's kind of an impactful card – it doesn't seem weak when you draw it and there are many games where you just end up bouncing your Krasis in response to a removal spell etc.
Only 3 Nissa seems kinda odd and I did play 4 for a very long time but it was kinda clunky for me in many occasions – people play cards like 《Mystical Dispute》, 《Aether Gust》, 《Negate》 and drawing 2 or 3 Nissa often forces you to make unfavorable plays. Not only that – given that your deck is actually smaller than usual – you have only so many cards that actually impact something – (remember we have 29 lands, Spiral, Uro etc.) you need space for cards that solve certain problems like 《Elspeth Conquers Death》, 《Shatter the Sky》, 《Narset, Parter of Veils》 and 《Dovin's Veto》 and playing 4th Nissa instead of one of those often leads to games where all the cards are kinda clunky and one dimensional.
I had games where I just had infinite card draw and some Nissas in my hand and I just couldn't do anything against what opponent was doing. The deck digs SO MANY cards with all the card draw, 《Tamiyo, Collector of Tales》 etc. that you can frequently get access to any card you want so even though 1 《Dovin's Veto》 might seem insignificant and marginal it actually makes a huge impact – it's not out of the ordinary that you see around 35 cards from your deck and the difference between having such an effect throughout the game can be game deciding especially given that you can reuse it with Tamiyo if the situation dictates so. I am not sure between 2nd Trawler and 4th Krasis and it largely depends on the expected metagame but as I explained above I think that in a deck that digs so many cards having more options is better.
After playing so much I am close to certain that playing 29 lands is right – if you build your deck correctly it doesn't really happen that much that you just simply flood out or don't have a card in your deck that you need as explained but you can EASILY lose if you don't have lands – the deck is extremely mana hungry and all the Scry Lands make sure that you DO draw that needed Krasis or Trawler so I just think that having bunch of lands is the way to go. I see most people not playing 4 《Fabled Passage》s but I just really don't understand that – it's a 3 color land that comes into play untapped and it works well with Uro and Tamiyo… like?? 😀
The Sideaboard Choices
The one thing that the sideaboard misses is an access to artifact (enchantment) removal but the Temur Adventures decks is declining in popularity because of its bad Rakdos matchup and the matchup is really bad already and putting couple of 《Knight of Autumn》s in your sideaboard is not really going to cut it so I am currently playing 0 but it might be easily wrong.
8 Cheap Removals
I think that playing bunch of 《Glass Casket》 and 《Devout Decree》 which is awesome now – the game plan of cheap removal plus lategame power works beautifully against both Rakdos and Mono Red and I have been very happy with playing 4 of them.
For some time I was playing something like 1 《Dovin's Veto》 and 3 《Mystical Dispute》 but I think that 4 Disputes is better – it's true that there are some matchups where Veto can be slightly better but when Dispute is better it's like MUCH better. You want only few permission spells and I feel like adding additional Veto would be sort of a waste of a sideaboard slot – not enough impact.
Additional Value Cards
This is a pattern that you can see in most of my midrange decklists – my sideaboards usually tend to have about 2-3 additional value cards – the reason is that you cannot have infinite of those cards in your main deck because then you don't have space for certain cards that your deck just needs to contain and instead you get into a scenario where you chain card draw into card draw without getting anywhere and lose but post board not only the games tend to be slower and longer, you also already know what you are playing against and can set up your deck accordingly which means that having additional value cards to go with those is priceless.
Sideaboard Guide
Finally! The part that everyone came here for anyway – the sideaboard guide. Be aware that everyone's decklist is different and small changes can fix things drastically – I rarely sideaboard the same: the sideaboard guide I present you with is just to give you an idea how I usually approach the matchup against the stock versions:
Conclusion
That will be all today, I think the deck is very good and it's a blast to play, give it a shot!
If you liked my article and would like to see more of my content I would highly appreciate if you could follow me on Twitter here: @PetrKikac .
Thank you for reading,