(Editor's Note: this article was written before full card list was released.)
Introduction
With around half of Ikoria: Lair of Behemoths being revealed, it's time to take a look at possible Limited strategies and get ahead on the format. Instead of talking about individual cards, I will be highlighting the keywords and possible archetypes that exist in Ikoria. The things I will focus on are the keywords, common cards and archetype defining cards if any to have a guess on how this Limited format will shape up.
Keyword Abilities in Ikoria: Lair of Behemoths
Cycling
Cycling is back! Limited formats with Cycling are much loved by the community due to the reduced mana flood and mana screw situations but what does this mean for the format?
Cycling itself allows decks to fluctuate their land counts, usually opting to run less lands in aggressive decks as you can cycle if you draw too many non-lands. Additionally we see a lot of cycle matters. Cycling decks are great to force if you open a high impact card (Think 《Drake Haven》 in Amonkhet Limited), this is because the rest of your deck serves as a way to look for your higher impact cards.
In sealed I would be more inclined to play my rares because Cycling exists. Greedy manabases and control decks that rely on rare finishers are much more consistent. Unlike in draft, the aggressive decks aren't as common so you are likely not to get too punished for Cycling in the first few turns.
Mutate
My immediate thoughts about Mutate in Limited is removal is at a premium in this format which also means it's likely we won't see much cheap efficient removal in the set. Early in the format, players will look to hold their removal spells more scarcely in order to destroy a Mutated creature for advantage. I predict early on many players will fall under the trap of always wanting to Mutate their creature instead of playing out the creature normally to play around removal or just have more attackers on the board.
Mutate can also be used as a pseudo-haste to get the extra stats, this means low cost cards with abilities such as 《Garrison Cat》 are perfect to mutate onto and attack immediately. The inclusion of Mutate in this format heavily shifts the value of some cheap creatures that usually hold no value. This is similar to how the value of low drop creatures go up with more enchant creatures available.
Counters Matter
The introduction of counters further promotes removal is at a premium in this set. Not only do many of the cards that generate counters have a choice on which counter to place, but the decision of which creature to place your counter creates a large decision tree which would reward good decisions in this format. Combat tricks that usually don't have a lasting effect now leave the creature with a counter.
When your opponent attacks signalling a trick, my first instinct will be to block the creature I don't mind it having a leftover counter such as flying or trample.
Companion
There are 10 Companion cards all at rare. Although rares usually don't impact draft formats much, since there are 53 rares in the set, each draft will have on average around 3 or 4 Companion cards meaning it will show up quite often. Although drafting and hoping you open a Companion card isn't an ideal strategy, I would highly advocate before jumping into a draft you read all 10 of the Companion cards as it's a very real chance that you will see one or two floating around in the draft and being prepared using your last 3 or 4 picks of pack 1 on your "bad cards" to hedge opening a Companion isn't the worst case scenario. It is unlikely these go beyond third pick though as they can be played in your deck as normal.
My First Perspective
Looking at the mechanics and the early revealed cards I would say an aggressive strategy and curve could go a long way at least at the start of the format. Mutate promotes holding removal in hand and Cycling promotes playing higher cost slower decks. An aggressive deck can punish both of these at the start of the format before players begin to adapt. In addition you can run less lands by including more Cycling cards in your deck.
The combat tricks in this format look super powerful but are generally costed at 3 or more. I would look to draft cheap creatures to take advantage of these combat tricks which would generally go quite late as non-aggressive decks cannot play an abundance of them.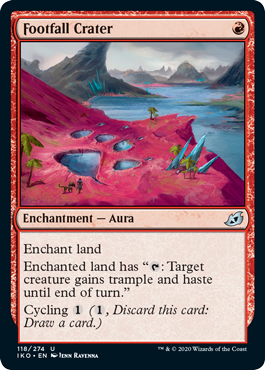 My pick for the most underrated card for this strategy is 《Footfall Crater》. With Cycling this card is never bad and the utility of pushing damage by going wide, adding an extra attacker or make your opponent's blocks awkward by threatening trample at will on any creature is incredibly powerful even at the cost of a card and a land.
My Top Underrated Common Cards of Each Color
The upside of underrated cards is they are likely to go around the table as late picks so you can reliably have the cards in mind when drafting as it's likely to see one. These cards are not first pick, but more cards that I see have potential in the correct shell.
Conclusion
With still half the set yet to be revealed I'm excited to see what else is in the set. This definitely looks like a fun format to draft with a lot of whacky strategies evolving around Mutate or even Companion.
Remember to pick the two-drop.
Jason Chung (Twitter)